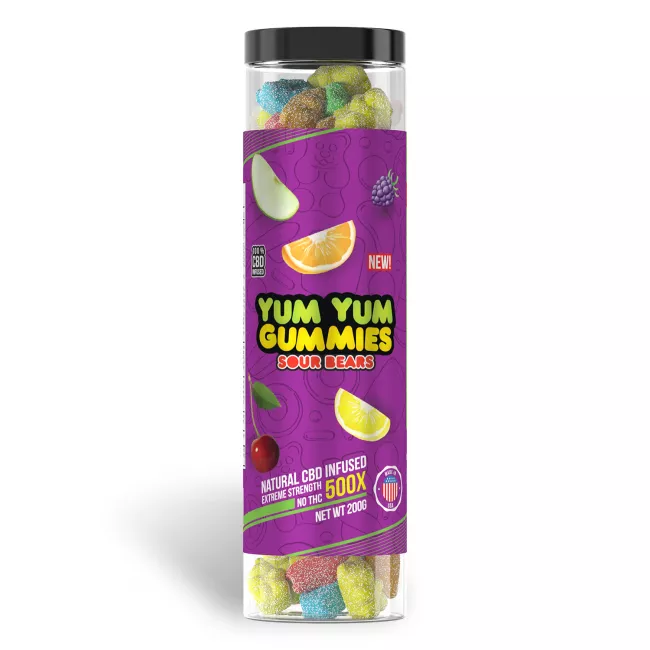 Yum Yum Gummies 500mg - CBD Infused Sour Bears
---
Products of the Same Brand
Frequently Bought Together
---
Joyce S. on March 18, 2019
Amy B. on March 11, 2019
BEST tasting gummies I've had and I have tried quite a few! They help me with falling asleep and staying asleep and when feeling anxious.
Jacob C. on March 10, 2019
Great product, since I'm a big guy I eat 10 pieces to help me sleep, and sleep I did
Enoughofu@optonline.net. on March 5, 2019
Andrea H. on February 7, 2019
Nice sof, chewy gummy! Great flavors coated w sugar! Take one a night before bed. Must try CBD product.
Cris R. on December 27, 2018
Les Y. on December 23, 2018
It was great love the cbd gummies
Helen W. on December 2, 2018
Fast shipping and i love products. I recommend them to anyone who loves CBD.
Jessica C. on November 30, 2018
These are by far the best CBD gummies I've tried. They seem much stronger than the others, and have really helped me sleep much better. I eat 2-3 gummies before bed each night, and am not hurting as much as normal. I suffer w Lupus and RA, and the CBD helps me sleep through my pain. Definitely recommend!
Carl S. on November 30, 2018
They have a unwanted Side affect of making me sleepy not what I was looking for
Kimberly C. on November 27, 2018
Not my favorite. They're ok, nothing special, for me anyway. Too sugary, weird medicinal taste. I expected more from 500x. Kinda disappointed.
Brian K. on November 26, 2018
Taste great and work well. relives some of my pain by 2 points. I'll order some stronger gummies next time.