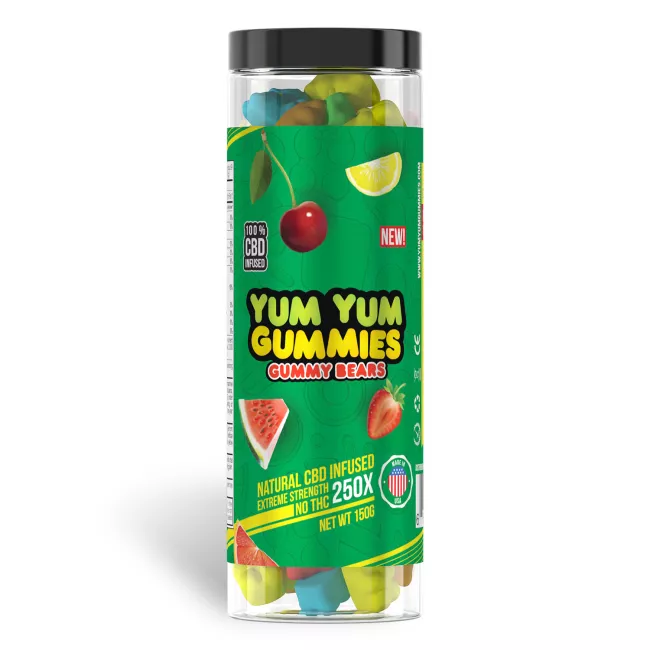 Yum Yum Gummies 250mg - CBD Infused Gummy Bears
---
Products of the Same Brand
Frequently Bought Together
---
Billupsangelique@gmail.com. on March 31, 2019
i LOVE THIS PRODUCT iWILL BUY IT MORE OFFTEN
Frank C. on March 29, 2019
Great product. Helps with my lower back pain and allows me to sleep like a newborn.
Dianne k B. on March 24, 2019
I really like these.. I've been able to use them for a lot of things!! I'll be buying more..
Richey A. on March 17, 2019
Nikki V. on March 6, 2019
I can tell a difference taken these. They don't taste half bad either.
Francois J. on February 25, 2019
I'm a VET and suffer from PTSD. It helps in my Anxiety and sleep issues. It also helped in back pain. Since using CBD, my back pain has gotten less and less each month.
Michael C. on February 20, 2019
Wow! Better than taking drops under the tongue and much tastier and more effective. I take 2 gummies for optimal sleep and anxiety relief. The full serving size would be too potent. I love them!
Nikki V. on February 19, 2019
It's help me a great deal. My anxiety it has lesson greatly. It's a great product.
Tonya B. on February 17, 2019
Evan P. on January 4, 2019
Great I love them, take the edge off a lot of things in life and help me sleep good
Donald a. F. on December 1, 2018
Great quality and quantity.
Jason D. on August 31, 2018