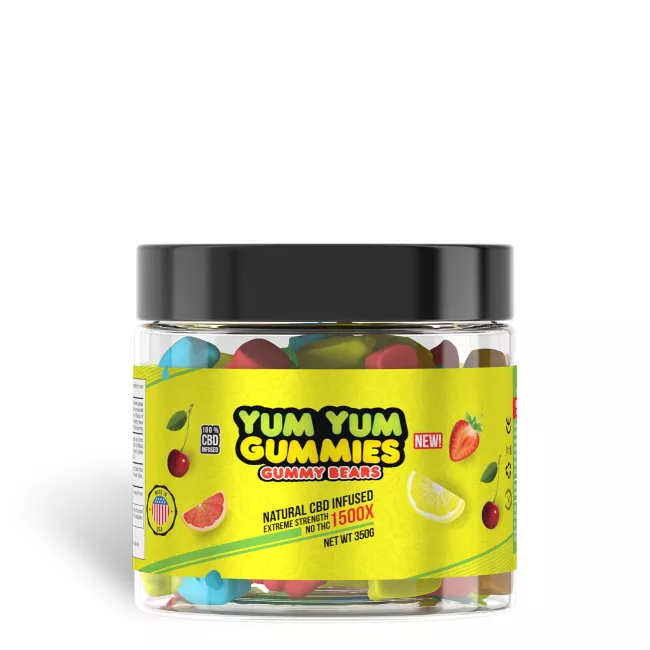 Yum Yum Gummies 1500x - CBD Infused Gummy Bears
---
Products of the Same Brand
Frequently Bought Together
---
Joseph G. on January 6, 2019
My go to for everyday use. I take 1 bear at a time for anxiety and stress. They do not make me too tired like some of the bigger products.
Todd C. on January 6, 2019
I enjoy to the three gummy's every night before bed. Helps me sleep well. Been taking the diamond CBD products for about a year now. I no longer experience a sciatic pain that I used to
David M. on December 28, 2018
Given as gift to sister and her husband, 73 y.o., trouble sleeping and body pain. Both had positive results and at this point will continue using CBD products, hopefully Diamond CBD!
Jon W. on December 27, 2018
I'm very pleased with the product. The sales also keep me coming back
Sean M. on December 20, 2018
Great value for quality products already ordered more
Kathleen T. on December 15, 2018
It is good for sleeping but I had wanted a product for pain and this gummie definitely does not provide this feature. If you are looking for a product for pain, don't buy this one, but if you want a sleep product, this is great!!
Jon W. on December 13, 2018
The gummy product is great and delivery was very reasonable. I've actually tried to order more, but the same credit card I used last time will not process and I really don't understand why so I am unable to order more of your products in the future
Laury N. on December 11, 2018
I bought these because they were on sale. I'm rating them a 3 because there is absolutely no information anywhere on how much CBD is actually in this product. I have no idea whether I'm getting any medication or just a tasty gummy candy.
Tiffany C. on December 9, 2018
The product tastes great! Definitely have noticed it helping with things like anxiety. Will continue to buy this and other great products!
Richard K. on December 3, 2018
This is not the only product I have purchased from Diamond CBD and all products have been excellent and good values. Can't get better than that. Actually I especially recommend the sour gummy rings from Yum Yum Gummies as the flavor completely masks the CBD taste. In some ways the CBD taste in the gummy bears is an assurance that they are infused with CBD but I prefer the sour rings. By the way the CBD taste is slight in the bears and only a palate like mine ( I used to judge wines for the AWS) would notice it so buy with confidence. I also want to note that the pamphlet that came with the Diamond products was very informative.
Jackie F. on December 1, 2018
I had some problems using my Groupon coupon but was able to make it work finally. I called and emailed this company for assistance and they were really helpful. I've only used this product a short time so don't have a report on it's use yet.
Kevin W. on October 13, 2018
Good stuff and like the amount you get.
Brenda B. on September 19, 2018
These are great every yum yum I have tried has been delightful all the way around