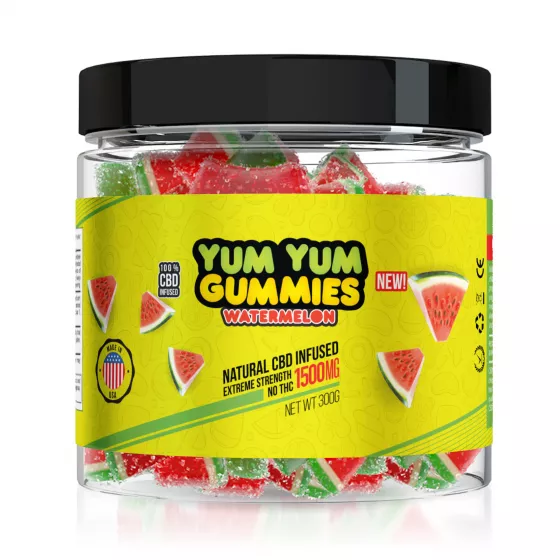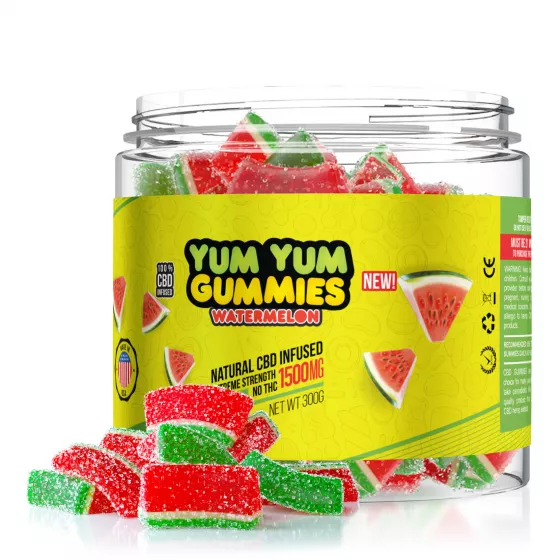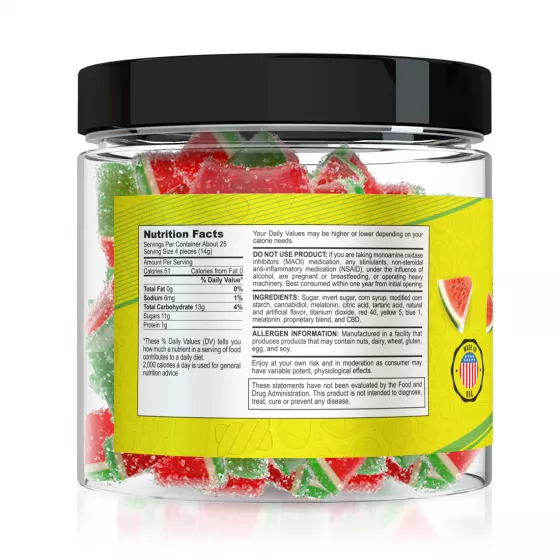 Yum Yum Gummies 1500mg - CBD Infused Watermelon Slices
Yum Yum Gummies 1500mg CBD Infused Watermelon Slices use natural CBD hemp extract and deliver yummy CBD gummy taste. CBD Gummies are the #1 CBD choice for many people wanting to take CBD oil … Read more
Key Facts
With 1500mg of CBD Isolate
Yum Yum Gummies 1500mg CBD Infused Watermelon Slices use natural CBD hemp extract and deliver yummy CBD gummy taste. CBD Gummies are the #1 CBD choice for many people wanting to take CBD oil (cannabidiol).
CBD gummies, aka CBD Oil Gummies or Cannabidiol gummies, are chewy edible CBD infused candies manufactured from industrial hemp plants. Take Yum Yum Gummies 1500x CBD Infused Watermelon Slices and experience the delicious benefits of CBD oil.
Recommended use: take 1-6 gummies daily as needed.
Sugar, Invert Sugar, Corn Syrup, Modified Corn Starch, Citric Acid, Tartaric Acid, Natural & Artificial Flavor, Titanium Dioxide, Red 40, yellow 5, Blue 1, Proprietary Blend and CBD.
Cristi P. on September 21, 2020
Super yum! I sleep like a baby. 💕🙌😃
Brandis L. on September 21, 2020
Absolutely my favorite, they are so good!!!
Walter R. on September 18, 2020
These gummies are the perfect blend of sweetness and tartness and do a great job of masking the sometimes bitter taste of the CBD. Thank you for a great product.
Kjunmely. on September 14, 2020
Healinggamer22. on September 14, 2020
These gummies work great and taste great!