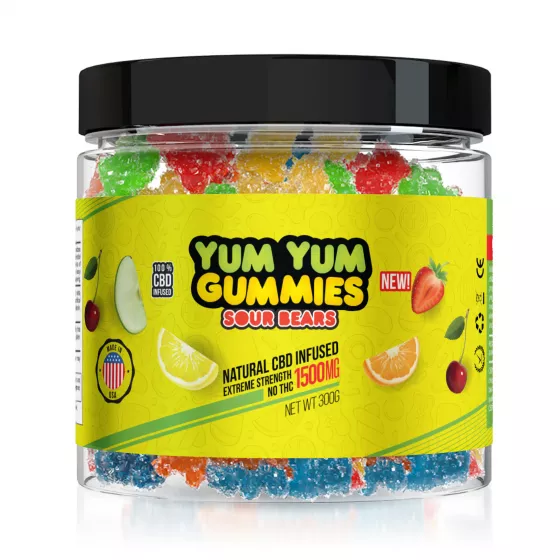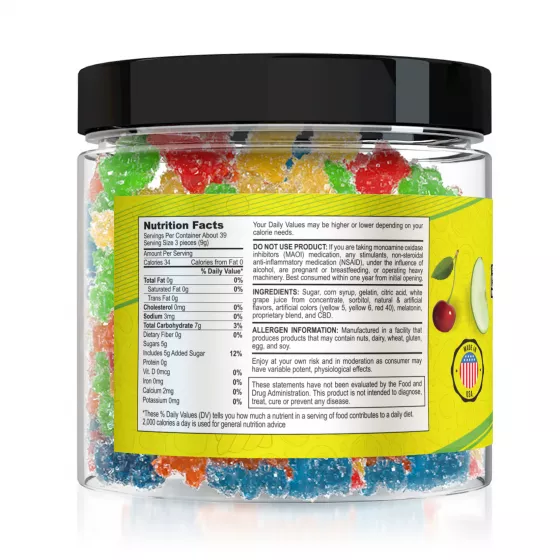 Yum Yum Gummies 1500mg - CBD Infused Sour Bears
Yum Yum Gummies 1500x CBD Infused Sour Bears use natural CBD hemp extract and deliver yummy CBD gummy taste. CBD Gummies are the #1 CBD choice for many people wanting to take CBD oil (cannabidiol). … Read more
Key Facts
With
1500mg
of CBD Isolate
Yum Yum Gummies 1500x CBD Infused Sour Bears use natural CBD hemp extract and deliver yummy CBD gummy taste. CBD Gummies are the #1 CBD choice for many people wanting to take CBD oil (cannabidiol).
CBD gummies, aka CBD Oil Gummies or Cannabidiol gummies, are chewy edible CBD infused candies manufactured from industrial hemp plants. Take Yum Yum Gummies 1500x CBD Infused Sour Bears and experience the delicious benefits of CBD oil.
Recommended use: take 1-6 gummies daily as needed.
Corn Syrup, Sugar, Gelatin, Fumaric Acid, White Grape Juice from concentrate, Citric Acid, Lactic Acid, Calcium Lactate. Glycerin, Natural & Artificial Flavors, Titanium Dioxide (for color), Silicon Dioxide (Anticaking Agent), Artificial Colors (Red 40, Yellow 5, Yellow 6, Blue 1). Proprietary Blend and CBD.
Augie2684. on October 13, 2020
Helps me cope with my pain. I feel more confident than if I was taking prescription drugs
Annettejrain. on October 9, 2020
Love the flavor and product did what was expected.
Maxaroni. on September 26, 2020
Love this product. I have a very difficult time relaxing. These gummed help me to unwind. I cant be more grateful that I found this company!!
Samantha B. on September 5, 2020
These gummies are by far my favorite!!!! They are the best thing for anxiety and stress!!! Also amazing for sleeping as well!!! Love me some Diamond CBD thanks for everything!!!!
Brittany W. on September 2, 2020
These have literally saved my life, I'm currently going through a breakup on top of the busiest time of year at my job and this gets rid of that crushing pain in your chest from anxiety plus they don't have that harsh oil flavor. Thank you for giving me some sort of relief