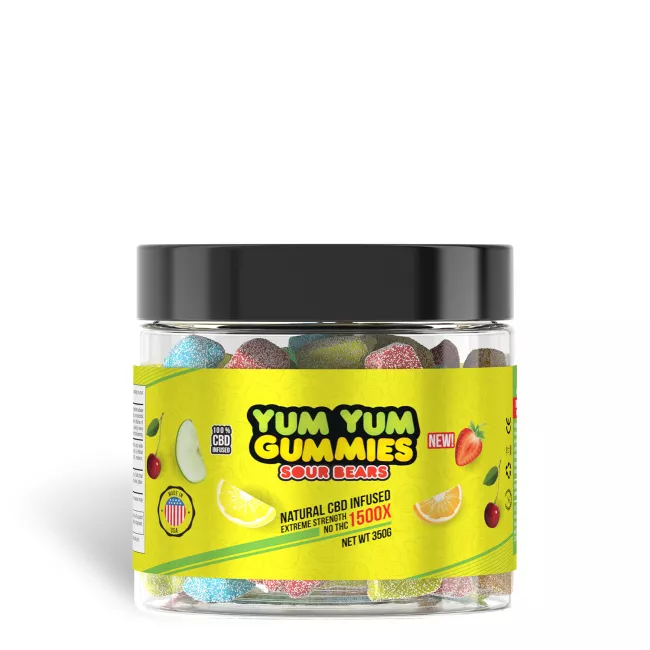 Yum Yum Gummies 1500mg - CBD Infused Sour Bears
---
Products of the Same Brand
Frequently Bought Together
---
Pam P. on April 17, 2019
I love these! so relaxing
George T. on April 17, 2019
Great just gets to be expensive very fast.
Pam P. on April 9, 2019
James S. on March 25, 2019
2nd bottle I've had and still tatses amazing. I've tried 3 different other company's and this one is the best tasting and strength for the amount of money you spend IMO...
Jennifer H. on March 20, 2019
Kathryn M. on March 13, 2019
Love these little gummies. Very relaxing and help with arthritis pain

Christina M. on March 13, 2019
Delicious! Work good. Fast shipping.
Rita C. on March 12, 2019
Take these every night before bed...helps with my sleep and have so much less morning stiffness with my RA.
Deb T. on March 11, 2019
Mary r M. on March 10, 2019
I hate hate hate the sugar coating on them. I wash it it off under running warm water. My teeth don't need it. Otherwise the product is good. Wish you would put out a sugar free line. I do not object to the taste of the pure oil which I have to buy elsewhere. I can hold that in my mouth and let it absorb. Not so with the sugar.
Kimberly J. on March 8, 2019
Thomasnjobana.03@gmail.com. on March 7, 2019
The Products are amazing, Customer service is Great and they have super fast shipping, The
Kristin S. on March 4, 2019
The Gummies are great! The coupon codes don't always work.
Nicholas H. on February 28, 2019
3 every morning and my lower back pain is all but gone with these, and they are very tasty.
Mark D. on February 24, 2019
Jan T. on February 19, 2019
I ordered the Yum Yum Gummies on the recommendation of a friend who orders from Diamond CBD. I have had rotator cuff surgery and my shoulder was keeping me from sleeping at night. I eat 2 of the gummies every night before going to bed, and I am sleeping thru the night. I used to take Advil every night before bed, but haven't taken any since I started using Yum Yum Gummies. They are wonderful.
Becky S. on February 19, 2019
Good flavor and very fresh.
Terrianne O. on February 17, 2019
Have tried 3 different kinds in total and love these by far. Prefer the gummies to the actual oils as well. Cannot tolerate taking the oils at all. Only wish the coupons lasted longer than 48 hours, doesn't give much time for people on limited income to figure it into their budgets.
Gerald T. on January 24, 2019
Product is working fine,only problem is that your coupon is good for only 48 hours!
Tim O. on January 23, 2019
I had actually received the wrong order - one that was valued at less than my purchase price, but the company did make right after a few calls to the service team and they gave me a refund for the difference. As for the product itself I am satisfied with it and it does seem to help me sleep at night. This is my first time trying CBD so I'm not able to compare it with a competitor. I would give this company another chance to get my order correct next time and will most likely be ordering again in the future when my gummies run out.
Larry H. on January 22, 2019
Christopher S. on December 31, 2018
FAST SHIPPING-GREAT PRODUCT
Candace M. on December 24, 2018
Pamela M. on December 23, 2018
The taste is Amazing and they work so well. Best way to unwind after a long day.
Janina S. on December 8, 2018
I love your products, but these are just to strong for me. I will be sticking to my 100x gummies next purchase. These knock me out in less than 10 min😴😵
Richard B. on November 8, 2018
It's been good I love this product I will continue to buy your products thank you
Kliff T. on November 7, 2018
This is only the second brand I have tried and they are good but so far meds biotech are by far my favorite!! Still a great product though!!
Leeann M. on September 29, 2018
Anthony W. on August 23, 2018
Larger gummies that are very tasty and work very well.