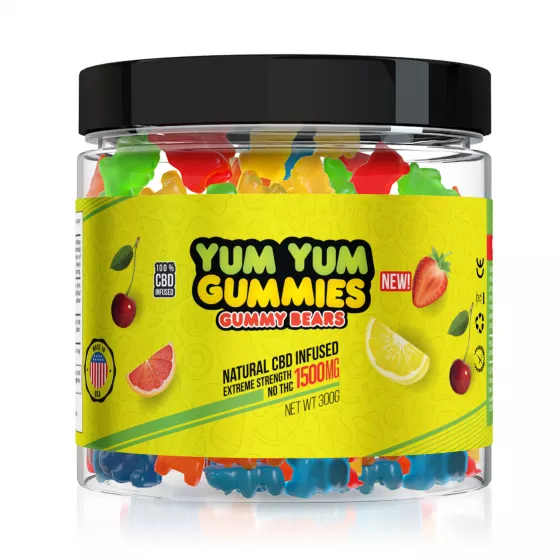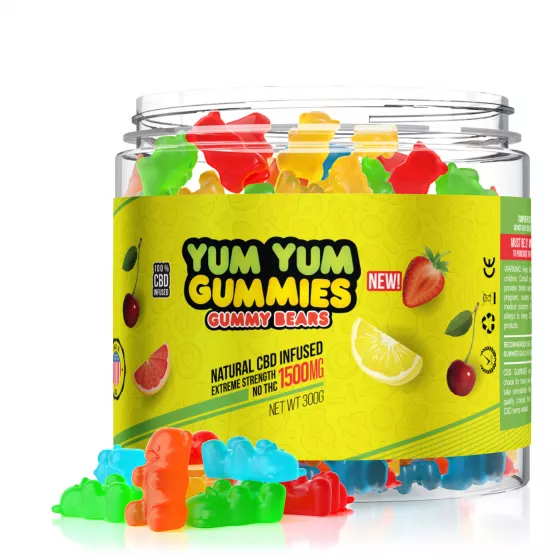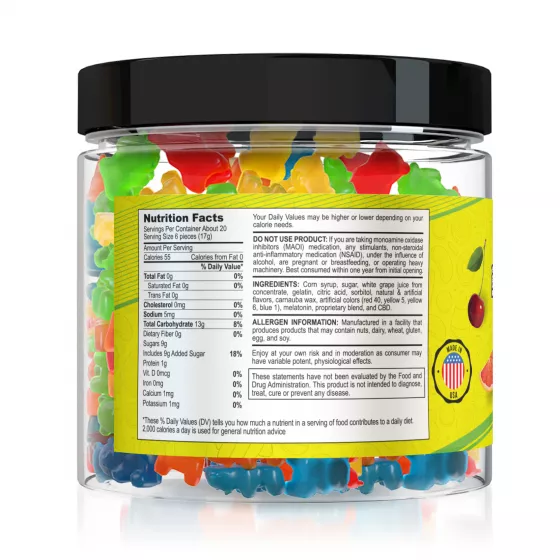 Yum Yum Gummies 1500mg - CBD Infused Gummy Bears
Yum Yum Gummies 1500mg CBD Infused Gummy Bears use natural CBD hemp extract and deliver yummy CBD gummy taste. CBD Gummies are the #1 CBD choice for many people wanting to take CBD oil (cannabidiol). … Read more
Key Facts
With
1500mg
of CBD Isolate
Yum Yum Gummies 1500mg CBD Infused Gummy Bears use natural CBD hemp extract and deliver yummy CBD gummy taste. CBD Gummies are the #1 CBD choice for many people wanting to take CBD oil (cannabidiol).
CBD gummies, aka CBD Oil Gummies or Cannabidiol gummies, are chewy edible CBD infused candies manufactured from industrial hemp plants. Take Yum Yum Gummies 1500x CBD Infused Gummy Bears and experience the delicious benefits of CBD oil.
Recommended use: take 1-6 gummies Daily as needed.
Corn Syrup, Sugar, White Grape juice from concentrate, Gelatin, Citric Acid, Sorbitol, Natural & Artificial Flavors, Carnauba Wax, Artificial Colors (Red 40, Yellow 5, Blue 1). Proprietary Blend and CBD. 
Pms1953. on November 25, 2020
I can more relaxed and they taste good.
Tennant98277@gmail.com. on November 24, 2020
I've been taking these about 1-2 hours before bed to help with sleep, as I've got a work schedule that rotates days and nights. In the last couple weeks I've had deeper sleep and have been able to sleep.longer during the day. Only downside is they taste delicious and I have to remember they're not candy...
Sherik7@gmail.com. on November 23, 2020
Lifescrazy002. on November 22, 2020
The 1500 gummies are great for aches and pains, stress reliever, this is great to start my busy day and do my work. And then come home cook dinner and clean my house. I have a long day. And these gummies help me all day. I'll take about 6 to 8 daily. Well just buy them. And you'll see what I'm saying. It's worth it
Nancy B. on November 20, 2020
help with sleep and general well being