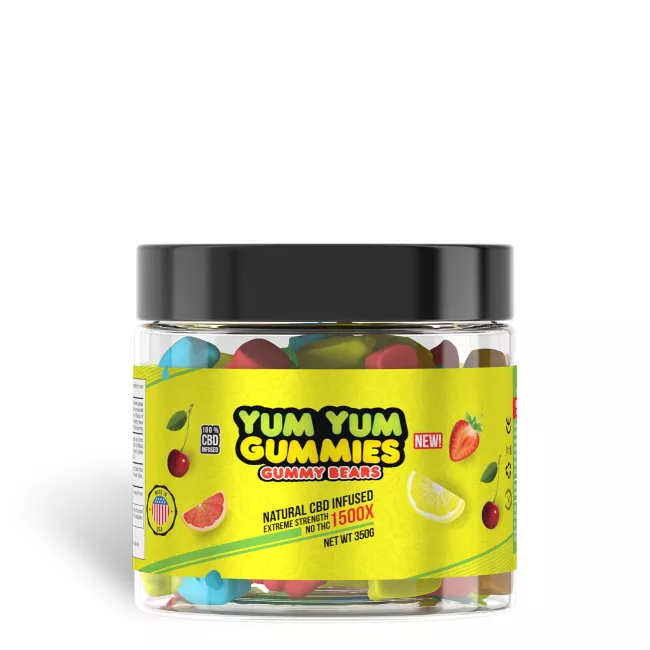 Yum Yum Gummies 1500mg - CBD Infused Gummy Bears
---
Products of the Same Brand
Frequently Bought Together
---
Colleen P. on April 19, 2019
I am the world's worst sleeper; it just doesn't happen, naturally, for me. Whether or not it's all in my head, I do not care; the Yum Yum gummies help me sleep and it's WONDERFUL!
George T. on April 17, 2019
Very positive,I have problems with chronic pain in my lower back due to my profession(Union ironworker) anyway I cannot use THC edibles due to drug testing so the CBD helps tremendously,I just wish it was a little stronger, cheaper and larger because I have to take more than prescribed,I hope this finds its way to someone in the company who will take into account people who have to take more than is prescribed to get by because it does get very expensive even with the 50% off , thank you.
Lisa F. on April 15, 2019
Yes I like yum yums they have helped with my anxiety and I sleep better. .. I have recommended them to others .. Thank you
Wendy C. on April 13, 2019
Love the gummies. They help with my pain. I have bad knees that my orthopedic doctor said both need replacing. Due to my age, 48, he will not so surgery now. The gummies help with the pain & inflammation. My dad takes them too! They help him sleep through the night! Just ordered more! Plus your sales are awesome! Love Diamond CBD!
Chris L. on April 12, 2019
Deborah W. on April 10, 2019
John S. on April 10, 2019
Great product. Will reccomend to others
Ryan W. on April 9, 2019
I am a Marine veteran and I have been suffering from lack of good sleep. I would just lay in bed either analyzing everything in the world or thinking I have to go do something. So I came along this great product! I was getting the 1000X sour ones before but the sugar stuff on it was too much. So, I got the regular ones and upped the dose to 1500X. I take 6 of these right before bed, get in bed all nice and snug and warm. Poof, I'm out!
Pam P. on April 9, 2019
Judy C. on April 7, 2019
I really like this product. They are fresh and tasty. I have Esential Tremors in my hands and these little gems slow them down tremendously.
Mj M. on April 7, 2019
I bought the Yum Yum Gummies 1500X because I was having trouble sleeping at night. They work for me and I like the different flavors they come in.
Thank you Diamond CBD.
Debra S. on April 7, 2019
Well labeled, great price, fast shipping. Just 1 before bed and better sleep. Haven't taken long enough to say if it is helping with pain, will see
Carrie R. on April 4, 2019
Great taste and they have helped with my migraines and my sleep!
Janice S. on April 3, 2019
I love these gummies. I suffer from an autoimmune disease and the pain is constant. I have been taking 6 gummies a day, 2 in the morning, 2 at noon and 2 at night. It has helped ease my pain immensely.
Marcia T. on April 1, 2019
Very pleased with this product! Glad it was discounted which contributed to purchasing it. Immediately
Karen C. on April 1, 2019
Wish they were a bit higher in dosage but taste great and do help with falling asleep and my neck pain ~
Susannah G. on April 1, 2019
Super yummy and help with my anxiety!
Don C. on April 1, 2019
Delicious & quick delivery
Melissa J. on April 1, 2019
I have almost replaced my prescription anxiety medication completely by using CBD products and this is one of my favs. Super helpful in managing my anxiety and helping with sleep!
Cheryl L. on March 31, 2019
I love them--mostly--but I wish they would put more cherry flavored gummies in the package. I've bought three orders of gummies so far and in every container I've only found about ten cherry gummies, as opposed to maybe thirty lemon or whatever flavor that green thing is supposed to be. MORE CHERRY, MORE CHERRY, MORE CHERRY!!!!!
Deborah W. on March 30, 2019
The price is great and they work great.
Robert H. on March 23, 2019
Product good. Would be nicer If you would label the product with the amount of CBD per dose and not just the whole unit.

Sarah B. on March 20, 2019
I really enjoy this product. I just wish there was a dosage per candy instead of just saying that a serving size is 1-6 candies. I don't know how much cbd I am actually taking. Other than that I really like them, they have a good taste and I notice a relaxed feel when consuming 2-3 at a time.
Cassie B. on March 19, 2019
Definitely helpful and stress relieving! Also aides in a good nights sleep!
Richey A. on March 17, 2019
Does exactly what I need it to do!
Jan T. on March 16, 2019
A friend recommended that I try Yum Yum Gummies. I have a lot of rotator cuff pain and was unable to sleep. Now I eat 3 of the delicious gummies before bed, sleep through the night, and wake without pain. These work so well for me that I just ordered cbd oil for my dogs. I am a Diamond customer for life.
Jason Z. on March 15, 2019
My wife uses these for her anxiety and it does certainly help. I do wish the website was a bit more up-to-date with regards to the status of my orders though, they'll say processing right up until the day I receive the order in the mail.
Lou S. on March 14, 2019
I like the peach rings better.
Naomi W. on March 14, 2019
Love this item! I would recommend If you are in need of sleep I take 5 and I sleep soundly for at least 8 hrs which is what I need because I work 3rd shift and it's hard to sleep with the sunlight, kids out of school being noisy , landscapers , pain etc etc .
Ingrid A. on March 12, 2019
One Does the trick, I sleep like a baby!!!! I love this product because it's effective and it taste good too!
Ashley E. on March 11, 2019
Love these gummies. I go through them pretty fast so I wish there was a little more packed into these containers for the price. Overall, they taste great (no nasty after-taste) and they do the job.
Deborah B. on March 11, 2019
Have used other companies products and these are at the top. Very effective and have recommended them to others.
Karen P. on March 11, 2019
Chris C. on March 10, 2019
Great product! Thanks Diamond CBD!!!
Brittany S. on March 7, 2019
One of my new favorites! I will buy again!
Thomasnjobana.03@gmail.com. on March 7, 2019
Super great customer service and products are amazing,,Just placed my 2nd order and shipping is super fast!!!
Kristin S. on March 6, 2019
Great. work so well for pain!
Brad H. on February 28, 2019
Kia S. on February 25, 2019
I take 4 at a time but I get relief
Nick C. on February 19, 2019
Aletha M. on February 19, 2019
Nick C. on February 19, 2019
Nick C. on February 15, 2019
Work amazing. I keep ordering more
Julie H. on February 14, 2019
This product is great... taste and quality.
Rsanddoller4u@yahoo.com. on February 14, 2019
Yum Yum gummies work great,my wife loves the relaxed effect that she gets from taking them for her tremmors that she gets from her stroke it really takes care of them in a short period of time....they should be called the SUPER YUM YUM MIRACLE GUMMIES....THANK YOU DIAMOND CBD THEY ARE GREAT....
Gerald T. on February 14, 2019
Good product! If a review for each purchase is wanted/required they will become very negative.
Charla H. on February 14, 2019
These were okay and I am not sure I feel the effects. However they were not stuck together like the other one I bought.
Mikey H. on January 25, 2019
Solid product I eat 2 every couple hours. Does the trick. It's a shame you guys take 5 years to ship things. Just ordered another batch and still not shipped after 5 days. Only reason I'm bummed out with this company. Products are good though.
Donald a. F. on January 22, 2019
Despite initial delays in shipping due to the holidays it arrived ahead of schedule which is more than good. Contains ~165 bears making each bear ~9mg CBD. I'm definitely satisfied with the product as well as the price due to the sales.
Mary r M. on January 21, 2019
Wish I knew more about them .. I don't know how strong they are so I don't know how many to use before bed. I thought that getting the higher level would make them stronger but it just meant more of them. I'm a pilgrim at this and could sure use more information.