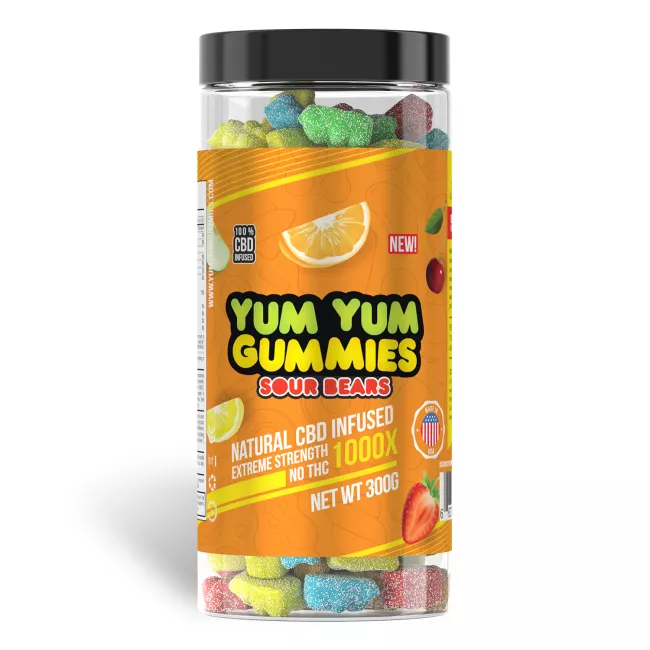 Yum Yum Gummies 1000x - CBD Infused Sour Bears
---
Products of the Same Brand
Frequently Bought Together
---
Stephen H. on February 15, 2019
Great product. For years I have been on anxiety medication, just 2-3 months from taking these, I'm halved my dose, sleep better and feel better. Highly recommend.
Stephen H. on February 14, 2019
I normally don't write a review about anything but I suffer from depression and sleep issues - have for years. Since I've started taking these, I've lowered my dose of depression meds, no longer on sleep meds, feel more relaxed and on top of things. I know that sounds like a schtick but depression comes in may forms and this is the first time since I can remember that I have an other option besides Rx that flat lines my mood. Wonderful product.
Chris K. on January 18, 2019
Love them!!! Great taste,quality product,awsome service
Kelly B. on January 7, 2019
This product has been a life changer... It is the best thing for all my problems... Sleep depravation, pain in my neck everything.. Get on board before big pharmacy companies try to get rid of this stuff!!
Jennifer L. on January 6, 2019
So far the best gummies I've had .
Rochelle H. on January 5, 2019
I usually get Chill brand CBD gummies. This seemed to be a very good deal- so many in the container, at a good sale price! They're fine, but they don't work quite as well for me. I will probably just stick to the brand I know.
Brad C. on January 2, 2019
I like these and after not taking them for a month with the oil and just oil alone I noticed a difference. The gummies take longer to kick in but the effects seem to last longer when they do kick in. The sour gummies were a great taste as well!
Rita C. on January 2, 2019
I can't even tell you what a difference your product has made for me! I am able to do SO much more now with my hands than I could 3 months ago!! Thank you for giving me back the use of my hands!!
Donald a. F. on December 30, 2018
Excellent quantity and quality at a very good price thanks to lots of sale offers. Ships in a timely manner.
Brian P. on December 26, 2018
These gummies are great! They taste excellent with different flavors. 1 during the day and 2-3 at night to help sleep. Good for relaxing with a nice laid back feeling. I ordered some a couple weeks ago. They arrived pretty quickly and I've already placed another order for more. Highly recommend!
Christina M. on December 18, 2018
Works good. Must take multiple for relief. Taste isn't bad.
Pamela M. on December 18, 2018
Looking for a way to unwind after a long day.. these gummies taste delicious and work so well.
Nancy B. on December 18, 2018
Angela W. on December 16, 2018
Mike F. on December 15, 2018
Love these gummies.I take the oil and use the gummies at the end of the day to relax and sleep better at nite.
Jeff C. on December 13, 2018
Fanfreakintastic , a pleasure to eat , made me wonder where they had been all my life
Donna B. on December 13, 2018
I absolutely love the gummies,!! I got them at a buy one get one free and they are so wonderful!!
Cynthia l. M. on December 13, 2018
I think they may be all around a great choice and work well.
Shelley R. on December 13, 2018
Love them. Great product. Reordered and referred my son
Don R. on December 12, 2018
My new favorite! Came quick, very fresh and tasteful. Works well! Very happy.
Rita C. on December 12, 2018
Colin L. on December 6, 2018
They work great! Just one can knock me out and I sleep like a rock. My wife takes three to have a deep sleep before a long day serving tables
Pamela M. on December 5, 2018
Love this product.. great for unwinding at the end of the day
Landon L. on December 3, 2018
This product has altered my life in so many beneficial ways. I've noticed my mood has changed while taking them daily. I've struggled with depression and anxiety and these Yum Yum CBD gummies are helping so much with that. I'm quite happier and I've been more relaxed, less stressed, and really chill. They've also helped with my chronic pain and fatigue— I've definitely been recommending CBD products to friends and family who could benefit from taking them. Yum Yum CBD Gummies really do improve your overall well-being and this product is a high quality, perfect choice for anyone interested in seeing what CBD edibles can do for them. 😊
Jimmy B. on December 2, 2018
Jeff H. on December 1, 2018
Great taste, just not quite sure about the strength! Maybe I need something stronger!
Donna B. on November 1, 2018
I absolutely love these gummies!!! I bought one and got another in the Bogo. If they have that sale again I will definitely buy again!!!
Wayne T. on October 8, 2018
They work so much better than gas station CBD products I like all of the products from Diamond CBD. THE only place I buy from.
Michelle K. on September 3, 2018
Love it and just placed an order for more. I have shared it with friends and some of them are ordering it.
Shirley G. on September 2, 2018

Absolutely love these gummies! I will always buy from Diamond CBD.