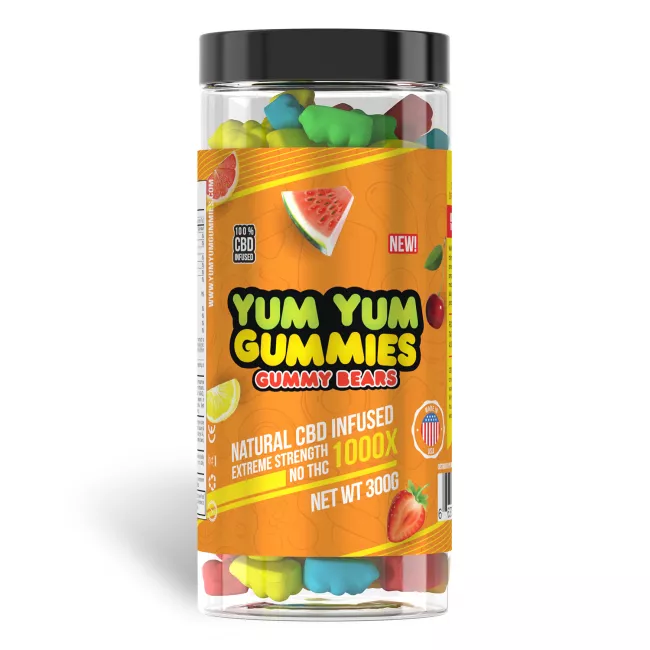 Yum Yum Gummies 1000mg - CBD Infused Gummy Bears
---
Products of the Same Brand
Frequently Bought Together
---
Howard H. on April 9, 2019
i had pain in my knees when i went up the steps. Take 3 gummy bears daily and no longer have the paln.
Karen P. on March 27, 2019
John L. on March 24, 2019
I use this product to help deal with hip pain. And I am extremely impressed on how it works, it actually works better than any script that I received.
Sarah C. on March 22, 2019
This product works!!! It's amazing!!
Pamala H. on March 21, 2019
Quick shipping, great product. My 2nd order and will keep this company bookmarked for all future orders.
Abdullah A. on March 20, 2019
Great Product, not overly sweet & don't have that medicine yet it works.
Rachel H. on March 17, 2019
Luv luv luv em very satisfied and will continue to order from u
Terry B. on February 24, 2019
I'm very happy with this product. Yum yum gummies help me sleep at night.
Kristin S. on February 23, 2019
Mostly good. I am having problems getting the Review coupon codes to work. They say the code is invalid .
Denise W. on February 22, 2019
I have actually tried many products through Diamond CBD. They are all Great! All the gummies I have ordered for myself and family members help to relax and sleep through the night. I recommend them all!
Tommy K. on February 19, 2019
Crazy good for the price.
Laura M. on February 19, 2019
Great product and excellent customer service. Really helps to relax and get a great nights sleep. DiamondCBD rocks!
Michael P. on February 19, 2019
Christina M. on February 19, 2019
Great flavor. Works great.
Kristin S. on February 14, 2019
These are so good! My go to CBD!!!!
Daniel W. on February 14, 2019
John L. on January 28, 2019
Awesome product you kept them hidden too long works very well for my leg pain will order many times
Michael P. on January 24, 2019
John M. on January 11, 2019
Christina M. on January 6, 2019
Flavor is ok but I prefer the sour flavors more. Works good. Fast shipping.
Kristin S. on January 1, 2019
Jaimie P. on December 25, 2018
Excellent product, great taste, not too much sugar like others I've tried.
And most of all, great price, I recommend this to anyone looking for
pain control and problems with anxiety
Brenda O. on December 13, 2018
Like the taste and they work good for pain.
Ashley E. on November 23, 2018
These gummies are pretty good! When I asked someone about the actual dosage per gummy, they were unable to give me a straight answer. I wish they would have a better measurement posted on their labels so that you have a better idea of dose. Other than that, these are great.
Cheri l H. on November 21, 2018
I really like them. They work fantastic. I'm definitely going to get a few bottles for my customers. I want to carry and sell YOUR PRODUCTS ONLY. I'm getting the finishing touches on my shop and I'm also getting my first order ready as well.
Have a Happy Thanksgiving ,I'll be ordering very soon.
Best Regards,
Cheri Henderson
Cheri l H. on November 15, 2018
I'M GOING TO SAY ONE THING AND THAT ONE THING IS " I FOUND THE PERFECT CBD GUMMIES"! I'M IN LOVE WITH THESE GUMMIES I JUST GOT THE SOURS,I'M SO EXCITED I CAN'T WAIT TO GET THEM WHEN I GET MY OTHER MONEY AT THE END OF THE MONTH. I'M SPENDING AT LEAST ENOUGH TO GET 1 A WEEK. I FINALLY FOUND MY FAVORITE CBD THAT WORKS FOR ME I'M GOING TO FIND OUT IF THEY HAVE A HIGHER LEVEL OF CBD THAN 1000X. IF SO, I'M GOING TO GO HIGHER. MY BODY METABOLISM IS AT A HIGHER LEVEL THAN MOST. I'M A RARE INDIVIDUAL.
Thomas S. on November 9, 2018
John M. on November 4, 2018
Love Them. So do my wife and Daughter!
Timothy H. on October 30, 2018
Very good product! Great taste and great results!
Terry B. on October 1, 2018
Helps me sleep, so this product is wonderful for me
Johnny B. on September 30, 2018
Loved the relaxing feeling and definitely the size for your price you pay
Tina B. on September 5, 2018
This is my 3rd purchase of the CBD gummies. I love the little guys. Thank you diamond for having a great product.
John M. on August 26, 2018
Love them, they taste great!!