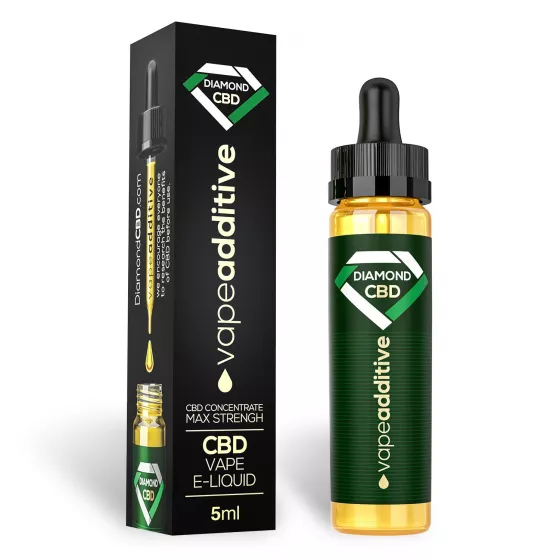 Diamond CBD Vape Additive [5ml]
New and improved formula, now with more CBD! Diamond CBD Vape Additive CBD Concentrate Maximum Strength 5 ml CBD oil vape additive is free of THC and can be used in vaping e-liquids (e-juice or vape … Read more
New and improved formula, now with more CBD! Diamond CBD Vape Additive CBD Concentrate Maximum Strength 5 ml CBD oil vape additive is free of THC and can be used in vaping e-liquids (e-juice or vape juice). The best CBD additive for vape juice.
Diamond CBD Vape Additive CBD Concentrate Maximum Strength 5 ml are produced using the highest quality ingredients and 100% natural hemp. Diamond CBD Vape Additive is made with premium CBD oil made from organic industrial hemp. Vaping CBD enriched e-liquid is a great alternative to getting your daily dose of CBD from CBD oils, CBD tinctures, CBD pills, CBD edibles and CBD smokables.
Diamond CBD Vape Additive CBD Concentrate Maximum Strength 5 ml provides a concentrated, raw, unfiltered and solvent-free CBD, intended to significantly supplement and empower your other vaping liquids or vape juices.
For the best concentrated CBD vape additives, look for Diamond's.
Industrial Hemp Cannibidiol, USP Kosher Glycol, USP kosher vegetable glycerin and natural turpentoids
Mg of CBD per bottle
Mg of CBD per drop
1ml bottle
5ml bottle
12ml bottle
16ml bottle
25 mg
1.25 mg
0.25 mg
0.10 mg
0.08 mg
50 mg
2.50 mg
0.50 mg
0.21 mg
0.16 mg
85 mg
4.25 mg
0.85 mg
0.35 mg
0.27 mg
120 mg
6.00 mg
1.20 mg
0.50 mg
0.38 mg
350 mg
17.50 mg
3.50 mg
1.46 mg
1.09 mg
450 mg
22.50 mg
4.50 mg
1.88 mg
1.41 mg
500 mg
25.00 mg
5.00 mg
2.08 mg
1.56 mg
550 mg
27.50 mg
5.50 mg
2.29 mg
1.72 mg
650 mg
32.50 mg
6.50 mg
2.71 mg
2.03 mg
850 mg
42.50 mg
8.50 mg
3.54 mg
2.66 mg
900 mg
45.00 mg
9.00 mg
3.75 mg
2.81 mg
1200 mg
60.00 mg
12.00 mg
5.00 mg
3.75 mg
Measured in mg per drop**
This table represents how many mg of CBD per drop are approximately included in the product.
Please check this table before purchasing.
Eric M. on September 16, 2019
Great product and is perfect for what I need it for. I recommend this to anyone that wants to try cbd for the first time.
Kcasto7. on September 5, 2019
I'm new to CBD oil and am completely satisfied with Diamond CBD products. Great product for reasonable price.
Kolene S. on July 24, 2019
Anthony K. on June 7, 2019
Was very helpful to relax and little pain relief. Pretty costly for the small amount you receive
Lisette B. on February 23, 2019
Very nice and relaxing. I do like the old formula much better.