Delta 8 Nebraska Facts & Is Delta 8 Legal in Nebraska?
While CBD has long been the king of cannabinoids, a new and powerful compound entered the scene in 2018. Delta 8, or delta-8-tetrahydrocannabinol, is a psychoactive compound found in hemp plants, and ever since its legalization, people all around the country have been going cannabis crazy over its many properties and effects.
Even so, some states across the nation have taken the steps to heavily regulate and even completely ban the cannabinoid within their own jurisdictions. But is the Cornhusker State one of these prohibitors, or is delta 8 legal in Nebraska?
Is Delta 8 Legal in Nebraska?
Before we get into the specifics of Nebraska's delta 8 legislation, let's take a step back to better understand the Farm Bill of 2018—AKA, the piece of legislation that legalized hemp at a federal level. Also known as the Agriculture Improvement Act, the Farm Bill passed in 2018, effectively legalizing hemp and hemp-derived products, including delta 8, in all 50 states.
An important aspect of the Farm Bill was the legal distinction it created between hemp and marijuana. While scientifically similar, these two types of cannabis are treated completely different by the federal government. Under current United States law, hemp refers to cannabis plants containing 0.3% THC or less, while marijuana refers to cannabis plants containing more than 0.3% THC. Hemp is federally legal, but marijuana is not.
While the Farm Bill fully legalized hemp and all of its derivatives, it did not legalize marijuana. In fact, marijuana remains a schedule I substance and strictly illegal under federal law. That said, the Biden administration released a statement earlier this year, which expressed its plan to revisit the federal government's stance on the type of cannabis. The statement mentioned pardoning all federal offenses for simple marijuana possession—and urged states to do the same—as well as their initiation of the process to remove marijuana's classification in the Controlled Substances Act.
Hopefully, Biden's not all bark and no bite. Federally legalized marijuana could mean safe and equal access to millions of people all around the country, but for now, hemp remains the only federally legal way for Americans to use cannabis in a recreational form.
With a deeper understanding of the Agriculture Improvement Act, let's go back to the Cornhuskers. Is delta 8 legal in Nebraska?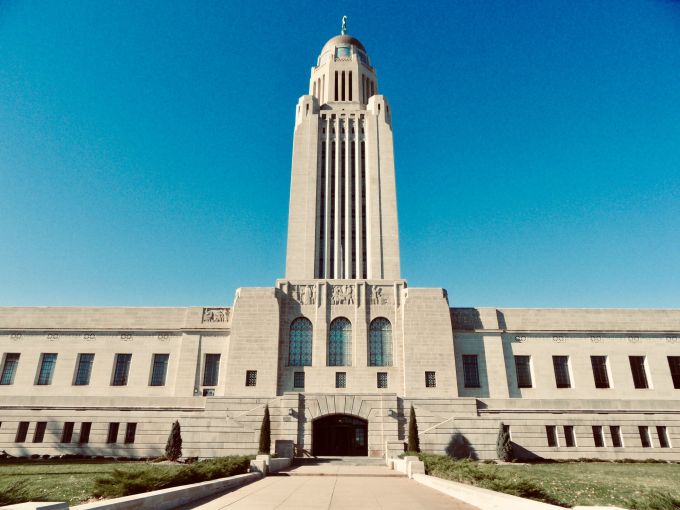 So, is Delta 8 Legal in Nebraska?
For now, delta 8 is legal in Nebraska under state and federal law, but state officials are still attempting to determine its legality. Currently, the use, possession, sale, distribution, purchase, and production of delta 8 products are permitted under state law and pose no risk of penalty or prosecution. With almost 20 states now restricting or banning the compound, however, the legality of delta 8 in Nebraska now hangs in the balance—and things aren't looking too good, especially when considering the state's anti-cannabis governor.
According to some news reports, Nebraska State Governor Pete Ricketts, who famously stated that legalizing marijuana would contribute to children dying, requested State Attorney General Doug Peterson to review if delta 8 falls under the state's definition of marijuana, which is an illegal controlled substance under Nebraska's Controlled Substances Act.
If Peterson determines that delta 8 is indeed marijuana, and therefore is an illegal controlled substance, the use, possession, sale, purchase, distribution, and production of delta 8 in Nebraska will likely be prohibited under state law. However, that may not necessarily be the case.
According to a local news report, Lincoln-Lancaster County Narcotics Task Force LPD Captain Ryan Dale does not believe delta 8 to be a problem in Nebraska and wont arrest anyone for possessing delta 8 products. "I don't know that I would characterize [delta 8] as an issue," he said in a statement, "To my knowledge, they're not doing anything illegal." Instead, his biggest issue is being able to differentiate between delta 8 and marijuana—hemp and marijuana products look virtually the same once they're out of their packaging. To protect users, he recommends people keep their original packaging and receipts to avoid problems with law enforcement, but at the end of the day, there is no legal requirement for how users carry their delta 8 products.
At this time, delta 8 is fully legal under the Nebraska Hemp Farming Act (LB 657) as long as it is derived from hemp plants carrying no more than 0.3% THC. The bill coincides with the federal Farm Bill, which legalized hemp production and cultivation at a nationwide level.
The Nebraska Hemp Farming Act defines hemp as a variety of Cannabis sativa, including viable seeds, cannabinoids, derivatives, extracts, salts, and acids, containing no more than 0.3% THC on a dry weight basis. As a derivative of delta 9 that is present in hemp, delta 8 is currently legal under state law. At the same time, Chapter 28 of Nebraska's Uniform Controlled Substances Act classifies all marijuana-derived tetrahydrocannabinols as controlled substances, but it does not list hemp-derived tetrahydrocannabinols, nor does it mention delta 8 in any way.
Thus, it seems unlikely that Attorney General Peterson does find delta 8 to be unlawful, giving delta 8's future in the Cornhusker State a glimmer of hope. With cannabis opposition operating at the highest state level via Governor Ricketts, however, we won't know until it comes straight from the Cornhusker's mouth.
Shipping Delta 8 Products to & from Nebraska
Because hemp-derived delta 8 is currently legal in Nebraska, you can lawfully purchase delta 8 products online or in person all throughout the state. In many states with legal delta 8, consumers choose to shop online for a plethora of reasons.
Firstly, online retailers tend to be much more transparent about where their products come from, meaning you don't have to judge a book by its cover—or a product by its packaging—to accurately determine its safety. Many online stores not only offer full ingredient lists, but also third-party lab tests that determine the safety, purity, and potency of each individual product. This means that you can buzz without a fuzz with the guarantee that your products are regulated and safe to consume.
Online retailers also have more reliable reputations. All you need to do is search the web and you'll find countless reviews, testimonies, and other comments from consumers just like you. This means you can make an informed decision that considers not only the quality of your product, but also the type of experience you will have with a specific retailer. Additionally, many stores post information about their production processes, including how their products are made and even what kind of hemp is used to make them.
Lastly, online stores offer much more product variety than a brick-and-mortar store. In a physical shop, you're restricted by the store's physical stock, meaning what you see is what you get. But online, you can browse through thousands of products until you find one that checks all your boxes, and all from the comfort of your own home!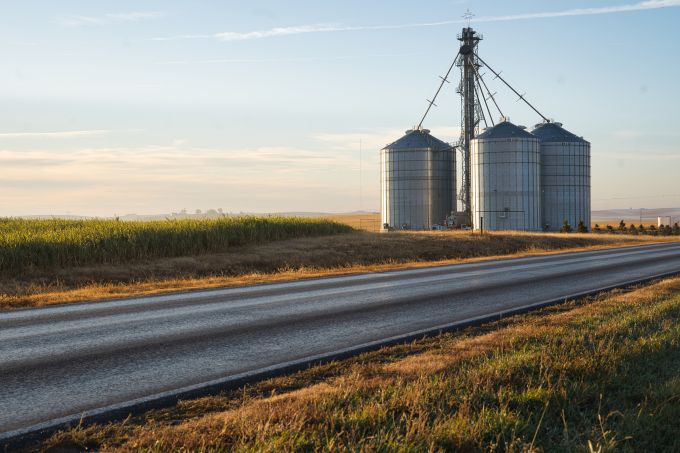 Delta 8 in Nebraska
While delta 8 is legal in the Cornhusker State, Nebraskan law does not extend the same pleasantries to recreational marijuana. As we previously mentioned, marijuana remains a Schedule I Controlled Substance in the state and is therefore illegal. Adults carrying less than an ounce of weed, however, won't be charged with a misdemeanor but rather with a civil offense, which carries a fine of $300. But this only applies if they are not in a car.
Additionally, possession of any amount of hash or other concentrate is a felony and can land you a 2-year vacation in a Nebraskan slammer. Possession of more than a pound of marijuana is a misdemeanor and is punishable by up to 5 years in jail and a fine of $10,000. Growing marijuana plants that are untrimmed and weigh over one pound is also a felony that can result in 2 years in prison. Possessing cannabis paraphernalia, including pipes and bongs, is a misdemeanor punishable by up to 6 months in jail.
In 2022, Nebraska lawmakers and advocates tried to push the Nebraska Marijuana Legalization Initiative, but it was not on the ballot as an initiated constitutional amendment in the November elections. The law would've seen the full legalization of marijuana for recreational purposes in the Cornhusker State, but unfortunately, it fell short on required signatures. To no surprise, this is partly due to Gov. Pete Ricketts's war on marijuana; the governor partnered with a prohibition group on an ad urging residents to oppose cannabis reform in the state. So, for now, delta 8 remains the only legal way for users to recreationally enjoy the benefits of cannabis.
Things to Consider When Buying Delta 8 in Nebraska
When it comes to buying delta 8, it's important to consider a few things in order to ensure a safe and positive cannabinoid experience. Firstly, delta 8 production is not regulated by the FDA, so companies are responsible for setting their own standards for safety and quality. This makes finding a truthful and trustworthy cannabinoid retailer your responsibility. Here are a few things to consider when choosing your delta 8 source.
First things first, and please say it with us: lab tests, lab tests, lab tests! The most important thing to consider when it comes to delta 8 products—and frankly, any product that goes in your body—is understanding what exactly is in it. Third-party lab testing provides a full and objective breakdown of your product's potency, purity, and safety. Sure, some packaging may claim its product is pure and safe, but how can you be sure? Lab tests don't just reveal the potency and purity of a product, they also speak volumes to a vendor's commitment to your safety.
Next, you should always, and we really do mean always, avoid bleach. A high-quality delta 8 distillate will never be fully transparent. It can range from light pink to amber, but it is never naturally clear. Some manufacturers will bleach their products to make them appear "cleaner," but in reality, they are just more dangerous. If you see a vape or oil that looks completely clear, that's a sign it's time to look for your product elsewhere.
Lastly, choosing the right hemp for your product is also important. Of course, delta 8 products need to be made from hemp in order to be legal, but that's not all there is to hemp. The best (and safest) delta 8 products are made from organic hemp grown right here in the USA. Hemp itself is a highly absorbent plant, meaning it takes in the nutrients and contaminants of its surroundings depending on its environment. You don't want pesticides or other harmful chemicals to end up in your product.
Nebraska Cannabis Market Grows with Delta 8, But Without Medical Marijuana
Nebraska's cannabis market has certainly seen a boom since the legalization of delta 8, but that's just about as far as it goes in the Cornhusker State. As of November 2022, the state does not have a medical marijuana program, meaning that medical marijuana use is not legal within the state, but it hasn't been for lack of trying.
Nebraska Medical Cannabis Laws
A few years back, the Nebraska Medical Marijuana Initiative of 2020 sought to legalize medical marijuana in the Cornhusker State. The amendment would have allowed adults and children under the age of 18, with the consent of a parent or guardian, to use medical marijuana upon the recommendation of a licensed physician or nurse practitioner to treat a serious medical condition. The amendment did not define "serious medical condition," so that determination would've been left to the discretion of the licensed physician or nurse practitioner. It would've also allowed the Nebraska State Legislature to develop laws, rules, and regulations to oversee the state's medical marijuana program without imposing a burden on medical marijuana patients.
The campaign was led by Nebraskans for Medical Marijuana, a political committee focused on passing a constitutional ballot initiative to "protect the right of patients with serious health conditions to legally and safely access medical marijuana." Once again, Governor Pete Ricketts came out in opposition of the measure, stating, "There is no such thing as medical marijuana. This is not something that would be prescribed by a doctor. It's not going to be distributed through a pharmacy… This is not a benign thing. This is a dangerous thing."
The sponsors submitted the required number of signatures, and the measure was certified for the ballot by the secretary of state. In August of that same year, a Lancaster County Sheriff filed a lawsuit, arguing that the ballot language violated the state's single-subject rule that requires ballot initiatives to address a single issue or subject. The lawsuit also argued that the right to medical marijuana is not necessarily connected to the right of providers to produce marijuana, and that allowing individuals to personally grow marijuana violates the medicinal purpose of the initiative. In September of 2020, the Nebraska Supreme Court ruled in favor of the lawsuit, effectively killing the initiative, and removing it from the ballot.
The Nebraska Medical Marijuana Initiative of 2022 was filed by the same sponsors of the 2020 initiative. The 2022 initiative would've added a line to the state constitution to provide the right to use, possess, grow, and sell marijuana for medical purposes. Once again, Governor Pete Ricketts came out in opposition of the measure, saying, "[T]he real goal is the legalization of recreational marijuana across the state. We've seen what happens when progressive politics trump science and common sense... It's up to us to protect our kids and defend our communities." Sponsors submitted over 90,000 signatures to place the measures on the ballot in 2022, but the efforts came up short and they ultimately failed to meet the required number of signatures to make it on the ballot this year.
But Senator Anna Wishart, one of the sponsors for both initiatives, isn't giving up on medical cannabis legalization just yet. On November 6 of 2022, the senator tweeted her intentions, stating, "Next session I will bring another bill to legalize medical cannabis in Nebraska. Growing evidence shows benefits not only for reducing seizures and relieving pain, but it can lower the need from opioid use. It is past time Nebraskans have access to a safer alternative medicine." Only time will tell if this new initiative succeeds or if the senator will once again face defeat in the next legislative session.
Nebraska Medical Cannabis vs. Delta 8
While it is certainly disheartening for Nebraskans to not have access to safe and legal medical cannabis, they can at least find solace in the state's hemp law. Because delta 8 is a milder analog of delta 9—the main psychoactive compound in marijuana—the two compounds share many of the same properties, making delta 8 an effective alternative.
While delta 8 is much less intense—about half as strong as delta 9—it still offers many of the same effects, but to a lesser extent than marijuana. This makes delta 8 not only an effective way for recreational users to enjoy cannabis, but it also provides those looking for medical marijuana with a viable alternative. As our dearest Governor Ricketts so kindly pointed out, "The only difference between medical marijuana and recreational marijuana is word choice."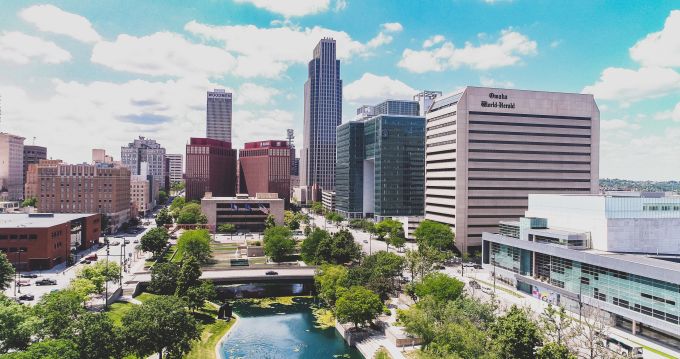 Where to Find Delta 8 in Nebraska
As previously mentioned, it's always best to buy your delta 8 products online for safety, transparency, and quality reasons, apart from the added variety that comes from shopping on the internet. That said, if you want to buy delta 8 in a physical store in Nebraska, here are some good options.
Lincoln – E-Vaped Delta 8 Dispensary – 4.7 Stars
With a knowledgeable and friendly staff, one of its customers has regarded E-Vaped as "the best vape shop in Lincoln." The place is clean and well-maintained, and the owner is helpful and insightful. This women-owned shop will have everything you need to fulfill your delta 8 needs!
Omaha – Delta 8 Emporium – 5.0 Stars
The Delta 8 Emporium is all about its clientele. The staff is kind and helpful, aiding users in finding the perfect product for their tolerance level and desired range of effects.
Lincoln – Go Vapor – 4.7 Stars
With wonderful service and a relaxed atmosphere, Go Vapor is the place to be if you're around Lincoln, Nebraska. The staff is welcoming and helpful with even the smallest of requests, and they're not afraid to give their own recommendations.
Are Other Psychoactive Cannabinoids Legal in Nebraska?
Like delta 8, other psychoactive cannabinoids like delta 10, HHC, and THCO are legal in the Cornhusker State as long as they are derived from hemp and contain 0.3% THC or less. This means that you can enjoy the full range of properties of cannabis, from energy and creativity to relaxation and pain relief!
Is Delta 8 Legal in Nebraska: Final Thoughts
So, is delta 8 legal in Nebraska? In short, yes! Delta 8 is legal in Nebraska under state and federal law. However, the state's governor, Pete Ricketts, is definitely hostile against all things cannabis, so the future of delta 8 is still unclear.