Since its federal legalization in 2018, delta 8 has swept the nation and harnessed thousands of users all around the country. Its relaxing effects and reduced potency make it appealing to users of all types, but with its increased popularity, opposition has also risen. Despite its widespread fame, legislators in several states have restricted and even fully banned the compound in their own states,
Is Delta 8 Legal in Utah?
Before sinking into the specifics surrounding delta 8 laws in Utah, let's take a step to better dissect the Farm Bill, or the piece of legislation that made hemp-derived products a reality across the nation. Signed into law in 2018, the Agriculture Improvement Act, also known as the Farm Bill, legalized hemp and hemp-derived compounds, including delta 8, under federal law.
The Farm Bill also created an important legal distinction between hemp and marijuana. Although they are both types of cannabis and strikingly similar in scientific terms, the Farm Bill created a legal difference between the two terms, legalizing hemp but not marijuana. Under federal law, hemp refers to cannabis plants containing 0.3% THC or less on a dry weight basis, while marijuana refers to cannabis plants that exceed 0.3% THC.
While the Agriculture Improvement Act effectively legalized hemp at a federal level, it did not change the government's stance on marijuana. In the United States, marijuana is still considered a schedule I substance under the Controlled Substances Act, in the company of drugs like heroin and LSD. That said, the Biden administration recently put out a statement expressing its desire to revisit this classification, stating it wishes to pardon all federal offenses for simple marijuana possession in the near future and urging states to do the same.
Hopefully, Biden isn't just saying words hoping they stick with voters. If he stays true to his word, we may see a future with safe and legal access to marijuana for everyone. In the meantime, however, hemp-derived cannabinoids like delta 8 remain the only federally legal way for Americans to enjoy the benefits of cannabis recreationally.
But now, back to the Beehive State. Is delta 8 legal in Utah?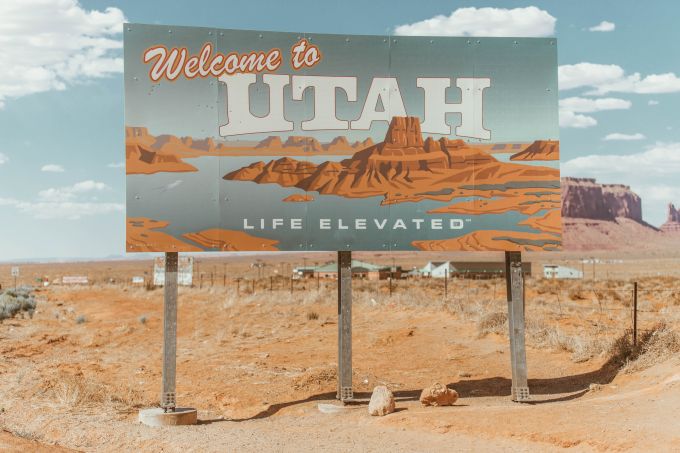 Delta 8 in Utah
Unfortunately, Utah legislators do not agree with the federal government's friendly stance on the cannabinoid, so hemp-derived delta 8 is prohibited in the state. Utah restricts delta 8 and considers these products Schedule I controlled substances. That said, the state does have a medical marijuana program, and delta 8 is allowed for medical marijuana patients.
Utah first legalized hemp extracts carrying no more than 0.3% THC for research purposes in 2014, under House Bill 105. This bill allows patients suffering from severe epilepsy access to hemp extracts, but only upon the recommendation of a neurologist. The dawn of the Farm Bill years later in 2018 meant Utah residents were legally allowed to purchase products made from hemp extracts without a physician's recommendation, but under Chapter 37 of the Utah Controlled Substances Act, hemp-derived tetrahydrocannabinols are prohibited. While delta 8 is not explicitly mentioned, it is a tetrahydrocannabinol, so it is presumably prohibited. Delta 8 products are, however, regulated under Utah's medical marijuana program, meaning delta 8 and other THC isomers are only legally available in medical cannabis dispensaries, but more on that later.
Shipping Delta 8 Products to & from Utah
Because delta 8 is illegal in Utah, it is also unlawful to ship delta 8 products to the state. That said, there have been reports of some online retailers breaching the law and continuing to ship delta 8 products to the Beehive State. Although thousands of consumers opt to shop for their delta 8 online in states where the compound is legal, no safe and legitimate vendor would ship to this state.
In states where delta 8 is legal, customers prefer to shop online for many reasons. Firstly, online retailers tend to be much more transparent about their products, often offering third-party lab testing and extensive ingredient lists for all individual products. This means you know exactly what does in your body, so you can buzz safely and happy knowing you're in no danger.
Additionally, it is also easier to determine whether you want to engage with an online store or not. All it takes is a quick Google search and you can find countless reviews, testimonials, and ratings from consumers all around the country. This doesn't only speak to the quality of the actual products, but also to the experience you may have with specific retailers. Online, you can also find information regarding the production processes of the products you're interested in, including what kind of hemp manufacturers use and how exactly they extract these compounds from the plant.
Finally, and perhaps most obviously, online retailers count on a lot more variety than physical stores. In a brick-and-mortar shop, you get what you see, or you go home empty-handed. Online, you can browse through thousands of products until you find one that checks all your boxes and perfectly fits your needs.
Again, delta 8 is not legal in Utah, and thus cannot be legally shipped to the state. While buying delta 8 online in this state may seem like a safe bet, we recommend you stay away from retailers who still operate within Utahn jurisdiction.
Finding Delta 8 is Difficult Due to Heavy Regulation
Much like with online retailers, there have also been reports of physical stores selling delta 8 in the open despite its legal status in the state of Utah. While these retailers may offer the compound, we recommend you avoid these products as a safety precaution. In some other states, where the compound is not thoroughly mentioned as a controlled substance, there may be some wiggle room for a loophole. Utah, however, lists all tetrahydrocannabinols in their Controlled Substances Act, which includes delta 8 under its blanket.
Delta 8 is illegal in Utah for recreational use. If these stores are violating state law, what makes you think they would respect any standard for quality and safety?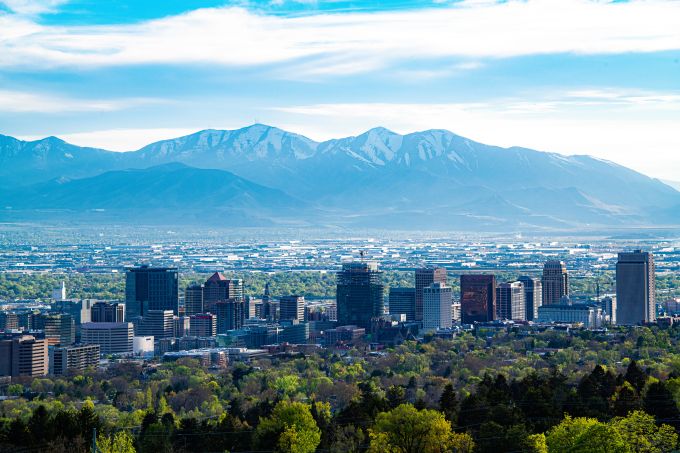 Delta 8 is Illegal in Utah, But Are Other Forms of Cannabis?
While compounds like delta 8 are illegal in Utah, the state does have a medical cannabis program, but are other recreational forms of cannabis legal in the Beehive State? The answer is no. At this time, marijuana remains a controlled substance in the state and is therefore strictly illegal for recreational use.
Possession of less than one ounce of marijuana is considered a misdemeanor in Utah and is punishable by up to 6 months in prison and a maximum fine of $1,000. Being caught in possession of between one ounce and one pound of marijuana is also a misdemeanor, but punishable by up to a year in prison and a maximum fine of $2,500.
Possessing anything over a pound is considered a felony in the state of Utah. 1-100 lbs is punishable by up to 5 years in prison and a maximum fine of $5,000. More than a hundred pounds could land you up to 15 years in the slammer, and it could cost you up to $10,000. Selling any amount of marijuana is also a felony and could get you 5 years in prison and a fine of up to $5,000 but selling in the presence of a minor or within 1,000 ft of a school or other designated public areas is subject to increased penalties.
That said, CBD derived from hemp carrying no more than 0.3% THC is legal in the state of Utah following House Bill 3001, which also legalized the state's medical cannabis program. Under this bill, passed in 2018, Utahns are permitted to use, possess, sell, and produce hemp-derived CBD products and doesn't classify them as controlled substances unless they exceed THC contents of 0.3%. Signed into law that same year, Senate Bill 130, or the Cannabidiol Products Act, regulates hemp CBD products. Before this, low-THC CBD oil was only legal for registered patients with intractable epilepsy under House Bill 105, signed in 2014. The more recent CBD law, however, allows all Utahns to access hemp-derived CBD safely and legally.
Delta 8 vs. Delta 9 in Utah
Delta 8 and delta 9 are two different compounds, but in Utah, they seem to be in the same boat, gliding unlawfully along the Great Salt Lake. Both cannabinoids are tetrahydrocannabinols, and therefore illegal in the Beehive State, but Utah legislators aren't as strict when it comes to cannabis's medical use.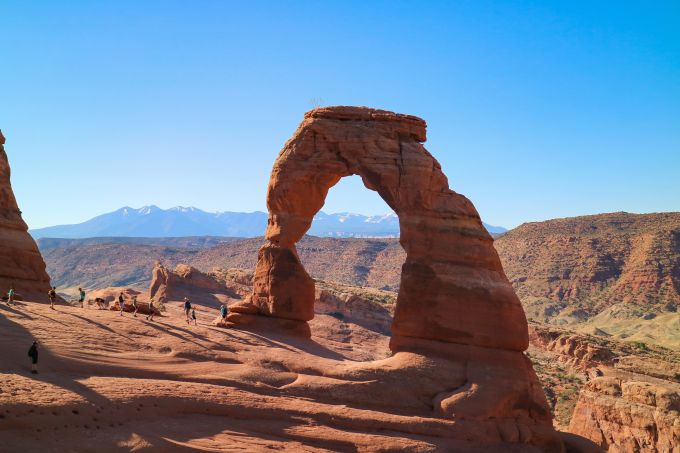 Utah Cannabis Market Grows with Medical Marijuana (But Without Delta 8)
While recreational cannabis, including delta 8, is not allowed in Utah, medical cannabis is available to patients with qualifying conditions.
Utah Medical Cannabis Laws
In November of 2018, Utah voters approved Proposition 2, a measure that allows patients to obtain and use medical marijuana and state-licensed facilities to grow, process, test, and sell cannabis for medical purposes.
In the weeks leading to the vote, the buzz surrounding Proposition 2 prompted Republican Governor Gary Herbert, the Utah Legislature, and proponents and opponents to craft a compromise cannabis law regardless of the outcome of the vote. In the compromised bill, medical cannabis card renewal requirements were set to be relaxed, but qualifications for who could be a caregiver or guardian tightened. It also offered employment protections for patients and regulated how medical marijuana could be consumed. The Utah Medical Cannabis Act passed in December of 2018 and was signed by Herbert on the same day.
Since, Utah has been tweaking its medical marijuana laws to loosen some restrictions and tighten others. House Bill 195, for example, allowed terminally ill patients to try marijuana, while House Bill 121 allowed for the expungement of some cannabis-related conditions and required seed-to-sale tracking. During the COVID-19 pandemic, House Bill 425 waived some ID card requirements to make it easier for patients to purchase medical marijuana.
Medical cannabis cardholders in Utah can possess up to 112 grams, or 3.95 ounces, or marijuana within a 30-day period. When transporting cannabis outside the home, a patient or caregiver must carry their state-issued medical cannabis card. The state's Department of Health oversees the electronic verification system, or registry, which keeps a list of patients, caregivers, medical care providers, and pharmacies.
Qualifying conditions for Utah's Medical Cannabis Program include:
Alzheimer's disease
Amyotrophic lateral sclerosis (ALS)
Autism
Cachexia, or wasting syndrome
Cancer
Chron's disease or ulcerative colitis
Epilepsy or debilitating seizures
HIV/AIDS
Multiple sclerosis (MS) or persistent and debilitating muscle spasms
Persistent nausea that is not significantly responsive to traditional treatment
Post-traumatic stress disorder (PTSD)
Terminal illness or condition resulting in hospice care
A rare condition/disease that has not responded to conventional medication
Pain lasting longer than two weeks that is not managed by conventional medication
For conditions that aren't on the list, patients are able to petition the Compassionate Use Board, which determines access on a case-by-case basis. Applicants must be residents of Utah and at least 18 years old or have a parent or guardian that is at least 18 years old. With a doctor's recommendation, patients can assign up to two people as caregivers to help them obtain and administer their cannabis.
The registration process for medical cannabis patients in Utah is as follows:
Register on the electronic verification system
Fill out an application for a card and wait for physician approval
Pay $15 registration fee
Once approved, patients can print their card or save it on their phones. This initial card is valid for 90 days, and subsequent renewals last six months.
Unlike other states, Utah allows "THC analogs" in their medical cannabis program, making delta 8 legal for medical users to obtain in the Beehive State. That said, according to recent reports, regulators say they're pushing for new rules regarding the presence of delta 8 and other synthetically-made cannabinoids that are allowed in the state's medical marijuana supply. Analogs are defined by law as "a substance that is structurally or pharmacologically similar to, or is represented as being similar to, delta-9-THC." This includes isomers like delta 8 and many others.
While advocates are pushing for the regulation—or full removal—of these compounds in the state's medical cannabis supply, the Utah Department of Agriculture claims that "no public health body has recognized a synthetic cannabinoid as a toxic or deleterious substance." That said, they are still asking for changes to state law "that would allow us to restrict the presence of synthetic cannabinoids in products in Utah, even if they have not been demonstrated to be toxic," according to Brandon Forsyth, the director of the agency's Cannabis and Hemp Division. So, even in the medical space, delta 8's future in Utah is threatened and uncertain.
Utah Medical Cannabis vs. Delta 8
While it's great that Utah has a medical cannabis program, many people who would benefit from using cannabis don't apply. Here's where delta 8 comes in in states where the compound is legal. Because delta 8 is an isomer of delta 9—the main psychoactive compound in marijuana—it offers many of the same properties and benefits. That said, delta 8 is much milder than delta 9, so its effects are much less pronounced.
With illegal delta 8 and a restricted medical marijuana program, however, Utahns who don't apply for medical cannabis sadly don't have another alternative than regular CBD oil.
Are Other Hemp-Derived Cannabinoids Legal in Utah?
Like delta 8, other hemp-derived tetrahydrocannabinols are also illegal in Utah. This means that Utahns can't legally access compounds like delta 10, HHC, and THCO under state law. The use, possession, sale, purchase, distribution, and production of products carrying more than 0.3% of any isomer of THC, not just delta 9 THC, are prohibited in the Beehive State.
Is Delta 8 Legal in Utah: Final Thoughts
So, is delta 8 legal in Utah? Unfortunately, delta 8 is not legal in the state of Utah, and neither are other hemp-derived cannabinoids like delta 10, HHC, and THCO. That said, the state does allow for hemp-derived CBD as long as it does not exceed the THC limit of 0.3%. The state also has a medical marijuana program, but only patients with qualifying conditions can benefit from it.
Utah also does not allow for recreational marijuana, so users who don't qualify for their medical cannabis program don't have safe and legal access to delta 8, delta 9, or any other tetrahydrocannabinol.