Chill Plus Delta-8 Oil - Daily Dose - 25mg
Product Info
There's nothing better than chilling out with a daily dose of Delta-8 THC, and nothing does it better than Chill Plus Delta-8 CBD Oil. With Chill Plus Delta-8 CBD Oil Daily Dose, you get a single-serve shot of Delta-8 and CBD in a quick-serve syringe. Take one shot under your tongue, and you're good to go for the rest of the day. You'll enjoy a smooth and subtle buzz like never before while taking care of your daily tasks with ease. Chill Plus Delta- CBD Oil is your daily dose of buzz.
You need a daily shot of get-up-and-go, and Chill Plus has made it easier than ever. Infused with Delta-8 THC, CBD, and MCT oil, Chill Plus Delta-8 CBD Oil is your daily dose of everything. With 25mg of Delta-8 THC, you can enjoy a single-serve buzz that will take you to new heights. In one shot, you can give yourself a buzz that lasts all day long. But don't worry, this buzz is balanced, giving you the ability to stay on track.
Delta-8 THC is a world-class cannabinoid that offers users a 100% completely legal high. It's made and cultivated from all-natural hemp that's homegrown on non-GMO farms. And thanks to our new single-shot experience, you take it with you on the go. So whether you want a quick shot in the morning, a pick-me-up in the afternoon, or something more discreet when you're out, Chill Plus is there for you.
Chill Plus Delta-8 CBD Oil Daily Dose is third-party tested for safety and security. There are no synthetics in this shot, just pure, unadulterated Delta-8 THC. So give yourself a shot of the only cannabinoid that can really take you places. Try Chill Plus Delta-8 CBD Oil Daily Dose today.
Active Ingredients
Delta 8 Products are all-natural, hemp-derived cannabinoids made popular because of their bold, relaxing, and buzzy high. These products are available in many forms, including gummies, vapes, and concentrates. Most people enjoy delta 8 products for their ability to enhance your mind.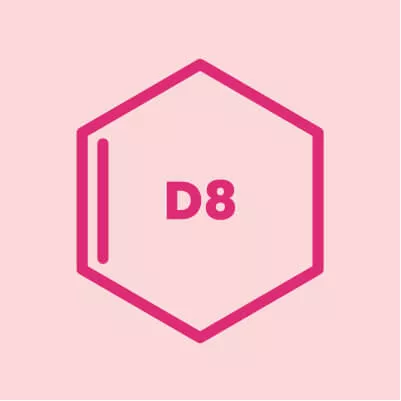 Frequently Asked Questions
What is Delta 8 oil?
Tinctures made from delta-8 THC are called Delta-8 oil, a psychoactive compound very similar to delta-9 THC. Delta-9 THC is a component of marijuana plants that produces a euphoric feeling. In general, it is the THC people refer to when they talk about marijuana. Although delta-8 THC has a similar chemical structure to delta-9 THC, it is much less potent due to its slightly different chemical structure.
How to use Delta 8 oil?
Do not overcomplicate the use of delta 8 tinctures. If you wish to swallow it, you should hold it under your tongue for a few moments before swallowing. The substance can be swallowed directly, combined with a drink, or rubbed onto the skin.
Can you put Delta 8 oil in a vape?
Delta 8 oils are not always manufactured to be vaporized unless specified on the product label. The oils used in tinctures are not meant to be vaporized, even if your vaping device initially appears to work with them. Heavy oils are not absorbed into the lungs; they simply lay on top of the lining of the lungs, potentially leading to lipoid pneumonia. Under no circumstances should you try to vape tincture oil.
Why choose a single dose product?
A single dose syringe is a simple way to enjoy CBD or delta 8 without making a mess. Stick the syringe under your tongue and enjoy!
What type of single dose syringe products do you sell?
We have CBD and delta 8 single dose syringe products.