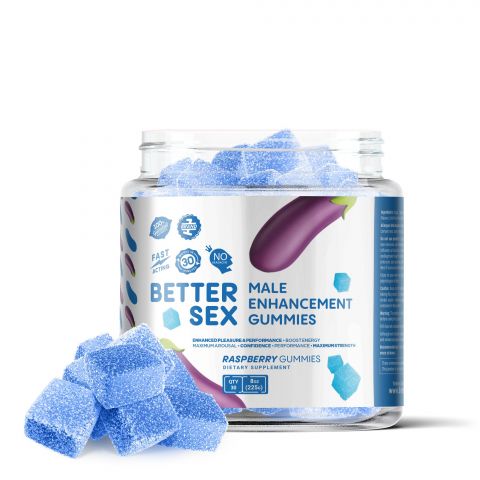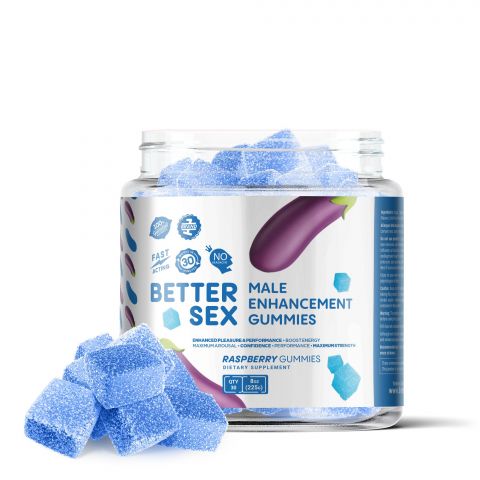 Better Sex Male Enhancement Gummies in Jar
Product Info
Gentlemen, is your sex life good, or could it be better? Do you wish you could add a little spark to the bedroom, the living room, or the kitchen? Then you don't need good sex; you need Better Sex.
Turn up the passion with Better Sex Male Enhancement Gummies. These sweet, juicy gummies will increase your size and stamina - guaranteed! It's what you've always wanted from your relationship, even if you're not in one. You'll feel pure pleasure and and enhanced performance with two raspberry gummies from Better Sex.
Let's not even get into what happens to your partner too!
Better Sex Male Enhancement Gummies do what they say they will - help couples have better sex. Better Sex works fast, so you don't have to. In under 30 minutes, you'll feel the fire and passion you've always craved. You'll be so excited that you won't be able to keep your hands off your partner! With Better Sex Male Enhancement Gummies, there are no headaches, no side effects, and no after-effects either. Just pure pleasure and joy in the bedroom (or whatever room you prefer). Trust us; you need Better Sex.
Sugar, Tapioca Syrup, Corn Syrup, Water, Pectin Citric Acid Natural Flavors, Fruit and Vegetable Extract (Color), and Proprietary Male Formula Blend.
Frequently Asked Questions
What is a supplement?
A supplement is a non-cannabinoid product. These products help with many different things from energy to rest and more. We have a wide selection of supplements available for you to look at and purchase.
How are supplements different from cannabinoid products?
While both supplements and cannabinoids are all natural products, the former does not come from hemp nor is it a compound that can get you high. Cannabinoids have very distinct features while supplements can include a wide variety of plants and compounds.
Should I choose supplements or cannabinoids?
Supplements are a great way to increase desire or boost energy without committing to cannabinoids. Choosing which one is right for you is a personal decision however. We recommend trying each until you find one that suits your lifestyle.
Is it okay to take supplements and cannabinoids at the same time?
Both products are all-natural and safe, so you should have no problem. However, be careful. If you have any pre-exisiting conditions discuss with your doctor first. And, as always, never go overboard or take any product to excess. Moderation is key.