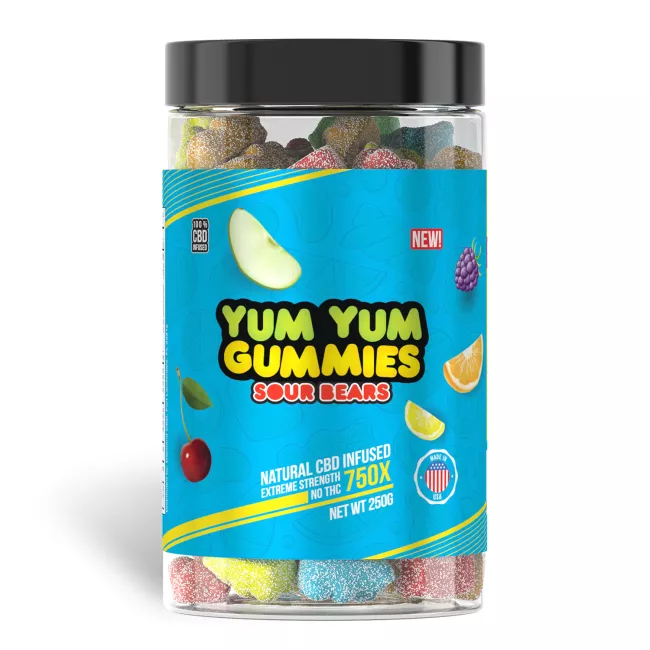 Yum Yum Gummies 750x - CBD Infused Sour Bears
---
Products of the Same Brand
Frequently Bought Together
---
Bradley H. on March 18, 2019
This product is absolutely amazing and I have since bought 4 more jars of diff varieties. It has helped with my depression anxiety sleep and mood absolutely amazing and deffinatly a great product
Jennifer A. on March 5, 2019
These things are so awesome! They help with my carpal tunnel and my headaches...not to mention they help me sleep... I highly recommend this product 5 stars !!
Cesar F. on March 5, 2019
I LOVEEEEEEEEEE THEESE !!! NO MORE TOSSING AND TURNING AT NIGHT. Pop 2 of these 40 minutes before bedtime and you will sleep throughout the night LIKE A BABY.
Janet M. on March 2, 2019
Best gummies I have found!
Kirsten M. on March 1, 2019
Taste good and make you feel relaxed! I love them & they give you a good amount.
Selene A. on March 1, 2019
I am sleeping good and upon waking up I am refreshed and not hurting
Tyler Y. on January 23, 2019
Everything I've bought has been great! Sour bears have been my favorite so far!
Christopher S. on December 31, 2018
Cris R. on December 27, 2018
Jason H. on December 18, 2018
Maria C. on December 3, 2018
I take 3 of these before going to bed and have restful sleep!
Michelle L. on September 9, 2018
I used to get the 100x ones but had to chew 3 to get relief from my rheumatoid arthritis. Now, with these I can just chew one and I feel great!!! Thank you Diamond CBD! I've never had a bad product or negative result in over two years. Loyal customer for life 😄💜
Anonymous. on September 2, 2018
I got these for my daughter , they have provided her with moderate (or better) relief in several areas ~ insomnia , depression , anxiety , digestive issues, fatigue and pain . I definitely recommend. Especially for anxiety ,insomnia , general fatigue and light to moderate chronic pain