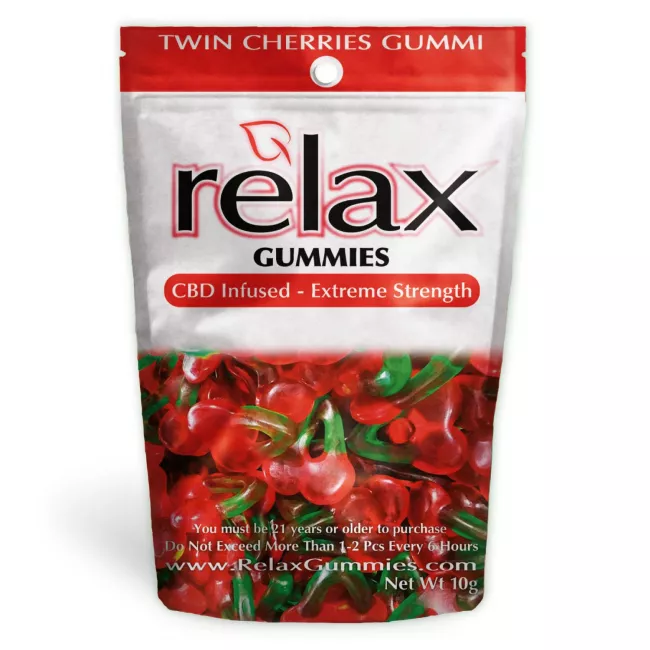 Relax Gummies - CBD Infused Twin Cherries
---
Products of the Same Brand
Frequently Bought Together
---
Wilford W. on January 20, 2019
Another great product, would buy again..
Esther M. on January 19, 2019
These work well for my chronic pain.
Deborah C. on January 17, 2019
Delicious gummies! Your products are the Best!
Adriana T. on January 17, 2019
I love these! Since each gummy comes with two cherries on it, I normally split it and take one before bed. It really helps with the anxiety I get right before bed, and I don't have stressful dreams whenever I take one. I always wake up feeling like I actually slept instead of hungover, and it's so important for my sleep that I now tell my doctor I take CBD supplements at night. I've tried the other kinds of gummies from this brand and they're great too, but the cherries happen to be my favorite because they taste the best!
Ambrosia berlin P. on December 25, 2018
The flavor and potency of these are amazing!
Sara C. on December 24, 2018
Katie V. on December 16, 2018
Amazing both delicious and relaxing!!!
Cynthia l. M. on December 13, 2018
Michelle V. on December 13, 2018
I really like them, one or two is all you need
Jennifer S. on December 10, 2018
Heather C. on December 4, 2018
These products are so beneficial for me and my sleep. I grab them on sale whenever there is one and the customer service is SO great!

Thanks as always!
Christey C. on November 26, 2018
Gabe P. on November 25, 2018
Chasity H. on November 17, 2018
Chasity H. on October 17, 2018
Love them, perfect for sleep and panic attacks! I will probably continue to order my gummies from here!
Glen H. on October 14, 2018
It works! Really helps relieving my headache.
I would give this five stars if there were more in the package.
Robert S. on October 10, 2018
Haven't totally figured out best way to use these to help sleep better but as far as I can tell they are spot on!!
David H. on October 7, 2018
Amanda B. on September 21, 2018
Not only do these taste good but they will knock you out to sleep. My husband and I have been looking for a sleep aid alternative for prescription medication and these work! And they work quick for us.
Philip S. on September 17, 2018
I would love to say that my experience with relax gummies was all that I hoped it would be. However I must be doing something wrong. Taking 1 at 11:00 at night with the hopes of quickly falling asleep wasn't what I got, Instead I was still wide awake and in pain " from acute arthritis" at 3:00 am. Next night I tried 2 instead of 1 , This time I gave up at 2:00 am and took a Tylenol Pm . I was asleep within a short time. I am glad that they help a lot of the people that try them. Just not for me.


Leah W. on September 10, 2018
Love them I've tried different brands and yours taste the best and are the best again love love
Kimberly C. on September 7, 2018
Not a fan of the initial taste but not too terrible after chewing. I do however prefer the sugared gummies to straight gummies.
Robert U. on September 6, 2018
Wonderful , definitely a game changer!
Barb F. on September 3, 2018
Gloria L. on August 29, 2018
Not as great as gummy bears taste wise. But otherwise ok.
Mary N. on August 27, 2018
Tammie C. on August 23, 2018
I bought this product to get some help with my joint pain in my knees and this item is great! I didn't want the "high" feeling just a natural way to help relieve my pain so I can continue going to the gym and not having to take lots of medication. Love this!!
Julie D. on August 22, 2018
I love diamond products. They never fail to exceed expectations. Any questions about products are always efficiently handled and the employees are always very helpful and friendly. Diamond is the only distributor for me!
Leah W. on August 21, 2018
There great love them if you need to relax these will help!!!! I was a pot smokers 25years been sober 14months and these are a perfect fix
Mira B. on August 21, 2018
Please be aware that the Quantity listed under the Size/Weight/Quantity section is incorrect on the website. It claims the quantity is 12 to 14. You will actually only get 4 to 6 pieces in the package.
Robert P. on August 21, 2018
They worked great as a sleeping suppliment.
Kim A. on August 21, 2018
Excellent for sleep and pain. And the cherry flavor isn't that bad. I've had worse. Diamond CBD products are a God send!! I just got my 82 yr old mama to start using it!! I have her on 300 mg of the watermelon slices 2 x day. Calms her down and she's also able to get some much needed sleep!! I've recommend this site to many of my friends who are serious about trying it. They have nothing to lose!! Love all your products and I will be a long time customer!!! Thank you all!!
Samantha Z. on April 4, 2018
They really helped me get to sleep. Would take one gummy ~30 minutes prior to going to bed, made a huge difference in my sleep habits.
Angela R. on April 4, 2018
I have bought a few times, love them
Rena S. on April 3, 2018
I bought them for my migraines. They definitely helped
Peter V. on April 3, 2018
Mellow is the word that comes to mind when describing the feeling after having a Relax Gummie or two.
Michael G. on April 3, 2018
I appreciate the fact that the items I purchased were shipped immediately and I received them in a timely manner. I also enjoyed the product and would purchase again very high quality
Adam C. on March 27, 2018
The cherries are overall are pretty good. The only issue I have with them is the initial flavor. At first, the flavor is very much so a heavily chemical taste. You have to chew for a minute or so and then it is a pleasant cherry flavor. I have tried many of the products on this site and many have a far better flavor than the cherries. If they could fix the initial chemical taste they would be perfect, because they work great to help with sleeping.
Phyllisfrith@aol.com G. on March 17, 2018
Future L. on March 13, 2018
Great product customer service
Marian S. on March 13, 2018
I got the product as a sort of treat to myself to ease the insomnia and anxiety after I had read about the site from another blog. I'm happy with the results I've had and will continue to order and try other products.
Denny C. on March 13, 2018
After trying a number of sleep meds,nothing would help my wife sleep. Tried outtge gummies,noq she is hooked. Gets to sleep fast and stays asleep all night. She is hooked
BERNICE W. on December 16, 2017
Carla B. on December 15, 2017
I had just tried products before putting them in my store. I was going to use them to help me sleep worked great! But to my amazement I ran out for 2 weeks. I didn't realize the pain relief it was giving my neck.
Lori L. on December 15, 2017
love your product and the cherries gummies are wonderful,