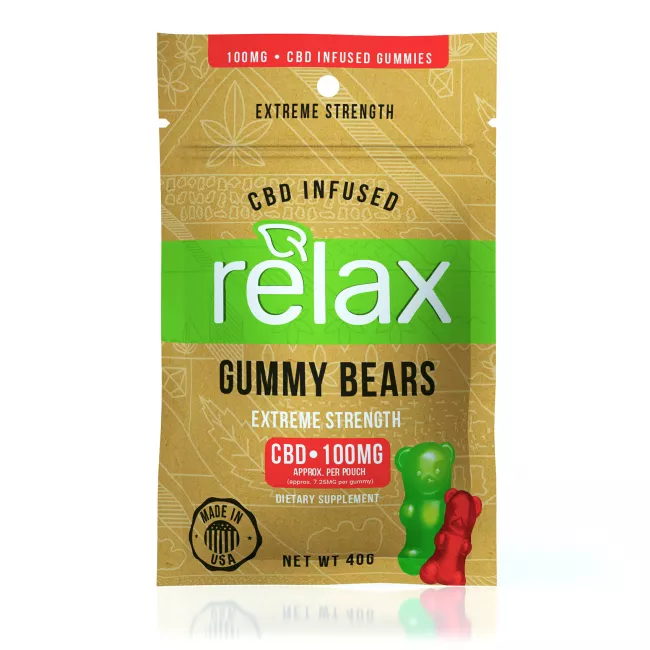 Relax Gummies - CBD Infused Gummy Bears - 100mg
---
Products of the Same Brand
Frequently Bought Together
---
Les Y. on February 14, 2019
I like them that's why I keep buying them
Jill K. on January 29, 2019
Linda P. on January 14, 2019
The product is awesome..the shipping is not..my first order arrived in about three days..my second order took almost two weeks..just placed my third order and it hasn't even been processed yet..I realize shipping and processing take time..but, just confused about why the first order came so quickly..but, all in all am very satisfied with the products..and will continue to order
Natalie E. on January 13, 2019
Jill K. on January 10, 2019
RelaxCBD gummies are great . They help you relax and fall asleep. Don't forget...No more than 2 every six hours!!
Owen B. on January 9, 2019
Jan J. on January 4, 2019
These are excellent!!
Handles my anxiety and stress!
A must, try!!
Lew D. on January 2, 2019
Love the product...but UPS shipping is terrible complete trash👎👎
Nancy C. on January 2, 2019
Love these gummies!!! I sleep so much better when I use them.
Sarah C. on December 31, 2018
These defiantly relaxed me and made me feel calm
Mike S. on December 27, 2018
Outstanding product and excellent customer care
Charla H. on December 22, 2018
Deborah S. on December 19, 2018
Great taste. Helps with anxiety & helps you sleep. Would buy again.
Cheryl T. on December 18, 2018
I was highly satisfied with the product. I gave it a 3 because I thought shipping was free. With shipping it made them more expensive then to get them local.
Kathy C. on December 17, 2018
Bought this for my mom. She said she can now get a good nights sleep.
Terri H. on December 17, 2018
Owen B. on December 17, 2018
Linda H. on December 15, 2018
I prefer these over the "Chill" gummies.
Jenny W. on December 14, 2018
Love these gummies! They help me sleep so well, even with pain. Just half of one helps with anxiety. They taste great too!
Mark A. on December 11, 2018
Very relaxing it works perfect
Doris D. on December 9, 2018
Excellent, arrived quickly in neat sealed, attractive packaging. They're great for relieving annoying pain from arthritis .
Esther M. on December 9, 2018
Yummy pain relieving product.
Ellen B. on December 6, 2018
This is a great product to take before bedtime. It relaxes you and makes sleep great!
Don R. on December 2, 2018
High quality, very fresh, does the job! Great customer service with fast shipping. Highly recommended.
Jaimie P. on December 1, 2018
i'm opening my own company and would like the dose of each gummy bear,
Have had good results but my customers are asking the does of each gummy
Grace M. on December 1, 2018
Take one to alleviate anxiety, take two to fall asleep. Works like a charm. They don't taste like regular gummies, slightly bitter, but the effects are worth it.
Kenneth V. on November 27, 2018
Ordered several Relax Gummies, and love them all. Definitely do exactly what they're called...help you relaxxxx all day long!
Maebeth S. on November 26, 2018
It seems to work, but I really wish the labeling was better.
Anna marie C. on November 25, 2018
This product has more than met its expectations. Works like a charm. Very dependable.
Carrie D. on November 24, 2018
Amazing customer service!
Elizabeth R. on November 24, 2018
They taste great and help me sleep.
Alma M. on November 22, 2018
Great gummies they've Relaxed me... been needing some relaxation from my anxiety... So far they've worked for me 👍🏻
Jason H. on November 19, 2018
Frances L. on November 19, 2018
Wonderful products eases the pain. I passed some to my sister. Would love to purchase in bulk. Keep up tge excellent job in making CBD products.
Brandi I. on November 5, 2018
Christine D. on October 30, 2018
I love these gummies. They've helped me sleep, reduced anxiety, and helped reduce my ankle pain. I just wish you got more for the price.
Steven N. on October 25, 2018
I take two of these gummy bears about 1\2 hour before bed for the best sleep of my life! There is no grogginess in the AM, and they taste yummy!
John S. on October 16, 2018
I am very impressed with this product.
Christine B. on October 12, 2018
shocked by how small bag is, otherwise satisfied with gummies. however, my isolate (tincture), was already broken open when I got it and liquid was half dried up. think it was a manufacturer issue, not tampering, but as it was so expensive and you can't return if opened, I've been trying to use it.
Michele C. on October 10, 2018
This is my first experience with CBD infused edibles. I found these to be great for my anxiety. They were fast acting and tastes great. Highly recommend.
Jennifer F. on October 9, 2018
Cynthia S. on October 8, 2018
These are great before going to bed, very relaxing, love them.
Maebeth S. on October 1, 2018
They are okay. I cannot figure out the strength. I have asked Diamond CBD, but they never responded. I order the Relax gummies because they taste good.
Erica C. on September 27, 2018
I really like to use them for those stressful nights!
Jan J. on September 21, 2018
This product does wonders for me! A few months ago I had a stroke from stress......2 in the morning and 2 six hours later......handles it well!!
Dianne k B. on September 18, 2018
I use for sleep.. Works great..
Sean M. on September 16, 2018
Love the taste and very relaxed
Julie R. on September 15, 2018
Got here quickly, but they didn't do anything for me at all.
Brenda L. on September 15, 2018
Sandy R. on September 9, 2018
Recipent appreciated it a lot and is now ordering more