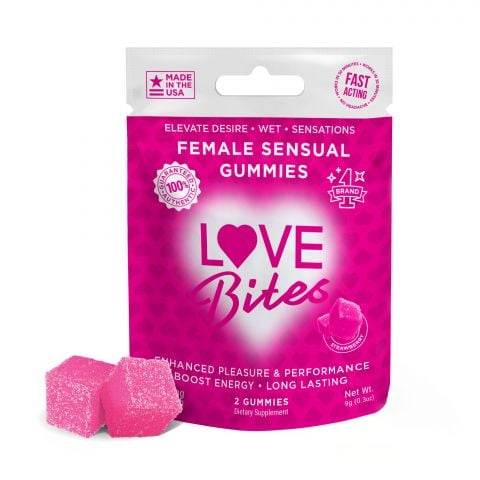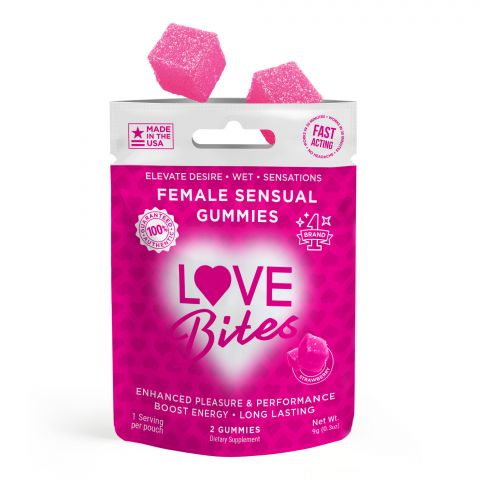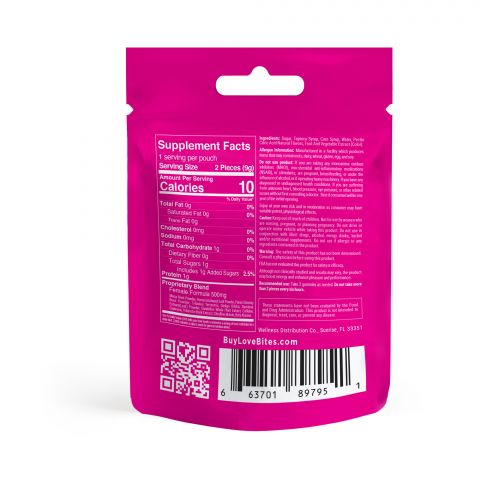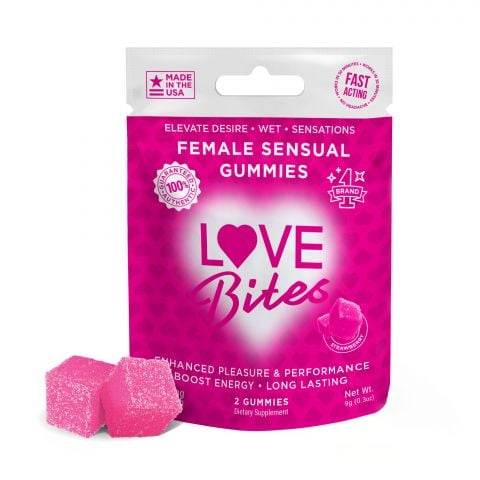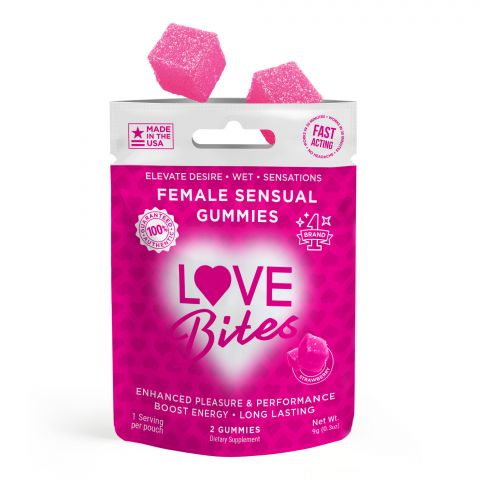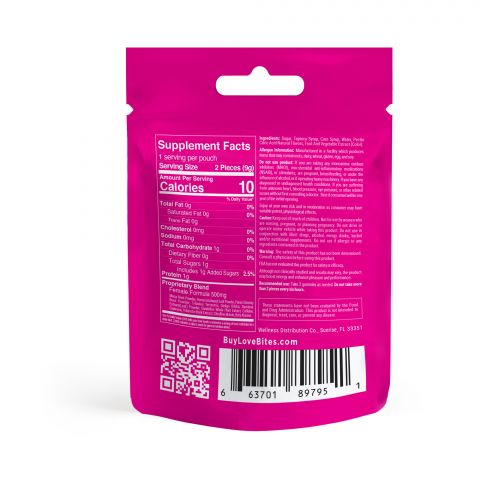 Love Bites Female Sensual Gummies
Product Info
Love Bites is the female sensual gummy to add more sensuality and satisfaction to your bedroom. Does your love life feel like it has a case of the chills? Has all of the passion and fun in your bedroom dried up? Does your relationship feel closed off or tightened up to the point where you just want to fall asleep each night while watching television? Ladies, it's time to add some spark, some fire, some ecstasy to your bedroom. Loosen up around your partner, lubricate your relationship, and open up and let something new inside your life!
You need all new Love Bites Female Sensual Gummies; the sweet, fruity, juicy, gummy made just for you and your needs. Love Bites Sensual Gummies slow things down in the bedroom; they nibble you all over and allow you to peak when you're ready. These are the only female sensual gummies that put your needs first. So forget long days of work, kids that drive you crazy, bills, and other responsibilities that stress you out and leave you feeling closed off and tired. Love Bites Female Sensual Gummies are pure fire and passion. It's the heat and friction your bedroom needs.
How do these authentic, strawberry-flavored female sensual gummies do the trick? It's simple, really — you pop two gummies, and in under 30 minutes, your partner will be looking at you with new eyes. You'll feel like you're 20 years old again. There are no headaches, no side effects, and no after-effects. And the best part is, there's no prescription needed. Love Bites Female Sensual Gummies are strong but sensual passion that work when you need them.
Put the spark back into your bedroom — and let the river flow open and free for the person in your life. Try Love Bites Female Sensual Gummies, now in Strawberry, and enhance your bedroom — and your love life.
Frequently Asked Questions
What is a supplement?
A supplement is a non-cannabinoid product. These products help with many different things from energy to rest and more. We have a wide selection of supplements available for you to look at and purchase.
How are supplements different from cannabinoid products?
While both supplements and cannabinoids are all natural products, the former does not come from hemp nor is it a compound that can get you high. Cannabinoids have very distinct features while supplements can include a wide variety of plants and compounds.
Should I choose supplements or cannabinoids?
Supplements are a great way to increase desire or boost energy without committing to cannabinoids. Choosing which one is right for you is a personal decision however. We recommend trying each until you find one that suits your lifestyle.
What are Love Bites?
Love Bites are sexual enhancement gummies for people looking to add a little spice to the bedroom. For men, it can add stamina, size, and confidence, while women can feel long-lasting, enhanced pleasure like never before!
Are Love Bites safe?
Absolutely! Love Bites act fast and have no negative side effects. That said, it's important to follow the dosages on product packaging to ensure any adverse effects that may result from a lack of moderation.