Hyper Delta-10 Square Gummies - Tropical - 1250X
Product Info
When you need a sugar rush with an extra kick of something hyper, then give Hyper Delta-10 Square Gummies a try. You'll be buzzed and amped, and your creative juices will start flowing when you try the latest all-natural, hemp-derived edible infused with Delta-10 THC and a taste of Delta-8 THC. It's a sativa-based cannabinoid that turns your mind on and will keep you running even when the sun goes down. And with three delicious Tropical flavors mixed together — watermelon, blueberry, and pineapple — it's a sugar rush on top of a buzz that will leave you feeling hyper!
Delta-10 THC is the buzziest cannabinoid yet to hit our shelves! It's the latest hemp-derived wonder that's making its way across the country, and it's doing so with a burst of pure energy. Like Delta-8 THC, Delta-10 is one of many cannabinoids found in hemp. And while it used only to be found in small amounts, our team let their creative juices flow and found a way to bring the buzz to you! With Delta-10 THC, you'll enjoy a sativa-like feeling that will keep you moving.
Hyper Delta-10 THC Tropical Gummies contain 50 sweet and tasty gummy squares per jar, giving you a total of 1250mg of potent and powerful Delta-10 and Delta-8 THC. That's about 25mg of amped-up buzz per gummy, giving you the energy you need to tackle anything the world puts in front of you. Some people prefer to be calm and relaxed. So we say, take some Delta-10 THC and get hyper!
Hyper Delta-10 Square Gummies Tropical Mix isn't made for those of you who like to take naps. They're infused with 1250mg of Delta-10 THC and the sweetest, juiciest gummy flavor you've ever tried. Hyper Delta-10 Square Gummies are jacked with a hint of Delta-8 to make them the buzziest edibles ever. It's lab-tested for your safety — guaranteed to be a pure, unadulterated product with no synthetics. Try some today and see how Delta-10 THC can make you hyper!
Strength Per gummy
25mg/gummy
Delta 10 Per gummy
25mg/gummy
Light Corn Syrup (Corn Syrup, Salt, Vanilla) Cane Sugar, Water, Gelatin, Citric Acid - ADM, Sorbitol Powder, one or more of the following U.S. Certified Colors: Red #40, #3, Yellow #5, Blue #1, #6, and #2 and/or Titanium, Dioxide, Modified Starch, Vegetable Gum, Acid. Less 1/10 Percent Sodium Benzoate, Potassium Sorbate (As Preservatives), Natural & Artificial Flavors, Sweetener (Maltodextrin, Sucralose), Organic Hemp Oil, 100% Coconut MCT Oil, Propylene Glycol, Propylparaben (Preservative), and Hemp Extract.
Active Ingredients
Delta 10 Products are all-natural, hemp-derived cannabinoids made popular because of their energizing effects. These products are available in many forms, including gummies, vapes, and oils. Most people enjoy Delta 10 Products for their ability to help them accomplish more.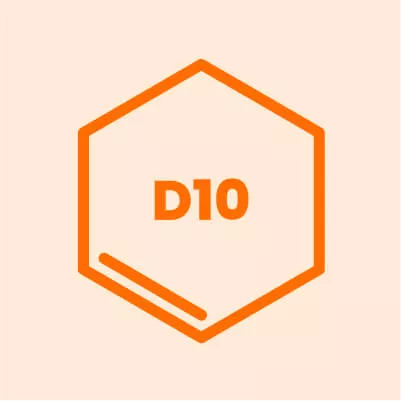 Frequently Asked Questions
How long will the effects of Delta-10 THC gummies last?
With edibles, it takes a while for the Delta-10 to metabolize in your system, so the high can last all day.
What are delta 10 gummies?
Delta-10 gummies are slowly released and last a long time. It is wise to be cautious because you might think that the gummy is not working and feel tempted to take more. You will soon find yourself buzzed or swimming in a wave of wellness while feeling buzzed.
Are delta 10 edibles safe?
Medically, pure delta-10 is just as harmless as pure delta-9. There is no safe amount (because of the lack of regulation), but from a practical standpoint, there is no safe amount.
What's the best way to use Delta-10 gummies?
Delta-10 edibles are best used slow. These edible products take some time before you will feel the effects and when you do they come on strong and last for a very long time. Don't make the mistake of taking more because you think it's not working. You could end up taking too much! Go slow and enjoy the ride up!
How long do delta 10 gummies last?
As compared to Delta 10 vape oils or other Delta 10 products, Delta 10 gummies last much longer. They appear slowly during their metabolizing phase, but they can persist for up to 8 hours. You should take Delta 10 gummies slowly. Delta 10 gummies have a variety of uses, so you should look at what they can do for you. Edibles do not work the same way as oils or capsules. Many of you are looking for specific help with gummies, while others prefer the laid-back feel that is provided by delta 10 THC. Before you begin, it's helpful to know what to expect.
Recently Viewed