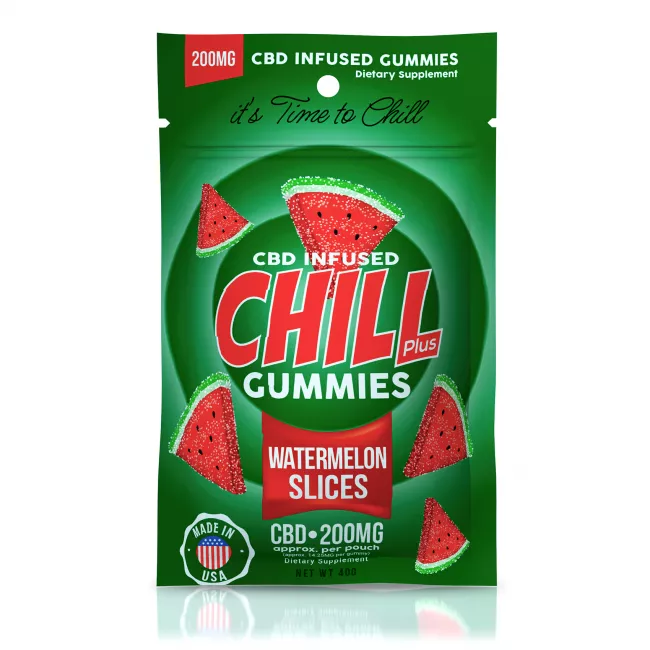 Chill Plus Gummies - CBD Infused Watermelon Slices - 200mg
Chill Plus Gummies 100% CBD Infused Watermelon Slices are natural, THC free edibles sourced from industrial hemp. Add these premium consumables infused with CBD from hemp plants to your daily wellness …
more
Other Variations
---
Customer Reviews
Kevin W. on May 21, 2019
I suffer with restless leg and when they are acting up I chew 2-3 of the gummies and I have relief within 20 minutes. I would fully recommend this product.
Paul W. on May 21, 2019
I have Parkinsons and Dementia also have had 14 surgeries 8 being in my back. I was hoping this product would give me some relief. However it interfered with my medicatons for Parkinson and Dementia. I would never give your product a negative rating as it had nothing to do with my medical problems.

I wish you only the best.

Paul Wedel
P.O Box 212
Bagley,IA 60026
ppwedel48@gmail.com
Jerome Y. on May 20, 2019
Rinna D. on May 17, 2019
These taste great and help me relax. One complaint I've had with these types of gummies in general has been their tendency to melt and stick together, but the Chill ones don't really do that.
Shannon H. on May 16, 2019
Gummies taste great, and really help me relax. Only fall back is that they are a little hard to get out of the package.