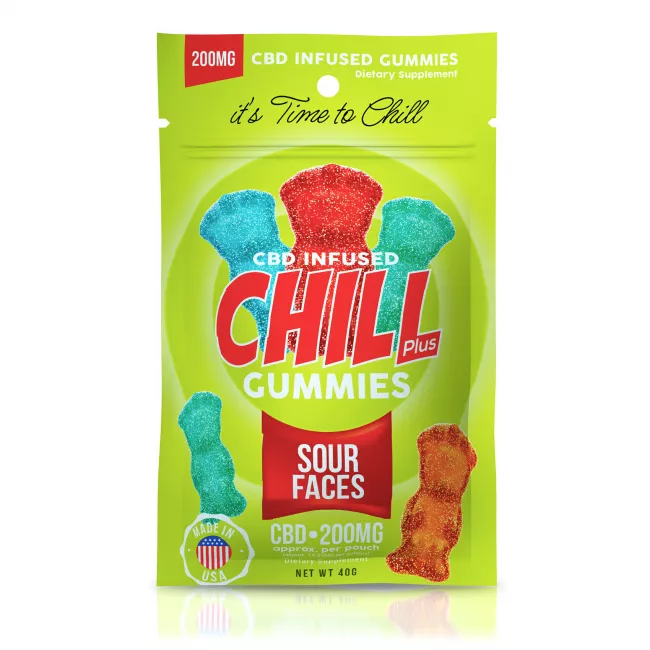 Chill Plus Gummies - CBD Infused Sour Faces - 200mg
---
Products of the Same Brand
Frequently Bought Together
---
Stephen B. on April 1, 2019
Mustbhave done something right. I purchased more!
Jerome Y. on March 22, 2019
Dawn J. on March 15, 2019
Great product! Helps with my migraines! Would buy again
Kathryn M. on March 13, 2019
Nite nite with these little guys.
Joshua F. on March 12, 2019
Love it, removed my anniexty and kept me chill all day.
Rita C. on March 12, 2019
Love these!! They help me with my sleep issues SO much!! Will definitely be a repeat buyer!😁
Kathryn M. on March 11, 2019
I have trouble sleeping. These are great for inducing sleep!
Joseph W. on March 10, 2019
John C. on March 9, 2019
Totally Awesome!!!! 5 Stars.
Rochelle H. on March 5, 2019
I have experimented with other brands- maybe they were on sale or they sounded appealing. But I always come back to these. They are effective and tasty- but more than that, it takes less product for me to get relief from pain and anxiety. This is my preferred brand. I'm so glad Diamond CBD carries it!
Lorraine D. on December 1, 2018
Bought these for my adult daughter. She loves them. They help her with sleep, and she says they taste great.
Brihanna H. on October 14, 2018
Taste exactly like sour patch kids!!
Timothy O. on August 21, 2018
Chill plus gummies are the only ones I buy. Once you try them, no other brand will do
Keith B. on April 5, 2018
Cbd gummies help my anxiety big time !
Sean K. on April 5, 2018
I would recommend these to anyone! Love them
Sophia M. on February 7, 2018
Definitely worth the money!
Valarie. on February 2, 2018
I will be buying these again! I love these and the other sour faces that are available.
M. G. on November 21, 2017
I enjoyed this new product better than Chill and Relax but not as much as regular Diamond CBD sour faces. Variety is the spice of life.
Dana V. on November 17, 2017
I take two gummies before I go to sleep. Now I can sleep with no pain the through the night.