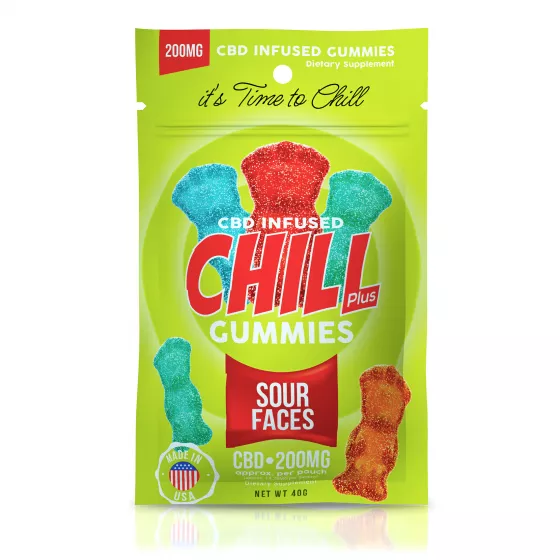 Chill Plus Gummies - CBD Infused Sour Faces - 200mg
Chill Plus Gummies CBD Sour Faces are natural, THC free edibles sourced from industrial hemp. Add these premium consumables infused with CBD from hemp plants to your daily wellness routine. A fun … Read more
Key Facts
With
200mg
of Full Spectrum CBD
Chill Plus Gummies CBD Sour Faces are natural, THC free edibles sourced from industrial hemp. Add these premium consumables infused with CBD from hemp plants to your daily wellness routine.
A fun and easy way to consume high quality CBD, Chill Plus Gummies Sour Faces are the sweet and tangy, edible treats that let you snack with a purpose.
It has never been so sweet and delicious to get all the benefits of high quality CBD than with Chill Plus Gummies CBD Infused Sour Faces.
Get Chill Plus Gummies CBD Infused Sour Faces and get extra strength chill.
Industrial hemp cannabidiol (CBD) proprietary blend, sugar, invert sugar, corn syrup, modified corn starch, tartaric acid, citric acid, natural and artificial flavor, yellow 6, red 40, yellow 5, blue 1.
Allergen Information: Manufactured in a facility which produces products that may contain nuts, dairy, wheat, gluten, egg and soy products.
Janell K. on September 3, 2020
ABSOLUTELY LOVE THIS PRODUCT 👍🏻👍🏻
DEFINITELY WILL REPURCHASE
Andrew F. on August 25, 2020
Love these! They really help me sleep and stay asleep.
Janell K. on July 28, 2020
LOVE LOVE LOVE THESE. I HAVE THESE EVERY DAY.... VERY USEFUL PRODUCT REALLY HELPS ME.. DEFINITELY A GREAT PURCHASE AND I WILL DEFINITELY BE GETTING MORE....
Samantha F. on May 21, 2020
Works amazing, helped me sleep and got rid of my arthritic pain great.
Susan S. on May 15, 2020
I use these at to fall asleep and they never fail to help!