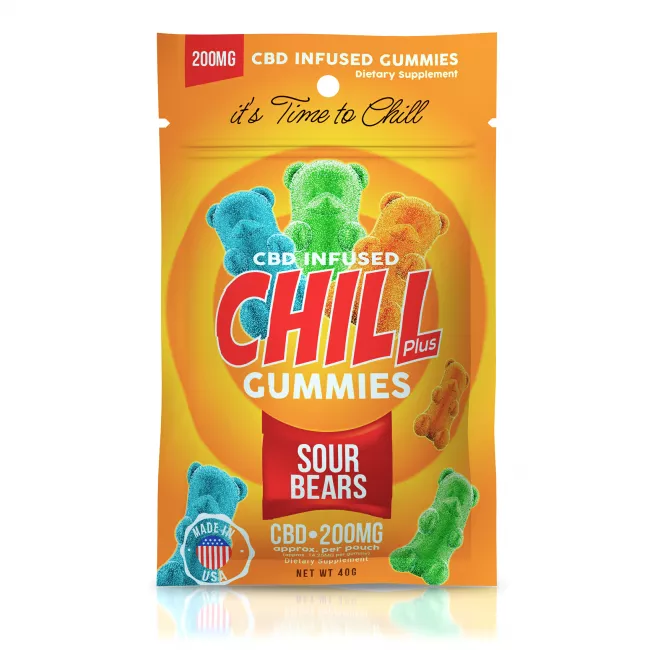 Chill Plus Gummies - CBD Infused Sour Bears - 200mg
---
Products of the Same Brand
Frequently Bought Together
---
Carol H. on April 15, 2019
They taste so good and relax my husband and I so we can sleep! We are customers for life!
Carol H. on March 29, 2019
No more sleepless nights thanks to these little delicious bears!
John C. on January 21, 2019
An excellent choice, helps me relax and fall asleep easier and stay asleep longer!
Rochelle H. on January 5, 2019
These work best for me! One gummy, and my pain is relieved and I can sleep! My favorite brand!
Cris R. on December 10, 2018
Very nice specially if your looking for pain relieve from arthritis.
Deborah S. on December 8, 2018
Great taste! Eat through the day, it helps with stress.
Deborah S. on December 4, 2018
Tastes great! Delivery was fast, the way they packaged my order was very impressive. They do help with stress.
Gerald R. on November 27, 2018
I've tried a few of your choices and this is, by far, the best.
Robert F. on October 30, 2018
Fast delivery, good product
Angie G. on September 23, 2018
Love love love these . Many brands on the market but don't waste your time on the junk buy these now !! Back pain lessons after just o e use . Daily use is best .
Elizabeth B. on September 22, 2018
I have ordered them in the past and loved them! They help with my anxiety. I am sad because the package was stolen off my porch 😢
Brenda B. on September 8, 2018
I love these the taste and texture are perfect these are one of my favorites
Anonymous. on August 25, 2018
I love these! They always help me sleep.
Valerie F. on August 21, 2018
These little bears really helped me chill out! Taste great too!
Caroline W. on August 21, 2018
Well …..The product is awesome. I have never slept so good. I am now ambien free because of this product.
Christian W. on August 21, 2018
Absolutely love these, they are by far some of the best things on the site!
Patrick B. on August 21, 2018
Always excellent service never a problem
Karen P. on August 21, 2018
Wayne R. on August 21, 2018
Travis M. on April 5, 2018
Sour Bears taste great and help me get a good night sleep.
Brad C. on April 5, 2018
My only complaint is that they don't last long enough. (Not the effects, the gummies themselves because I eat all of them.) Definitely recommend.
Brad C. on April 4, 2018
Love this product. Great taste and chilling experience.
James M. on March 13, 2018
I have tried the gummies and the brites. I personally like the flavor as well as the help it gives me.The sour faces bring out the kid in me.
Michele G. on February 7, 2018
I wanted a non pharma answer for my anxiety and these little bears work wonders for me! Just take the edge off and help me be appropriately social.
Alicia E. on November 22, 2017
The gummies helped me and my husband relax after work and de-stress
Matthew B. on November 7, 2017
I really enjoyed them quite a bit