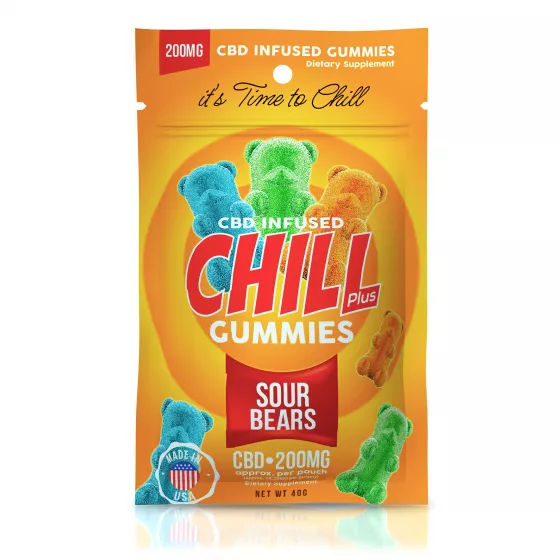 Chill Plus Gummies - CBD Infused Sour Bears - 200mg
Chill Plus Gummies 100% CBD Infused Sour Bears are natural, THC free edibles sourced from industrial hemp. Add these edibles infused with CBD from hemp plants to your wellness routine. A fun … Read more
Key Facts
With 200mg of Full Spectrum CBD
Chill Plus Gummies 100% CBD Infused Sour Bears are natural, THC free edibles sourced from industrial hemp. Add these edibles infused with CBD from hemp plants to your wellness routine.
A fun and easy way to consume high quality CBD, Chill Plus Gummies Sour Bears are the sweet and tangy, edible treats that let you snack with a purpose.
It has never been so sweet and delicious to get all the benefits of high quality CBD than with Chill Plus Gummies 100% CBD Infused Sour Bears.
Get Chill Plus Gummies 100% CBD Infused Sour Bears and get extra strength chill.
Industrial hemp cannabidiol (CBD) proprietary blend, corn syrup, sugar, gelatin, fumaric acid, white grape juice from concentrate, citric acid, lactic acid, calcium lactate, glycerin, natural & artificial flavors, titanium dioxide (for color), silicon dioxide (anticaking agent), artificial colors (red 40, yellow 5, yellow 6, blue 1).
Allergen Information: Manufactured in a facility which produces products that may contain nuts, dairy, wheat, gluten, egg and soy products.
Melissa J. on August 11, 2020
When I originally recieved my order the gummies were all melted together due to the heat. I contacted the company and they sent out my entire order and wrapped it with cold packs that same day. When I recieved my order this time the product was exactly how it should be. I love this product. I usually take 2 or 3 right before bed cause it helps relax me and helps my pain so I can get a better nights sleep. Everyone I talk to I recommend this product and the company. I am completely satisfied with both product and staff.
Natasha N. on August 10, 2020
These are excellent, they taste amazing and really make me relaxed.
Melissa J. on August 2, 2020
Love this product. I'm not big on products that say sour on the packaging. But my son had a pack and I tried two pieces cause I was out of my watermelon cbd gummies. Buy this product tasted really good and not really sour.
Julie W. on July 19, 2020
I haven't been able to really try these. The order arrived melted. This is no fault to Diamond. They put in several ice packs to keep it cool. USPS took their sweet time delivering my product this causing the product to melt together.
Joy D. on July 12, 2020
My daughter began barrel racing. Her anxiety was so bad it paralyzed her, so she almost fell off. These gummies made a huge difference. She is actually having fun now and is able to have a safe ride. These have been a lifesaver for her.