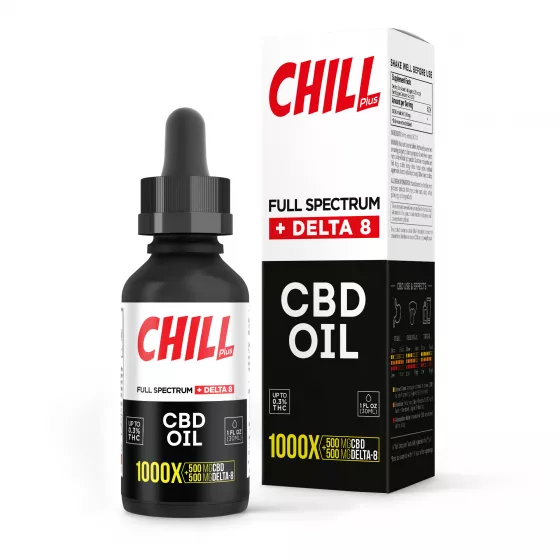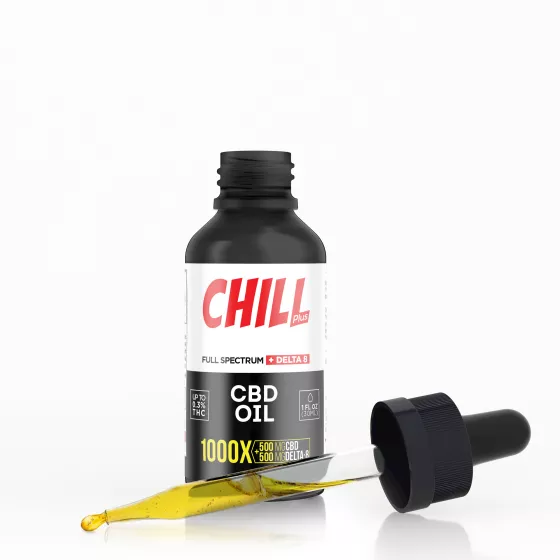 Chill Plus Full Spectrum Delta-8 CBD Oil - 1000X
Now you can chill like never before with Delta-8 and finally see what all of the BUZZ is about. Chill Plus Delta Force CBD Oil is a premier select brand of pure, hemp-derived full spectrum CBD … Read more
Key Facts
With 500mg of Full Spectrum CBD
Now you can chill like never before with Delta-8 and finally see what all of the BUZZ is about. Chill Plus Delta Force CBD Oil is a premier select brand of pure, hemp-derived full spectrum CBD combined with the most talked-about hemp compound to hit the market in years, Delta-8. A derivative of Delta-9 THC, Delta-8, is an exciting new psychotropic compound with a smooth yet subtle high that will have you feeling extra chill. And now, we've balanced it out with our full spectrum CBD  to date, to give you a unique experience that will have you floating on the clouds.
How is this even legal? Delta-8 falls into a legal grey area. When it's extracted from hemp under the right conditions, no one can stop us from selling it to you. But that doesn't mean they won't try. So hurry up and grab yours today while you still can, because who knows when lawmakers will try to end this party.
Chill Plus Delta Force CBD Oil combines 500mg of Delta-8 with 500mg of all-natural, hemp-derived full spectrum CBD. Like all of our products, it's all organic and grown on non-GMO farms. We guarantee our CBD is the safest and purest around and back up those words by sending all of our brands through a rigorous third-party lab testing process. We recommend placing a few drops under your tongue to see what all of the BUZZ is really about.
Mg of CBD per bottle
Mg of CBD per drop
15ml bottle
30ml bottle
25 mg
0.08 mg
0.04 mg
50 mg
0.17 mg
0.08 mg
100 mg
0.33 mg
0.17 mg
150 mg
0.50 mg
0.25 mg
250 mg
0.83 mg
0.42 mg
350 mg
1.17 mg
0.58 mg
450 mg
1.50 mg
0.75 mg
500 mg
1.67 mg
0.83 mg
550 mg
1.83 mg
0.92 mg
750 mg
2.50 mg
1.25 mg
1000 mg
3.33 mg
1.67 mg
1500 mg
5.00 mg
2.50 mg
Measured in mg per drop**
This table represents how many mg of CBD per drop are approximately included in the product.
Please check this table before purchasing.
Tiffany P. on September 16, 2020
Gave my brother sleep assistance
Big021. on September 15, 2020
The effects that cbd has on my pain is really amazing!
Sean M. on September 11, 2020
Great for evening use. Relaxes you like nothing you've ever tried. I just got this yesterday and my gummies were delivered today. Delta 9 is overrated and "too much" for my head. Delta 8 is perfect.