Canna Slim THCV Gummies - Weight Management - 750X
Product Info
Are you looking to shed a few pounds? Has the daily stress of work, parenthood, or simply getting older made it more difficult? Do you want more than just another fad diet? Well, then you want to try THCV, the hemp-derived cannabinoid made to help you lose weight naturally. THCV, sometimes nicknamed "diet hemp," is mother nature's all-nature weight loss remedy. And with Canna Slim Gummies, you get 750mg of THCV, the perfect way to start slimming down?
What is THCV? It's an all-natural, hemp-extracted minor cannabinoid with a little bit of a buzz. However, unlike other buzz-worthy cannabinoids such as Delta-8 THC or Delta-9, THCV doesn't give you the munchies. In fact, instead of eating your way through your buzz, it's known to help you forget about food for a while. It's the ideal part of a balanced lifestyle change to help you feel better and lose weight.
And the key with Canna Slim Gummies and its 750mg of THCV is incorporating it into a lifestyle change. Losing weight is difficult, but THCV can help make it easier. When used in combination with diet and exercise — and, of course, a good night's sleep — Canna Slim THCV can help you feel great and look better. Before you know it, you'll need a whole new wardrobe.
And the best part is that Canna Slim THCV Gummies are all-natural and completely safe. We send every product out to our third-party lab affiliates for testing to ensure there are no carcinogens and no adulterants. Canna Slim THCV has only pure, unadulterated hemp-derived THCV. SO if you're looking for something to help you lose weight, try incorporating Canna Slim THCV into a lifestyle change that includes eating right, sleeping well, and exercising. The results will astound you!
Strength Per gummy
25mg/gummy
THCV Per gummy
25mg/gummy
Tapioca Syrup, Sugar, Water, Natural Flavors, Concord Grape Puree, Blueberry Puree, Corn Starch, Strawberry Juice Concentrate, Agar, Citric Acid, Pectin, Lemon Juice Concentrate, Sunflower Lecithin, Fruit and Vegetable Juice for Color, Lactic Acid, Beta Carotene for Color and Hemp Extract.
Active Ingredients
THCV Products are all-natural, hemp-derived cannabinoids made popular because of their weight loss properties. These products are available in many forms, including gummies and capsules. Most people enjoy THCV Products for their ability to maintain wellness and help you lose weight naturally.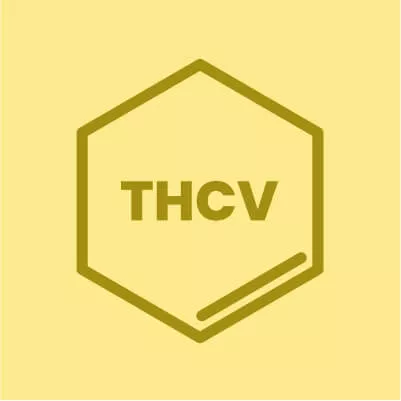 Frequently Asked Questions
Are THCV gummies safe?
Due to THCV's rarity, there are few producers making this cannabinoid, reducing the supply of THCV extracts. While there has not been a lot of research on THCV gummies, they are certainly safe to consume.
What are the benefits of THCV edibles?
THCV edibles are a simple way to enjoy the weight loss benefits of THCV, one of the only hemp-derived cannabinoids to help you lose weight and shed the pounds.
Do THCV gummies get you high?
You can get high from THCV since it induces a psychotropic effect. The intake of THCV must be relatively high before intoxicating effects will be felt. THC, the chemical that is largely responsible for the infamous high of cannabis, is still the most psychoactive cannabinoid.
Do THCV edibles make you high?
THCV was shown to work as a CB1 antagonist at lower doses. To put it simply: it won't make you feel high at all. Despite this, it can switch to functioning as a CB1 agonist at higher doses, similar to THC. Taking THCV in large quantities will trigger the CB1 receptor and produce a psychoactive effect.
How long do THCV gummies last?
The slow metabolization of THCV Gummies ensures that they last longer than other methods of consumption, and can last up to eight hours. Be sure to proceed at your own pace.
Recently Viewed