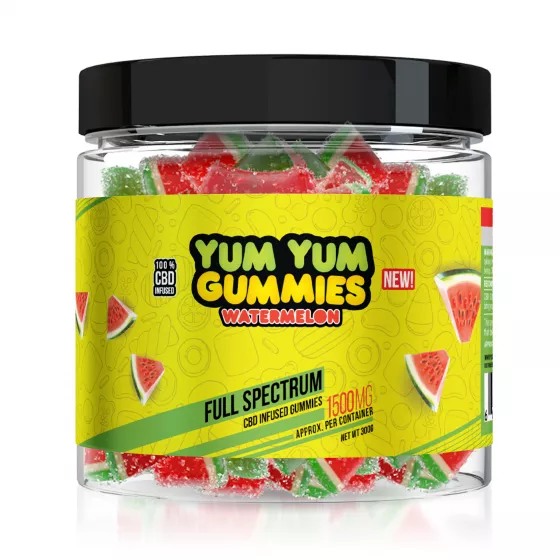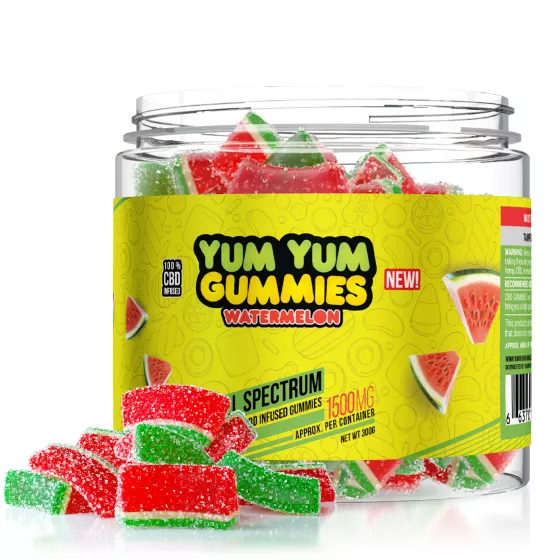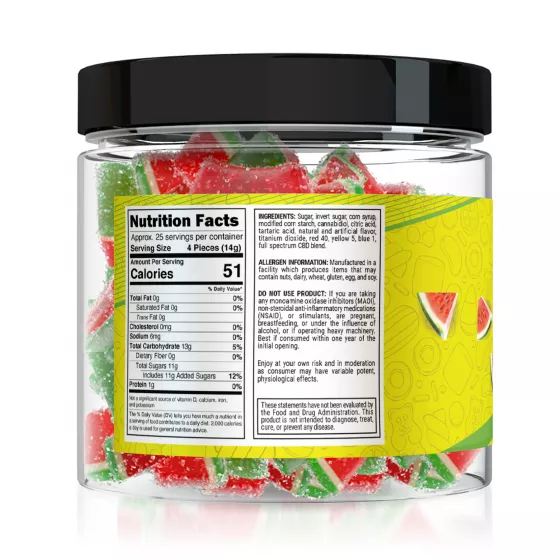 Yum Yum Gummies - CBD Full Spectrum Watermelon Slices - 1500mg
Yum Yum Gummies 1500mg Full Spectrum CBD Infused Watermelon Slices use natural CBD hemp extract and deliver yummy CBD gummy taste. CBD Gummies are the #1 choice for many people wanting to take CBD oil … Read more
Key Facts
With 1500mg of Full Spectrum CBD
Yum Yum Gummies 1500mg Full Spectrum CBD Infused Watermelon Slices use natural CBD hemp extract and deliver yummy CBD gummy taste. CBD Gummies are the #1 choice for many people wanting to take CBD oil (cannabidiol) as they provide all of the benefits in one delicious dose.
These non-psychoactive CBD treats contain only trace amounts of less than 0.3 percent THC, falling below the legal limit. Our full spectrum formula provides all of the natural elements of the industrial hemp plant, including its organic cannabinoids and terpenes so that you can enjoy the full entourage effect of your CBD dose.  
Take Yum Yum Gummies 1500mg Full Spectrum CBD Infused Watermelon Slices and experience the delicious benefits of CBD oil.
Recommended use: take 1-6 gummies daily as needed.
Sugar, Invert Sugar, Corn Syrup, Modified Corn Starch, Citric Acid, Tartaric Acid, Natural & Artificial Flavor, Titanium Dioxide, Red 40, Yellow 5, Blue 1, Proprietary Blend and CBD.
Myshadow01. on September 28, 2020
Hi, Although the taste is pretty strange, to put it mildly, I am glad to have chosen the watermelon. The sour flavor is delicious and the sugar coating helps the after taste. But the product does help my insomnia. On nights where I need help to fall asleep, it was amazing. I did need 5, chewed them all at once. and within an hour. Restful, peaceful sleep came over me, without having to take drugs. I do not like to take Xanax, makes me groggy the next day. Ambien doesn't work and side affects are scary. This was amazing. I'm glad I tried them. A very nice experience.
Stephanie D. on September 24, 2020
They work good for my rheumatoid arthritis pain, ive only been taking them a couple of months so its to early to tell if it will continue to help with the pain. its got a funny taste but it doesn't leave an after taste.
Kathleen M. on September 12, 2020
Love this! And give it to my husband!
Amber S. on August 16, 2020
Peggy B. on July 31, 2020