Sour Diesel Cartridge - Delta 8 THC - 10X - 900mg
Product Info
Jump on the express with the extra-strength power of 10X Delta-8 vape cartridges. It's a quick, easy, on-the-go way to enjoy your favorite buzz-worthy cannabinoid. And with new 10X Delta-8 Sour Diesel vape cartridges, you can experience the distinct flavors while dipping into the old school Sour Diesel scene.
Delta-8 Disposable Vape Cartridges from 10X are easy to use. It's the best new way to enjoy your buzz. Just attach the cartridge to a 510-compatible battery, place lips around the mouthpiece, and inhale slowly. That's right! Take a puff and pass the Delta-8 while supplies (and the freedom to do so) last!
And now, you can enjoy 10X Delta-8 vape cartridges in our Sour Diesel strain. Combined with a hybrid of sour and citrus, you'll find that Sour Diesel turns the experience up to 11. 10X Delta-8 Disposable vaping cartridges will have you floating on the clouds.
These Delta-8 Disposable Vape Cartridges really kick. They're infused with 900mg of Delta-8 THC. However, you should be careful, because everyone's experience may differ. 10X Delta-8 Disposable Vape Cartridges flavored with Sour Diesel contain 900mg of Delta-8 and old-school hybrid flavor. It's lab-tested for your safety — guaranteed to be a pure, unadulterated product with no synthetics. Our Disposable Vaping Pens contain no Vitamin E Acetate whatsoever, and all of our lab results are available online for inspection.
Active Ingredients
Delta 8 Products are all-natural, hemp-derived cannabinoids made popular because of their bold, relaxing, and buzzy high. These products are available in many forms, including gummies, vapes, and concentrates. Most people enjoy delta 8 products for their ability to enhance your mind.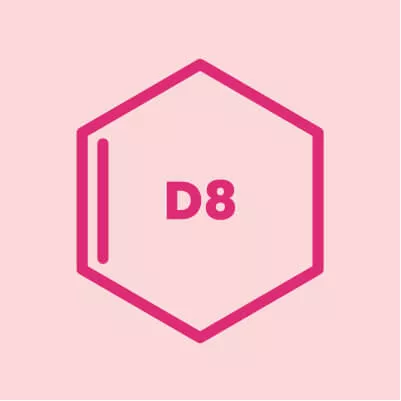 Customers Reviews
Reviews
(53)
Good high, felt smooth and hit hard, mostly good for light smokers, that's why it's a 5 star.
I actually really like the quality of it. Small hit & you're good. Only reason I gave 4 stars is because the diesel actually is harsh for me & makes me cough (but I gave up cigarettes a year ago & think it's cause I'm not used to it). Other than that, I'll definitely be back!
Love The Pineapple Express.... Taste Great...
Frequently Asked Questions
Are Delta 8 carts safe?
Everyone loves delta 8 and one of the best ways to enjoy this all-natural hemp cannabinoid is with a disposable cartridge. Delta 8 carts are one of the most popular ways to consume this buzzy cannabinoid as it offers you an instant feeling of excitement and euphoria. But are delta 8 carts safe? Of course, they are! Not only is delta 8 a hemp-derived cannabinoid, making it one of the safest compounds on the planet, but here at Diamond all of our products go through a rigorous third-party testing process. It's our guarantee to you that only the best delta 8 carts make it to our store.
Are Delta 8 carts legal?
The possession of Delta 8 THC carts is illegal in 13 states: Alaska, Colorado, Delaware, Idaho, Iowa, Montana, New York, Nevada, North Dakota, Rhode Island, Vermont, Utah, and Washington.
Do Delta 8 carts get you high?
The psychoactive characteristic of delta-8 THC can make you high. In comparison to regular THC, however, the effect of this strain will be less intense. Those who need their dose of "high" often substitute delta-8 for THC, since THC isn't legal everywhere.
Can you take Delta 8 carts on a plane?
The majority of states allow Delta-8 in flights. However, you still need to be cautious if you plan to bring your favorite Diamond product. TSA will not be actively searching for Delta-8 to confiscate. The possession of Delta 8 THC is illegal in 13 states: Alaska, Colorado, Delaware, Idaho, Iowa, Montana, New York, Nevada, North Dakota, Rhode Island, Vermont, Utah, and Washington.
How much THC is in Delta 8 carts?
The amount of THC varies depending on the size of our cartridges. The THC content of Diamond's cartridges ranges from 500mg to 1200mgIn addition to being natural, cruelty-free, and free of harmful artificial additives, we do not use MCT, PG, VG, or PEG oil in our cartridges.