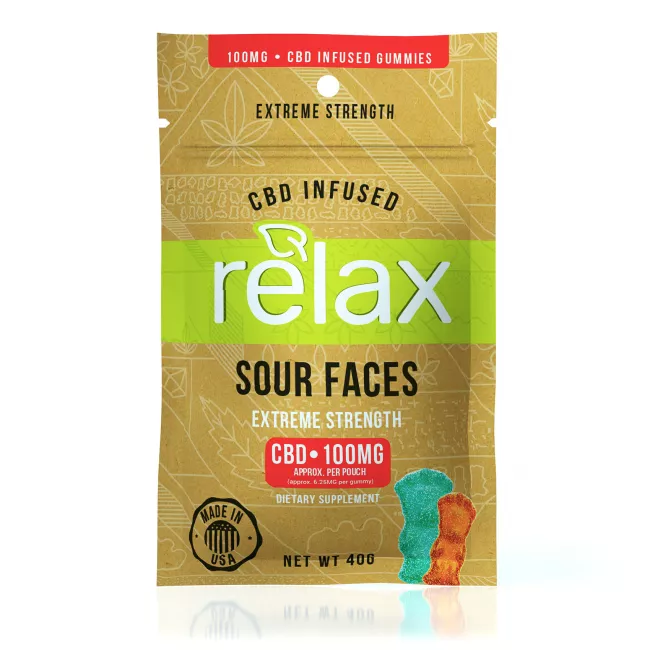 Relax Gummies - CBD Infused Sour Faces - 100mg
---
Products of the Same Brand
Frequently Bought Together
---
Noelle S. on January 3, 2019
Super sour, but also amazing!! Love the way they work.
Amanda S. on October 11, 2018
Great product, and has a great taste!
Ashley M. on August 21, 2018
Taste just like sour patch kids, I love these work great!
George B. on August 21, 2018
Five stars for these Diamond CBD Relax Gummies! The most wonderful rest and sleep I have had in a long time!
Barbara M. on December 30, 2017
I should have read ingredients first. I wasn't expecting the melotonian or it's effects. If that's what you want, its probably great
Mike P. on December 16, 2017
Relax and Chill out. I take 2 one hour before bed and have a great relaxing sleep waking up refreshed.
Brooke H. on December 15, 2017
Love the relax sour face gummies. Would highly recommend.
Joanna L. on December 15, 2017
These gummies are great, the best tasting that I've had of this brand, and I've tried quite a few. That said, the number of gummies per packages is inconsistent. Some packages have 15, and others have 7. It's a little frustrating.
Jaime T. on November 19, 2017
Nancy M. on October 23, 2017
I get headaches a lot, as well as migraines, so I was hoping CBD would help. And to my surprise, they definitely made a difference. I'm some times able to get rid of my headaches with one ot two gummies, but if not, an aspirin after the gummies usually works. Unfortunately, they haven't helped too much with the migraines, but I will continue using them for my regular headaches.
Linda C. on October 23, 2017
Love them. My husband now my daughter are using your product.
Gilbert C. on October 14, 2017
I have back problems so decided to try these to see if it would help. To my surprise it did! Will buy again.
M. G. on October 13, 2017
I enjoy this product though I must tell you on one occasion I bought some sour faces that thad a very bad after taste. I was not the only one who noticed. However, the next shipment was fine.
Stacie M. on July 15, 2017
They tasted good and helped me relax. But about half of them were broken in the bag when they arrived
Dennis G. on July 14, 2017
I was pleased with the the gummies. They had a great taste and seemed to be consistent with the dose. I am disabled due to birth defects. I acquired neuropathy along the way. I've been on morphine and Fentanyl for ten years and I must find another way. Opiates make life a chore at best. I just began trying CBD so I can't really provide a knowledgeable critic other than saying that the product appears first rate and the company is very easy to deal with. Most of all, Tommy Chong says you can trust them, which is good enough for me.
Andrea . on April 21, 2017
I have a sweet tooth so these candies are a perfect match for me.It gives me a nice relaxation on my body when I'm tense at work.