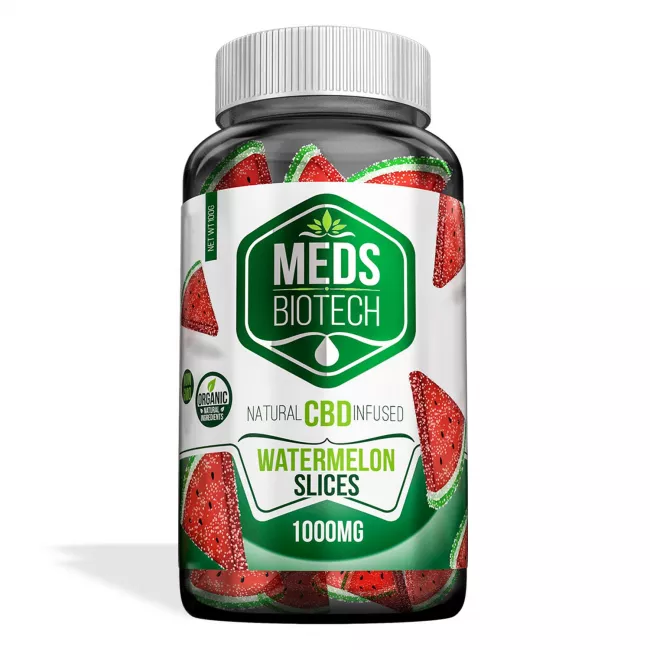 Meds Biotech Gummies - CBD Infused Watermelon Slices [Edible Candy]
---
Products of the Same Brand
Frequently Bought Together
---
Danny G. on February 7, 2018
This product helps me to relax sleep. I recommend taking them at night before going to bed.
Terry C. on March 13, 2018
Tasted good and worked even better
Walter R. on March 13, 2018
Sweet, tart and just the right amount of CBD! I just love 'em!
Richard W. on March 15, 2018
the edibles did not seem as effective as the chong choice vape
Cheryl S. on March 15, 2018
Gummies 300 mg are great.100mg waste of money.
Lorri J. on March 16, 2018
Great product. Will buy again!
Luis on March 30, 2018
I love them but before buying them I'm sure everyone would like to know how many gummies each bottle contains. I think me and every Diamon CBD fan would appreciate if you added that to every gummie listing.
HEATHER S. on April 3, 2018
Great tasting and worked great. Very calming. I love to eat one before I go to bed to ensure a great nights sleep.
Sarah H. on April 4, 2018
These gummies are the best! They're my favorite gummy cbd product!
Sally B. on April 4, 2018
I've been a customer for awhile now. I've used several products, never once being disappointed. The gummies are great as well. Thank you
Thang T. on April 4, 2018
Excellent product and quality. Recommended!
Philip S. on April 4, 2018
Get the highest strength, eat 1 - maybe 2. Wait. Wow! I usually ad a couple of puffs of Strongest oil after a couple of hours... to keep it going. CBD does have an effect on pain - It's a subtle mechanism that I am greatful to be able to partake.
Babylon S. on April 4, 2018
I usually take 1 And after an hour or two, a couple of puffs of the strongest oil, keeps it going. Regular home testing shows No THC. Works great for me.
Charles B. on April 5, 2018
Work very well for Pain and Sleeping issues