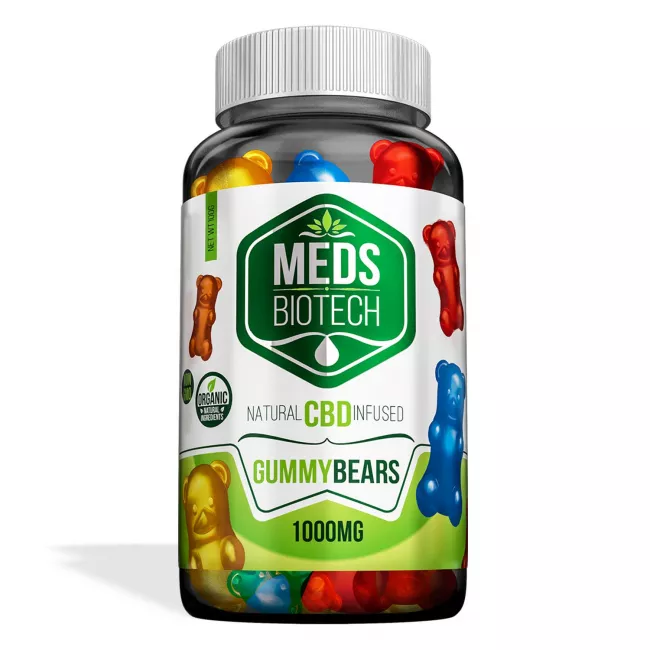 Meds Biotech Gummies - CBD Infused Gummy Bears
---
Products of the Same Brand
Frequently Bought Together
---
Karen S. on February 16, 2019
We take them at night and our mornings are much nicer. Arthritis pain minimal and just feel better overall.
Karen S. on January 21, 2019
These are the best of the gummies I have tried. I will buy more today while they are on sale! Thank you for helping with the cost of using this product. Retired people need it.
Devin B. on December 30, 2018
Best CBD gummies on the market. I have tried several different ones. These taste great and get me to sleep consistently within 10 minutes.
Carolyn H. on December 16, 2018
I bought the Med Biotech Gummy Bears to see if they would help with Fibromyalgia. I have been very pleased with the results. I plan to purchase enough that I don't run out. I was able to actually do normal every day things again. Made me a happy person.
Tanya H. on December 15, 2018
These gummies are great and they work well to ease pain and anxiety however they are not as long lasting as I would have thought. Bottle is small but it does contain a good amount of gummies. Down side is shipping although I love their products I recently had to go with another company that provides free shipping and it took only 3 days to receive my package
Shawn S. on December 12, 2018
This product has helped with my aniexty so much. Use it on a daily basis. Highly recommend
Jocelyn J. on December 10, 2018
I like this product. It's not to strong like some tend to be. It taste good and the texture is right.
Karen S. on December 10, 2018
I am very pleased with the product and the company.
Kevin F. on December 4, 2018
Great product. My wife and I take one per night and they help a great deal in getting a relaxing sleep.
Taylor P. on December 4, 2018
Francois J. on December 3, 2018
Excellent. I suffer from PTSD and it has helped in my sleep. Also, no more back pain from a herniated disk surgery.
Donna A. on December 1, 2018
Better than the sour ones..
Njurg001@fiu.edu. on November 28, 2018
LOVE IT EXCELLENT. AND KAREN IS THE BEST SELLER. I LOVE CBD DIAMOND. HIGHLY RECOMMEND IT,
Cathy M. on November 21, 2018
Oh I just love love these. They help me sleep so well. Thank you
Jennifer M. on November 2, 2018
I love, love, love these gummies. My favorite by far. The taste is great and two of them help with my mood and lift me up.
Lee B. on October 30, 2018
The best! Thank you for the coupon and fast shipping! It's just what I needed for back pain and getting some good solid rest at night! A true blessing!
Jamie L. on October 30, 2018
very good- actual gummy bear could be stronger
Tyler V. on October 29, 2018
Debbie H. on October 29, 2018
I am/was wanting to try for my daughter who has seizures. I bought 2 bc I know it will take awhile to build up and see results. For the price of the product would like for the description to say how many in each bottle. I am still going to shop around to see if I can find some better deals.
Gary N. on October 28, 2018
Very good product and with the 50% off deals very affordable. Gave some to my father and has helped with leg pain. Helps with sleep and anxiety.
Susan G. on October 25, 2018
Excellent experience. Lasts a few weeks.
Francois J. on October 25, 2018
I sleep better without the hangover. Helps with my PTSD
Christine Q. on October 19, 2018
Love this produce. I use this primarily at night to help me get some rest. and it does help me with my restless legs. Highly recommend this produce!
James G. on October 15, 2018
Thom T. on October 14, 2018
Tastes Great and they eliminate my pain. I had broke my pelvic 4 years ago and the weather among other things aggravate it and these eliminate the pain and allow me to sleep all night without pain as well. I was very skeptical when buying them but glad that I have.
Carolyn M. on October 13, 2018
Helps me with anxiety! Suggested by my pain doctor.
Kevin W. on October 13, 2018
Helps my pain just wish you got double the amount for price.
Cathy M. on October 11, 2018
Awesome awesome. Love them
April O. on October 10, 2018
Great product, Especially for the price! Great tasting, doesn't taste like any medicine, which is definitely a bonus, it's hard to stop a one! Allows me to get in all my cbd in in one bite.And like I said, best price to get all my mg of cbd in. And believe me, I've looked, Diamond cbd, has the best prices, most choices, best discounts, and some of the Best cbd Products!
Patricia T. on October 9, 2018
This has really helped with being able to have a deep sleep. Thank you!!!
Terri H. on October 5, 2018
Excellent product really Eli's with pain and sleep
Lyle T. on October 5, 2018
first time purchase let you know
Anne M. on October 4, 2018
Douglas C. on October 3, 2018
They work wonderfully. Blessed sleep is now possible.
James G. on September 27, 2018
Stef L. on September 23, 2018
I started these for my Fibromyalgia and chronic nausea. Not only are they amazing for both, but my anxiety and panic attacks have dropped off. Plus I can sleep with less nightmares.
Carolyn M. on September 23, 2018
Thanks for the great product! Help with my anxiety and pain ❤️
Kandyce N. on September 22, 2018
This has seriously helped my husband. He has a very physically demanding job and is tired of living off Tylenol and Advil. So we decided to try CBD and it has really cut back on his consumption of those. I highly recommend these. Has also helped my mother in law with her knee pain
Christopher M. on September 19, 2018
These are the best long lasting and therapeutic level way I've found to get CBD into my system. They make a great bedtime sweet treat and bring a deep restful full night of sleep and dosing off has never been easier!!!
Christine Q. on September 18, 2018
Awesome product!!!! Totally helps with my anxiety. Enough so, I no longer take other meds. Also helps me relax so that I can sleep.
Carolyn M. on September 17, 2018
ABSORB FASTER THAN THE PILLS!!! GREAT FOR MY ANXIETY AND PAIN. THANKS FOR THIS PRODUCT!!!!
Joyce S. on September 17, 2018
These have saved my life. I have fibromyalgia and taking these at night allows me to sleep. Awesome!!
Cynthia B. on September 17, 2018
Patrick B. on September 16, 2018
Almost a year never disappointed with service or product.
Michael B. on September 10, 2018
Not bad but could be a bigger bottle to last longer if u take two a day or four total in one day it dont last long shouls at least make sure thers enough to last a month i think that would be nice if you would do it that way thank you
Ashley G. on September 9, 2018
Life-threatening auto accident, rebuilt with much titanium, and the end result is a very rare peripheral nerve injury. Although, I am a chronic pain patient and suffer from PTSD, Depression, Panic Disorder the many RX meds. I take do not do the job. then all the side-effects which are just as bad. CBD works wonders! I order the LT pain oil and the gummies-great when out and about. My wish is to find a physician who specializes in my rare injury which keeps me in horrible pain and disability and after recovery and rehab the only thing I need to take is CBD and throw all my meds in the trash.

Thank you Diamond CBD for your product options and a the discounts you offer, otherwise, I could not afford the needed help with CBD
Stefanie D. on September 8, 2018
Another I use for my back pain and it seems to help
Sarah K. on September 8, 2018
I am able to control my anxiety with this! I tell everyone about these and how great they are.
Cathy M. on September 5, 2018
They are good. But like the relax better. Helps with my arthritis pain and helps me sleep
Jordy B. on September 4, 2018
Helps to alleviate pain and some of my anxiety. I definitely need a higher dosage! Good stuff!