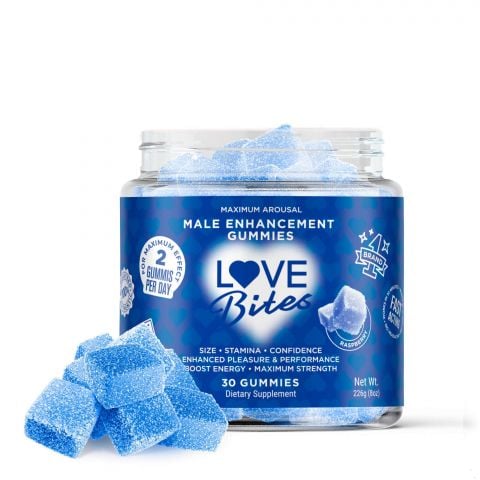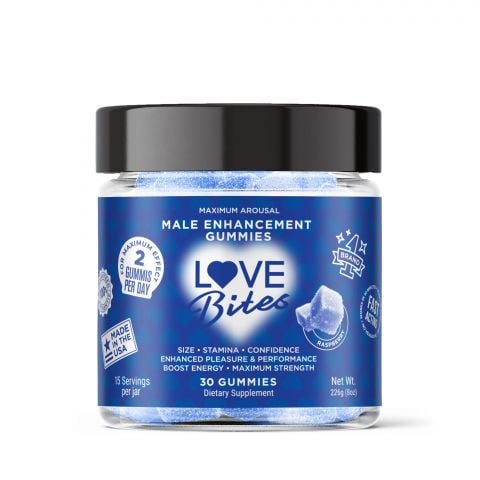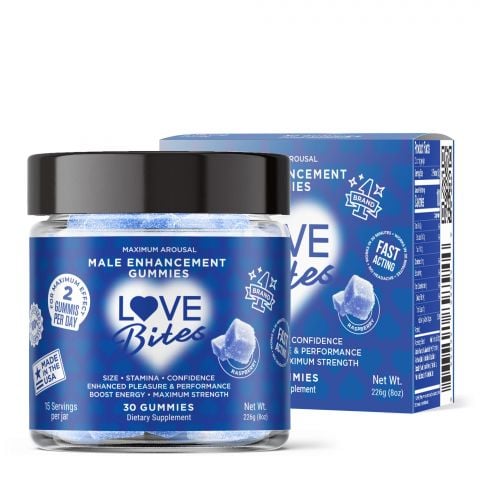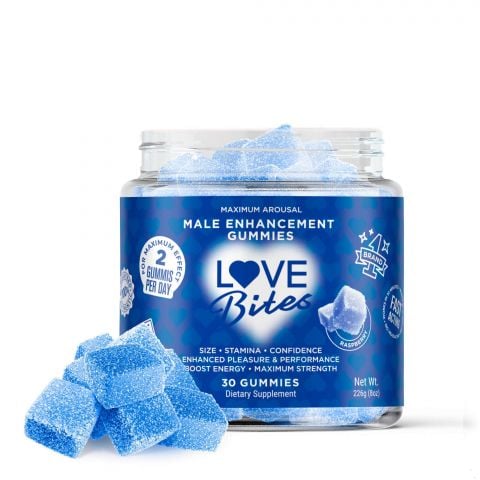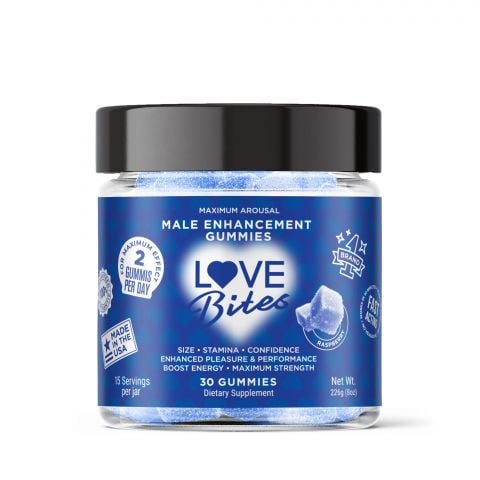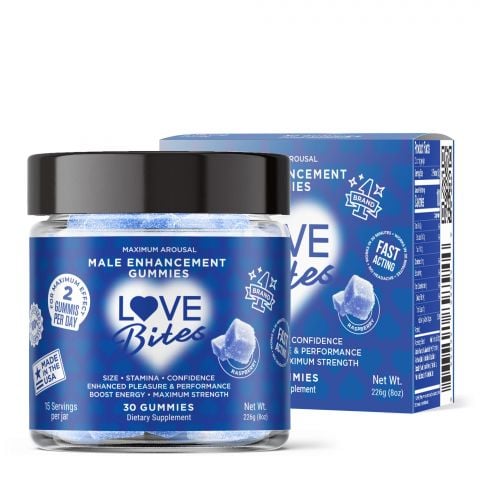 Love Bites Male Enhancement Gummies in Jar
Product Info
It's better to go big. You should show your love for that special someone in your life. With something bigger than chocolates or roses. Keep them coming back for more with Love Bites Male Enhancement Gummies!
Don't race the clock in the bedroom, burn yourself out, and fall asleep early. With Love Bites Male Enhancement Gummies, you'll have a firm, rigid command of the bedroom and burn with a passion that lasts all night long.
You'll feel bigger, more confident, and more stamina with two gummies. They'll beg for an encore after you give an excellent performance! Love Bites Male Enhancement Gummies are pure fire and passion. It's the heat and friction your bedroom needs.
How do these maximum strength, raspberry-flavored male enhancement gummies do the trick? It's simple, really - you pop two gummies, and in under 30 minutes, they'll swoon. Love Bites Male Enhancement Gummies are strong, sensual, and passionate aphrodisiacs that work when you need them.
More About Our Love Bites Supplements
Fast-acting gummies elevate desire and intimacy
Enhance pleasure and performance in the bedroom
Energy-boosting gummies help you last longer
15 servings per jar for multiple good times
Made in the USA; guaranteed authentic
How To Use Love Bites Supplements
Take 2 gummies as needed
For maximum effect, take 2 gummies per day
Do not take more than 2 gummies every 6 hours
Always store in a cool, dry place
Close tightly when finished using
Sugar, Tapioca Syrup, Corn Syrup, Water, Pectin Citric Acid Natural Flavors, Fruit and Vegetable Extract (Color)
Frequently Asked Questions
What is a supplement?
A supplement is a non-cannabinoid product. These products help with many different things from energy to rest and more. We have a wide selection of supplements available for you to look at and purchase.
How are supplements different from cannabinoid products?
While both supplements and cannabinoids are all natural products, the former does not come from hemp nor is it a compound that can get you high. Cannabinoids have very distinct features while supplements can include a wide variety of plants and compounds.
Should I choose supplements or cannabinoids?
Supplements are a great way to increase desire or boost energy without committing to cannabinoids. Choosing which one is right for you is a personal decision however. We recommend trying each until you find one that suits your lifestyle.
What are Love Bites?
Love Bites are sexual enhancement gummies for people looking to add a little spice to the bedroom. For men, it can add stamina, size, and confidence, while women can feel long-lasting, enhanced pleasure like never before!
Are Love Bites safe?
Absolutely! Love Bites act fast and have no negative side effects. That said, it's important to follow the dosages on product packaging to ensure any adverse effects that may result from a lack of moderation.