Limited Edition Fruity Assortment Gummies - Delta 9 THC - The Bored Gummy - 600MG
Product Info
Indulge in The Bored Gummy's Limited Edition Fruity Assortment gummies, containing 600mg of Delta 9 THC for a premium and exciting hemp experience. This exclusive line features the iconic Bored Ape image, exclusively licensed by the owner of Bored Ape #799, Will Savas. It's a rare member of the Bored Ape Yacht Club NFT collection, as the image is only one of 77 with a crown and one of 178 with a stunt jacket. Licensed in partnership with Diamond, the Bored Gummy is a limited-edition line that delivers on its promises.
The Bored Gummy is inspired by The Bored Ape Yacht Club NFT, non-fungible token. It's a unique digital asset that is stored on a blockchain, making it impossible to duplicate or alter. NFTs are often used to represent digital art, collectibles, and other unique items in a way that allows for verifiable ownership and authenticity. Each NFT has a unique digital signature that is stored on the blockchain, making it a one-of-a-kind digital asset.
Verified for potency and authenticity by ACS Laboratory, you can trust that The Bored Gummy's Limited Edition Fruity Assortment gummies are safe, third-party tested, and completely legal. With the potency results published using Blockticity on Avalanche Blockchain, you can rest assured that The Bored Gummy is a product you can trust. These gummies offer a delicious and fruity way to indulge in pure, unadulterated Delta 9 THC.
Join the Bored Ape community in style with The Bored Gummy's Limited Edition Fruity Assortment gummies. With its exclusive partnership with Bored Ape #799 and verification by ACS Laboratory, The Bored Gummy is a truly unique product that delivers on its promises. Whether you're a collector of Bored Ape NFTs or just looking for a premium hemp product to enhance your experience, The Bored Gummy is the perfect choice. Try it today and experience the excitement and thrill of a non-fungible buzz like never before.
Strength Per gummy
50mg/gummy
Delta 9 Per gummy
10mg/gummy
Sugar, Tapioca Syrup, Corn Syrup, Water, Pectin, Citric Acid Natural Flavors, Fruit And Vegetable Extract (Color), and Hemp-derived Delta-9 THC extract.
Active Ingredients
Delta 9 Products are all-natural, hemp-derived cannabinoids made popular because of their bold, buzzy, and legal high. These products are available in many forms, including gummies, chocolates, and vapes. Most people enjoy Delta 9 Products for their ability to enhance your mind.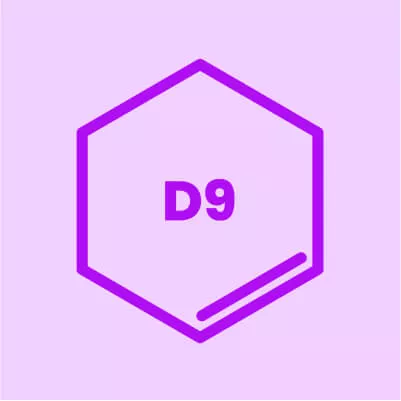 Frequently Asked Questions
Do you sell delta-9 gummies?
Yes we sell D9 gummies! Our delta 9 THC gummies are one of our most popular products! As with any edibles, we recommend that you start slow. Take one or two gummies and then increase your dose every few hours until you feel the desired effect. Remember, edible products like gummies take some time before the effects (aka the high) begin. So be patient!
What's the best dose of delta 9 per gummy?
The answer to this depends on the product. The best dose of delta 9 per gummy depends on the strength of the product. Many of our delta 9 gummies include CBD to balance out the buzz. So, with 600mg gummies you get 20mg per gummy, which is 10mg of delta 9 and 10mg of CBD. 
We inform you about the dose on each product page. In general, your best bet is to start low and slow. Take a low dose and increase slowly until you reach a peak that works for you. You can always take more but you can never take less.
Why do you put CBD in your delta 9 gummies?
It is well known that CBD is great for balancing out the high caused by delta 9. Combining the two cannabinoids will give you a very mellow buzz. That's why we package the two together in many of our gummies - for a fantastic, relaxing feeling you soon won't forget!
How do I choose the best delta-9 gummies?
There are a few things you should consider when shopping for Delta 9 THC gummies online. You want to check out the ingredients, reviews, third-party testing, and customer service. And in all of these areas, Diamond is rated the best (really!).
Pure and potent D9 distillate is the key ingredient in Delta 9 THC gummies. Delta 9 must be hemp-based, organic, and American-grown. Learn what's in your products by reading their labels. Our D9 is free of artificial flavors, colors, sweeteners, or preservatives. Don't use anything synthetic. We use only natural, organic ingredients.
Moreover, we have the BEST reviews from consumers! How can you get an unbiased opinion from a company that says they have the best products? Check out the reviews! It's a good idea to start with the reviews on the product pages of most vendors. Getting a broader perspective is also possible from outside sources like Google.
At Diamond we test all of our products, including our delta 9 gummies, with third-party labs, ensuring they are safe and effective. How can you make sure you're buying the best delta 9 gummies? Buy them from Diamond, of course!
Are your delta 9 gummies the same as cannabis?
Sort of. While all delta 9 is the same, ours comes from hemp, making it federally legal.  
Recently Viewed