Fresh Delta-9 THC Chocolate Bar - Dark Chocolate - 150MG
Product Info
Enjoy 150mg of high-quality, hemp-derived delta 9 in mouthwatering Belgian Dark Chocolate with our sweet Delta 9 Chocolate Bar in Dark Chocolate by Fresh! It's the perfect treat to satisfy your delta 9 cravings and sweet tooth!
So for anyone who loves Belgian chocolate and delta 9, here's the edible for you! All-natural, all-legal delta 9 THC? And it's now available in chocolate! Get the munchies and then satisfy the munchies all at once!
This inconspicuous chocolate bar looks exactly like any other candy bar, which makes it an excellent edible for on the go (just be sure to travel safely!). Complete with little chocolate squares, you can eat as little or as much as you want and customize your delta 9 experience!
Like all our other delta 9 products, this Chocolate Bar in Dark Chocolate by Fresh is rigorously tested in third-party labs for safety, purity, and efficacy. Better still, this mouthwatering dark chocolate bar is the perfect way to find your happy place!
Here are some highlights about our Fresh Delta 9 Edibles:
Made with real Belgian chocolate
Includes 150mg of delta 9 THC
Made from all-natural hemp cultivated in the USA
Farm Bill compliant, federally legal, and legal in most states
High potency, strong
Must be 21 years or older to purchase
And here's some tips on how to use them:
Start slow and work your way up when dosing
Break off a chocolate square and enjoy!
Take before bed to promote rest
Take with friends for a good time
Always use in moderation
Strength Per square
5.36mg/square
Delta 9 Per square
5.36mg/square
Belgian dark chocolate Couverture (Min. cocoa 53.8%), Sugar, Cocoa butter, Cocoa mass, Emulsifier, Soya lecithin, Natural vanilla, Certified Kosher, and Hemp-derived Delta-9 THC extract. These dark chocolate chips MAY CONTAIN TRACES OF DAIRY.
Active Ingredients
Delta 9 Products are all-natural, hemp-derived cannabinoids made popular because of their bold, buzzy, and legal high. These products are available in many forms, including gummies, chocolates, and vapes. Most people enjoy Delta 9 Products for their ability to enhance your mind.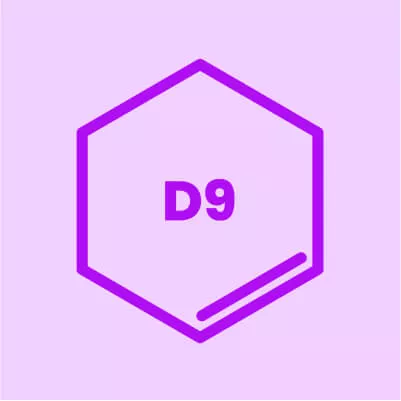 Frequently Asked Questions
What Are Delta 9 Chocolates?
Delta 9 chocolate is what you get when you infuse sweet, tasty, delicious chocolate with the buzz-inducing cannabinoid delta 9 THC. It is usually available as a delta 9 chocolate bar in either milk or dark chocolate. On average, it has about 150mg of delta 9.
How Long Do Delta 9 Chocolates Last?
Delta 9 Chocolate, like most edibles, takes about an hour to peak, as it has to go through your stomach and liver and then cross the blood-brain barrier. Once the high does peak, it can last a long time. Depending on the individual and how much they take, delta 9 chocolate can last from four to eight hours.
Does Delta 9 Chocolate Get You High?
Yes, all-natural, hemp-derived delta 9 chocolate contains delta 9 THC, giving you a substantial high. Take it in moderation, especially if you are new to delta 9.
How Long Does It Take For Delta 9 Chocolates To Kick In?
Because delta-9 chocolate must first go through the metabolic process — going through your stomach and liver before reaching your brain, they can take some time to kick in. Generally, delta 9 chocolate bars take about an hour or so before you start to feel high.
Is Delta 9 Chocolate Safe?
All-natural, hemp-derived delta 9 chocolate is entirely safe. There have been no recorded injuries ever from hemp products.
Recently Viewed