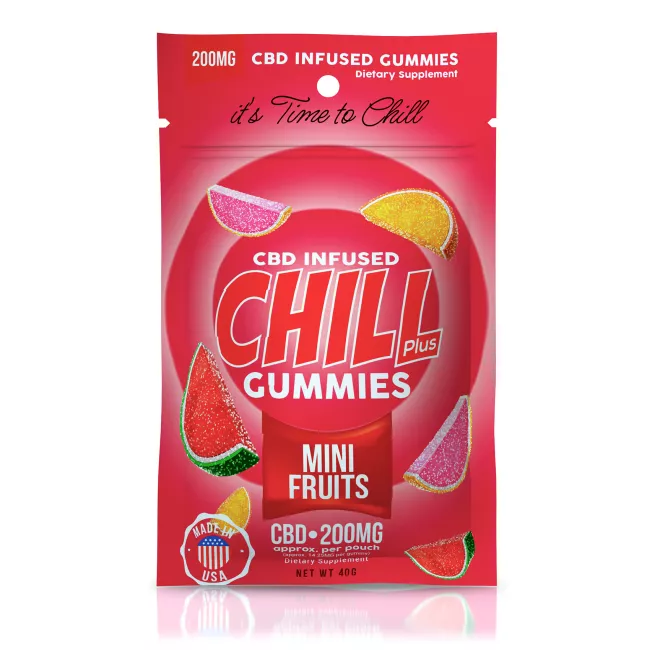 Chill Plus Gummies - CBD Infused Mini Fruits - 200mg
---
Products of the Same Brand
Frequently Bought Together
---
Alesha H. on April 8, 2019
Laura M. on April 8, 2019
These are so good, will definitely repurchase.
Miranda H. on April 7, 2019
These are good! I don't care for how sweet they are and the quantity was wrong, but they do work wonders! 🙌 Would recommend these to anyone and will be ordering again myself!
Irina K. on April 4, 2019
Tina M. on April 3, 2019
Definitely a repeat purchase for me!
These gummy's help me sleep better and relieve anxiety.
I am very pleased with this product and only one gummy does the trick!
Lisa L. on April 3, 2019
These are excellent. Definitely helped calm down my autistic son. Highly recommend!
Karen L. on March 26, 2019
Brittany V. on March 26, 2019
Annette T. on March 23, 2019
Delivery is quick, products are quality.
Alice R. on March 18, 2019
Tina M. on March 15, 2019
They work for me! 😊 They not only help me sleep but they take the edge off from anxiety. I ingest one just about every evening! Thankyou! This will be a repeat purchase for sure 👍
Cory M. on March 14, 2019
Ate 2 a day & I was impressed with the results. Very satisfied
Pamela W. on March 6, 2019
I bought 5 bags, they taste great, my favorite
Deborah M. on March 5, 2019
Great product, will get more
Julia S. on March 3, 2019
Tom S. on January 26, 2019
These are my favorite. Taste great and very effective for relaxing on a long flight!
Millie K. on January 22, 2019
These are the best tasting and they work so well.
Ambrosia berlin P. on December 25, 2018
Highly recommend these and all of Diamond
cbd gummy products....they rock the chill!
Jarod C. on November 2, 2018
Very relaxing. I was actually surprised at how well they worked.
Sandy L. on October 25, 2018
These are my favorite gummies. These are the best strength for me. If i want to just relax I will take 1/2, if I want to sleep soundly, I will take a whole one. I just bought 4 more packs!
Ray F. on October 3, 2018
Carrie O. on September 30, 2018
These are the BEST gummies. Ate 2 and had the best sleep I've had in 10 years. One gummy and I had a wonderful day.
Leland M. on September 23, 2018
Ronald M. on September 13, 2018
Jerome Y. on September 12, 2018
Margaret L. on September 5, 2018
Sharon M. on August 22, 2018
excellent they have a nice taste and they help relieve pain
Sandy L. on August 22, 2018
These are my favorite gummies. I've tried relax and the super chill, but these work the best for me for sleep. Sometimes I only take 1/2 and it does the trick to fall asleep fast and stay asleep.
Travis C. on August 22, 2018
Christian W. on August 21, 2018
Very effective however the flavor and the consistency of the edible was not very nice. I was expecting it to taste more like a gummy bear instead it just crumbled after each bite. I won't be buying them again, honestly I'd recommend the sour worms they are the best!
Sydney C. on August 21, 2018
Something finally helps me sleep and with no hangover
Joan O. on August 21, 2018
Love them they help releave my pain
Glen M. on August 21, 2018
I love them I have tremors and read up on cbd helping . I think it does I will be relying on them totally my doctor taking off my meds for them because the meds have bad side effects and inter actions with my other meds . So natural is best .
Brenda B. on August 21, 2018
I am not fond of these they are full of sugar
Avis O. on August 21, 2018
tasty and they help me relax when my chronic pain is having a flareup
Andrea S. on April 6, 2018
This item really really works!!!
Mackenzie B. on April 4, 2018
delicious and a quick calm. helps me sleep at night. I love your products!
Glen M. on February 19, 2018
I have tremors and use them they help.
Kevin H. on December 18, 2017
Gummies were good but arrived kinda melted and stuck together.
Sydney C. on December 15, 2017
I can finally get sleepy. I hate taking pharmaceuticals to sleep. I tried another brand of CBDs when the post office lost my order. Not good. Stick with this company they have great gummies. The vape pen tastes funny to me, but that's just me others may not feel that way.
Vince F. on December 15, 2017
I enjoy these products greatly. Very good quality and taste. They are very effective in relaxing my neuropathy. Recommend these to anyone with diabetic nerve pain or people who just need to relax. Stellar product!!!
Gary R. on November 20, 2017
The new packaging on these is most excellent you get more whole pieces that stay together much better and not as sticky most enjoyable !!
Jan J. on November 16, 2017
Fantastic especially if you just need to chill/relax!!
Gary R. on November 6, 2017
Fruit slices stay Whole most enjoyable to eat this way