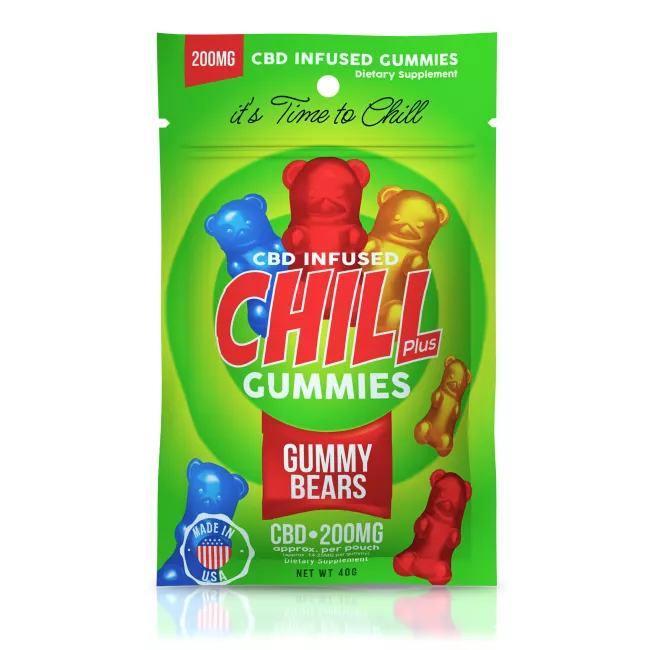 Chill Plus Gummies - CBD Infused Gummy Bears - 200mg
---
Products of the Same Brand
Frequently Bought Together
---
Cedric C. on March 18, 2019
Works great if you have anxiety or insomnia
Sean N. on March 17, 2019
I take two an hour or two before bed and I sleep easy
Paul B. on March 17, 2019
Love them has helped me with my hands shaking and shoulder pain
George F. on March 12, 2019
Ruth B. on March 5, 2019
Joseph G. on March 4, 2019
Angie A. on March 3, 2019
Bruce E. on February 26, 2019
Ruth B. on February 19, 2019
Alex U. on February 16, 2019
Great product! We continue to use these and they help so much!
Dandre S. on February 2, 2019
Products are great, I look forward to a continued business relationship.
Alex U. on January 13, 2019
Amazing product. Definitely helps us Chill out in the evenings after a long stressed day.
Brian G. on January 1, 2019
they work great as all ways. I eat one about 30 to 45 minutes before I go to bed and I sleep like a rock
Tom C. on December 31, 2018
These were a stocking stuffer for an older relative, unfortunately he is of the old fashioned mindset and thinks its MJ. Some people are so stubborn.I plan on obtaining them from him and re-gift.
Linda M. on December 27, 2018
I have found it is very helpful in controlling my nerve pain.
Alex U. on December 16, 2018
Definitely chilled me out and help with some anxiety I tend to have seasonally. Already bought some more!
Brian G. on December 12, 2018
They work great for me just wish i would have got more they would have made great gifts
Derrick H. on November 29, 2018
Man this product is up there with the best that's what made me check you guys out great gummies I love Hemp Bombs but your gummies made me come back for a larger order/ you should hook a bro up
Kristina L. on November 11, 2018
Great tasting and works well to relax!
Brenda L. on November 3, 2018
Jerome Y. on November 2, 2018
Elizabeth T. on October 28, 2018
Charles B. on October 28, 2018
Excellent product take one before bed time sleep like a baby.
Ranetta A. on October 10, 2018
Great flavor, solid sleep every night. Pain level went from an 8 most days to a 1 1/2. I'm off all medicines for fibromyalgia and 2 spinal fusions. Best move I've ever made.
Lucille T. on October 5, 2018
they were tasty but hard on the teeth
Jaclyn R. on October 3, 2018
When I originally got the product, I was a little bummed out because the gummy bears had all melted in the package. After contacting customer service they fixed the problem immediately. I will only purchase from them in the future because of their quick response to remedy the situation. The gummy bears themselves are great. I take one at night to help me fall asleep. These bears also have melatonin, an excellent sleep aid.
Jeff C. on September 29, 2018
These gummies are incredible, the flavor and the effects of the melatonin and cbd have a calming effect that makes me wonder how did I do without these all my life.
Love them is an understatement !!!!
Do yourself a large favor and give them a try - today people......today!
Brian G. on September 26, 2018
Judith B. on September 13, 2018
Jackie L. on September 12, 2018
excellent product and service!!
Bettye-jean R. on September 10, 2018
No complaints ... used in conjunction with capsules and ongoing ankle pain has diminished to gone! Very happy with the customer service as well..
Francisco M. on September 9, 2018
Sadly enough the product contains Melatonin, Melatonin is known to cause sleep disorders when used on an even semi-regular basis 😕
Les Y. on September 6, 2018
Jonathan H. on September 4, 2018
Love these gummies. Will order again
Laura L. on September 4, 2018
I have Fibromyalgia and am recovering from 2 hip and leg surgeries. I find that these are helpful in chilling me out and helps me sleep. I have ordered these several times.
Mary N. on August 27, 2018
These are good two in the morning and two at night. Great flavor n the cola n cherry ones are awesome too . The information for checking out the shipping isn't updated hardly ever . Then you get a email it's in . Too me from Florida to NY the shipping time could be better!
Kristina L. on August 26, 2018
This product taste great and really helps me "chill". I have purchased this product a few times and will purchase more in the future.
Anonymous. on August 26, 2018
The Diamond cud chill plus gummy bears have literally saved my life! I take two of these amazingly tasty treats before bedtime and I can now sleep soundly throughout the night. Thank you Diamond CBD!
Linda M. on August 22, 2018
Joanne D. on August 21, 2018
Still waiting for them to arrive!
Shannon P. on August 21, 2018
Mike L. on August 21, 2018
Great product but were shipped in 110 degree heat. Melted into a glob. You replaced them and same thing happened with replacement shipment. Asked for refund and did not get it.
Patrick B. on August 21, 2018
Always excellent service never a problem.
Lynn P. on August 21, 2018
Love these gummies. I have trouble sleeping and these really help. I dont have to take prescription sleeping pills any longer.

Belinda K. on August 21, 2018
Ryan M. on April 5, 2018
These Products have revolutionized our office in so many ways. Helping patients is our passion. Thank You SO Much for giving us your best.
Mary W. on April 5, 2018
Seems to be helping w anxiety, not all the time but most
Meta W. on April 4, 2018
I find that it eliminates pain within 30 minutes
Daryl B. on April 4, 2018
When I took them the second day I experienced a calming feeling. It was very nice.
Sean D. on April 4, 2018