Chill Plus Extreme Blended Gummies - Double Pleasure - 1000MG
Product Info
With Delta 9 blended gummies, you'll have access to world-class, unique, totally legal cannabinoids combined for your pleasure. They will give you a one-of-a-kind, mind-blowing experience. Now, with Chill Plus Extreme Blended Gummies Double Pleasure available in 1000MG, you can enjoy a unique blend of cannabinoids. It's delta 9 and Broad Spectrum CBD combined! You'll be able to experience a powerful buzz thanks to our isolation and extraction process.
The buzz from a Delta 9 blend is potent and euphoric, almost like the high you get from THC. It's completely legal. So grab some while you can. It's the perfect way to relax with friends or enjoy an afternoon alone; Chill Plus Extreme Blended Gummies Double Pleasure contains 15mg of delta 9 and 10mg of Broad Spectrum CBD per gummy to provide an even and smooth buzz. The only problem is that you must hurry up and get yours before they are sold out!
Are you new to blends? Well, then, you're in for something special. Blends offer you one of the most unique hemp-based experiences on the market, and they're perfect for fans of multiple cannabinoids or anyone who prefers a more powerful buzz. So try a blend today. We guarantee you'll love it — or them!
Strength Per gummy
25mg/gummy
Delta 9 Per gummy
15mg/gummy
Total Broad Spectrum CBD
400mg
Broad Spectrum CBD Per gummy
10mg/gummy
Sugar, Tapioca Syrup, Corn Syrup, Water, Pectin Citric Acid Natural Flavors, Fruit and Vegetable Extract (Color), and Hemp-Derived Cannabinoid Blend Extract.
Active Ingredients
Delta 9 Products are all-natural, hemp-derived cannabinoids made popular because of their bold, buzzy, and legal high. These products are available in many forms, including gummies, chocolates, and vapes. Most people enjoy Delta 9 Products for their ability to enhance your mind.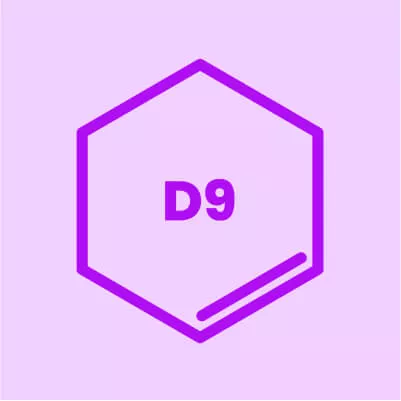 Broad Spectrum CBD Products are all-natural, hemp-derived cannabinoids made popular because of their wellness properties. These products are available in many forms, including gummies and oils. Most people enjoy Broad Spectrum CBD Products for their ability to help maintain wellness.

Frequently Asked Questions
Do you sell delta-9 gummies?
Yes we sell D9 gummies! Our delta 9 THC gummies are one of our most popular products! As with any edibles, we recommend that you start slow. Take one or two gummies and then increase your dose every few hours until you feel the desired effect. Remember, edible products like gummies take some time before the effects (aka the high) begin. So be patient!
What's the best dose of delta 9 per gummy?
The answer to this depends on the product. The best dose of delta 9 per gummy depends on the strength of the product. Many of our delta 9 gummies include CBD to balance out the buzz. So, with 600mg gummies you get 20mg per gummy, which is 10mg of delta 9 and 10mg of CBD. 
We inform you about the dose on each product page. In general, your best bet is to start low and slow. Take a low dose and increase slowly until you reach a peak that works for you. You can always take more but you can never take less.
Why do you put CBD in your delta 9 gummies?
It is well known that CBD is great for balancing out the high caused by delta 9. Combining the two cannabinoids will give you a very mellow buzz. That's why we package the two together in many of our gummies - for a fantastic, relaxing feeling you soon won't forget!
How do I choose the best delta-9 gummies?
There are a few things you should consider when shopping for Delta 9 THC gummies online. You want to check out the ingredients, reviews, third-party testing, and customer service. And in all of these areas, Diamond is rated the best (really!).
Pure and potent D9 distillate is the key ingredient in Delta 9 THC gummies. Delta 9 must be hemp-based, organic, and American-grown. Learn what's in your products by reading their labels. Our D9 is free of artificial flavors, colors, sweeteners, or preservatives. Don't use anything synthetic. We use only natural, organic ingredients.
Moreover, we have the BEST reviews from consumers! How can you get an unbiased opinion from a company that says they have the best products? Check out the reviews! It's a good idea to start with the reviews on the product pages of most vendors. Getting a broader perspective is also possible from outside sources like Google.
At Diamond we test all of our products, including our delta 9 gummies, with third-party labs, ensuring they are safe and effective. How can you make sure you're buying the best delta 9 gummies? Buy them from Diamond, of course!
Are your delta 9 gummies the same as cannabis?
Sort of. While all delta 9 is the same, ours comes from hemp, making it federally legal.