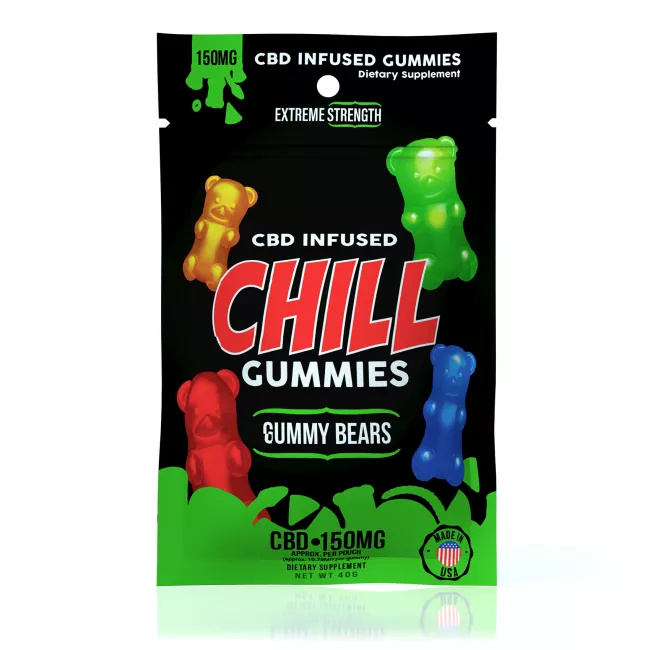 Chill Gummies - CBD Infused Gummy Bears - 150mg
---
Products of the Same Brand
Frequently Bought Together
---
Deana G. on January 29, 2019
If you really need to sleep these are what you need. I have made the mistake and took one before work and all I wanted to do was sleep. You can even taste the CBD oil in these.
John L. on January 28, 2019
Did exactly what they needed to do. Will order again
Ana M. on January 26, 2019
Loved them !!!!! Get me to the relax point that I need !
Katherine M. on January 25, 2019
I received 14 gummies in clear, red, orange, yellow, green and blue colors.
Arlene L. on January 21, 2019
Wish there were more in the bag, but other than that I like the taste & consistency of the gummies. Hope to buy more when you have special deals (already bought 2 bags of 'Relaxed Gummies,' one sugar free & the other frog gummies)(.
Susan B. on January 15, 2019
My Daughter has high functioning autism, which comes with a free gift of anxiety and hyper behavior. This has been a god-send. This allows her to be calm all day while being active. We give her one in the AM and one in the PM. Works great! Thank you!!!
Mary K. on January 7, 2019
This is the best company you can buy for !
I have the Cill Gimmie and they help me with
My With anxiety so much!
Quinton W. on January 1, 2019
Love this product. I work long hours at times and this helps me relax and get a well needed sleep. And when I wake up, I feel well rested. I plan to stick with this company as long as I can
Laura L. on December 24, 2018
Great, I hAve Fibromyalgia and osteoporosis. These help ease my pain and help me sleep.
Kimberly J. on December 23, 2018
Really great right before sleep

Joel T. on December 23, 2018
These are the most effective things to chill me out
Susan P. on December 18, 2018
The gummies were good and they worked but why was the package so small?
Kevin S. on December 18, 2018
Enjoying these delicious little bears, thank you for a quality product and the recent discounts too!
Joel T. on December 17, 2018
Works so well! I only wish this shipping was not so expensive, really need some more before I face the family :-)
Carlos G. on December 17, 2018
Great product can't wait to buy more
Owen B. on December 17, 2018
Cris R. on December 15, 2018
Very nice product, i would recommend it above any over the shelf medicine.
Tanya H. on December 15, 2018
The chill gummies are great and they do work well eased my anxiety and chronic pain from a recent back injury. The only downside is the package is extremely small for the price not many gummies in the package and the shipping time is horrible. It took literally 10 plus days before I received my packages
Matthew M. on December 15, 2018
Amazing, these help my wife with Chrinic pain and allows her to sleep well at night!!
Mike S. on December 14, 2018
I like the gummies alot they help me sleep at night and taste very good
Deborah C. on December 10, 2018
These are the best ! I love these gummies. Would highly recommend.
Aaron J. on December 9, 2018
Good but a little pricey.
Judith M. on December 9, 2018
Gummies are great. Regular shipping takes forever. Plan ahead
Deborah S. on December 8, 2018
Love the taste & they help you chill!
Shirley K. on December 6, 2018
Love this product . Gummy bears
Judith M. on December 1, 2018
The gummies are good, but I purchased them on 11/23, and I will get them 12/3. For the amount charged for regular shipping, that seems pretty slow
Allexzandra C. on November 30, 2018
Just what the "self diagnosed" doctor ordered! I have bad insomnia this gives me the best sleep! I chew one up before my nighttime routine and by the time I'm tucked in I'm so calm and ready to doze off! Bought all my grown up friends a pack for Xmas. Perfect stocking stuffers! With each gift I attatched what CBD is and it's uses and benefits etc.. as some are skeptical.
Megan L. on November 30, 2018
These taste really good and are great for sleep and also a mild relief anxiety relief. I would buy again and think they are a nice product to have around if you have trouble sleeping or anxiety
Tanya H. on November 29, 2018
Still waiting for product to ship called customer service lady was not friendly. My payment has cleared I don't feel it should take any reputable company 3 days to pull an order. After spending si much money you should not have to wait 7 days to receive an order. Very disappointed
James D. on November 26, 2018
This is my Go-To for dealing with stress, anxiety, and PTSD! One of the best CBD products I've used!
Deborah C. on November 25, 2018
I love this product. It delivers a quality of a calm and smooth way to experience your day to day stresses.
Elizabeth R. on November 24, 2018
They taste great and help me sleep. My husband takes them for pain. I got a pack for my 86 yo parents and my mom loves them to calm down when she feels stressed. Will keep ordering them.

Shirley K. on November 15, 2018
I absolutely love your products. I made my 1st purchase at a tattoo convention and was a little leery About it. After I try did I wish I bought more I'm glad I can purchase product online. You will definitely be hearing from me again.
Sarah A. on November 13, 2018
I use these to help me sleep and I can honestly they've changed my life.
Brandon K. on November 11, 2018
A little pricey for the amount you get but it does what it's supposed too. Overall I was happy with it
Raamie I. on November 11, 2018
Allexzandra C. on November 10, 2018
I was doubtful but seeking a more natural mood stabilizer for my mental health. These definitely worked. I've already put in another order. FYI this bag is tiny
Sunny P. on November 9, 2018
i was taking up to 6 narcotics a day this is the only cbd infused anything that has helped me with my chronic pain i eat 2 in the morning wait 20 minutes if pain is still high ill take 1 pain med then im good for at least 6-7 hours tysvm i have cut down to taking at most 3 pain meds a day from 6
Edward B. on November 6, 2018
PERFECT PRODUCT - BEST SLEEP EVER!!!
Michelle G. on November 1, 2018
I thought the gummi bears were much easier to use than the oil, I liked the sour gummies the best for taste.
Amy N. on October 31, 2018
Terrific product! Great taste!
Patrick B. on October 29, 2018
Absolutely always great customer service
Heidi M. on October 27, 2018
Great helped with my aniexty
Carl S. on October 26, 2018
My experience was excellent! I suffer chronic arthritis pain from athletic injuries that do not aoolw me to sleep more than 3 hours a night. When using the Diamond CBD Chill product I was able to sleep for 8 hours for the first time in many years. I will continue to use this product from now on!!
Miriam H. on October 25, 2018
LOVE these! I have very bad anxiety when flying and nothing helped prior to trying CBD. I take 3 of these about an hour before boarding the plane and before I know it I'm in the air with less stress (I'll never be stress free). They make my eyelids heavy enough to pass out for a few hours but I will still be able to function once they wear off.
Anne R. on October 25, 2018
We prefer the watermelon slices to bears. Much easier to chew. Also one half bear seems to equal 1 whole slice...so have to cut in half or too strong. But getting sleep at last!
Nancy R. on October 25, 2018
Cheryl C. on October 17, 2018
I really like these. I started with 1 at night and now I take 2. Helps me sleep better and helped with arthritis in my feet!
India N. on October 15, 2018
Not what I was expecting. I wanted to feel "chill" like really lackadaisical & all it does is make me sleep. I don't want to sleep.. lol..I wanna be chill & trip with friends or watching a movie, but nope just sleep.
Donna M. on October 12, 2018
Awesome! Relieves my pain at night, so I am able to get a better night's sleep.