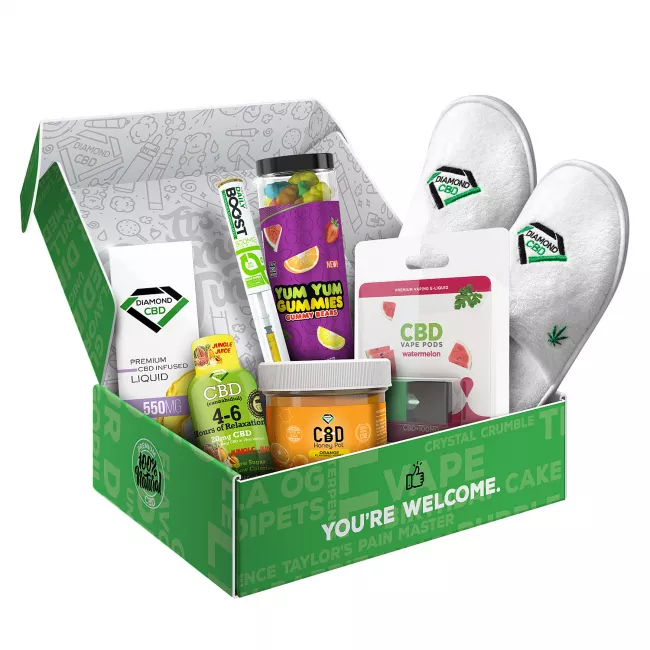 ---
Frequently Bought Together
---
Kimberly C. on November 7, 2018
Loved being able to try so many things for a great price. The drops are unflavored, they smell & taste like weed. The honey sticks are amazing!
Mcarthur H. on November 6, 2018
Valarie P. on November 6, 2018
I am very happy with the product variety in this box! The cream is great and the original reason I decided to purchase the bo of the moth. The liquid gummies are perfect for bed time and I slept very sound, the oil is great, my second bottle, the honey sticks are very good I had to share a few with my daughter and boyfriend, and I have yet to try the daily boost but am sure I will be happy with it like I have been every product that I've ordered from ya'll!
Jennifer M. on November 2, 2018
Loves getting the box. Several items I might not have tried before and I love them. Love CBD!!!!
Mary B. on November 1, 2018
A good way to sample the products.
Adele V. on October 30, 2018
The box of the month was OK. I should have read the contents list a bit more thorough since I was also ordering Honey Sticks by themselves and didn't really need to sample them in the variety box.

No complaints on the other contents, Diamond CBD does a nice job!
Elizabeth T. on October 28, 2018
Well worth the price!! Would definitely buy again
Gina C. on October 28, 2018
Awesome assortment. I am new to CBD so it was a nice way to try the different products. Diamond may be slightly pricier than other vendors that I have tried but their products are A++ from the product itself to the packaging. I was very impressed when I opened the box. The gummies are very tasty and have helped easy my anxiety and my boyfriend and I have both noticed a difference with our aches and pains with the cream. The cream has a nice texture and absorbs easily. I recommend this for someone new to CBD or as a great gift for someone you know interested in CBD. They will be impressed with what they try and see with this.
Kenneth V. on October 28, 2018
The box is an awesome way to test out a wide variety of products for dirt cheap prices. Super happy with the purchase. Can't wait to see what they have next month.
Jose G. on October 27, 2018
I love a lot of your products , & your communications team
Ann C. on October 27, 2018
This mixed products box was definitely worth the purchase!!! I have not yet tried the cbd oil in the syringe like dispenser, or the dropper cbd oil, but everything else has been great!!! The chill gummies really help me get a full night of sleep, which is unusual. I love the cream for my neck & shoulders pain. It helps & it has a cooling effect. The infused honey is also a nice treat every now & again. I would highly recommend this assortment box! Worth every penny!
Debbie G. on October 25, 2018
I purchased a box of the month as a gift. It's a great way to try different products and the person I gave it to loved it.
Pamela W. on October 25, 2018
It was a great way to try a little bit of everything for the first time
Richard K. on October 25, 2018
It works good but the price is hard for me as i cant afford to buy this and spend a hundred or so monthly to be comfortable
John M. on October 25, 2018
Great idea. But i dont like the fact you have to get specific items. It would br a great monthly subscription item if you could pick your own items off a list. Good , but not great.. yet.
Lori J. on October 24, 2018
This box is AMAZING. I had good results for my symptoms, at a GREAT VALUE. The topical cream I would have never tried and I'm so glad I did. I'm exited to see upcoming boxes. I have some issues with ptsd, nausea and chronic pain. I gave my dad the honey sticks and he also reported well.
Sid B. on October 15, 2018
Nice variety of products. All great quality.
Karen S. on October 14, 2018
This box is a perfect introduction to Diamond CBD products. I am very pleased with all of the products and now I know which ones I will buy in the future. I experienced excellent pain relief and relief from anxiety. I look forward to future Box of the Month products.
Christine B. on October 12, 2018
love the honey! cream would be useful but I think I'm allergic? Gave my friend the tincture to try-overall satisfied because of price.
Lisa T. on October 9, 2018
Bought the box of the month and it's well worth it. I shared some with friends and their now using Diamond CBD products. Can't wait to see what the next box has! Great way to try different products and see what we like.
Dawn K. on October 9, 2018
I was very pleased with all of the different items sent for me to try and feel the price was perfect. I've started using the products and hope to see some results soon.
Richard K. on October 9, 2018
It was good ,it takes the edge off my pain sometimes but i need to use alot more then what you say
Lori J. on October 8, 2018
I love this box. It has a good amount of all the different cbd options. Cream, honey sticks, gummy bears etc! An excellent and affordable way to try new products.
Andrew T. on October 7, 2018
My first time in this whole arena of health and wellness. Immediately I experienced better quality of sleep. And for me, whom sleep has never been kind to, this is well worth the price. I'm so glad made the jump into CBDs as a consumer instead of investor only.
Marie l B. on October 4, 2018
My blood pressure is down .