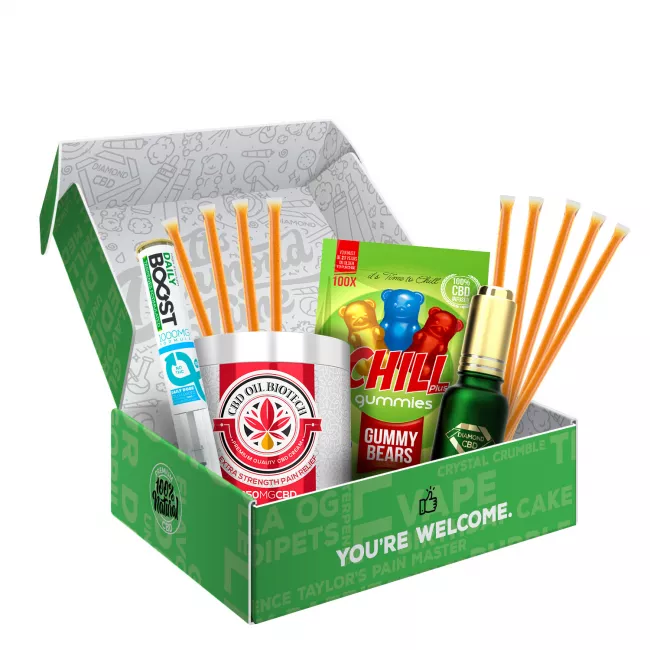 ---
Frequently Bought Together
---
Sid B. on October 15, 2018
Nice variety of products. All great quality.
Karen S. on October 14, 2018
This box is a perfect introduction to Diamond CBD products. I am very pleased with all of the products and now I know which ones I will buy in the future. I experienced excellent pain relief and relief from anxiety. I look forward to future Box of the Month products.
Christine B. on October 12, 2018
love the honey! cream would be useful but I think I'm allergic? Gave my friend the tincture to try-overall satisfied because of price.
Lisa T. on October 9, 2018
Bought the box of the month and it's well worth it. I shared some with friends and their now using Diamond CBD products. Can't wait to see what the next box has! Great way to try different products and see what we like.
Dawn K. on October 9, 2018
I was very pleased with all of the different items sent for me to try and feel the price was perfect. I've started using the products and hope to see some results soon.
Richard K. on October 9, 2018
It was good ,it takes the edge off my pain sometimes but i need to use alot more then what you say
Lori J. on October 8, 2018
I love this box. It has a good amount of all the different cbd options. Cream, honey sticks, gummy bears etc! An excellent and affordable way to try new products.
Andrew T. on October 7, 2018
My first time in this whole arena of health and wellness. Immediately I experienced better quality of sleep. And for me, whom sleep has never been kind to, this is well worth the price. I'm so glad made the jump into CBDs as a consumer instead of investor only.
Marie l B. on October 4, 2018
My blood pressure is down .