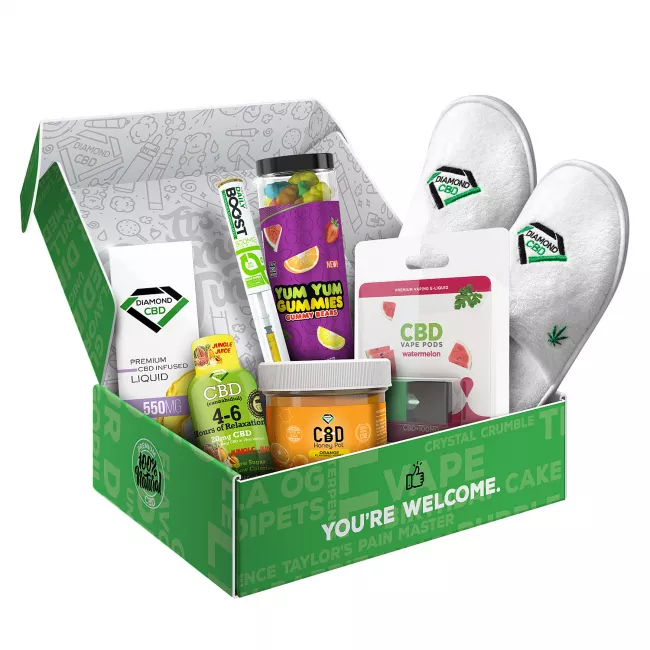 ---
Frequently Bought Together
---
Tiffany S. on April 21, 2019
i have enjoyed everything
Cheryl C. on April 20, 2019
The slippers were too small and the sublingual cbd is gross. But that is a personal opinion. The actual quality of the cbd products is very good and my favorite was the gummies.
Heidi H. on April 13, 2019
Do you want honest reviews or only positive reviews?
Ronald S. on April 11, 2019
Love the products! They work well for me.
Teresa C. on April 10, 2019
LOVE IT! GREAT SELECTION OF PRODUCTS GREAT PRICE!!!
Scott B. on April 9, 2019
Loved all your products, especially the Liquid DROPS. The honey taste and the Natural oil favor from the hemp made the "medicine go down". The slippers were a nice surprise, a luxury I have never bought l for myself for myself. I was unable to enjoy the pen or or the cartridge both seem to bother my tongue and lungs. The pen had a good Strawberry favor but even with using a carb and or water pipe I could not tone down the sore throat or burn feeling on my tongue. Also surprised the monthly box doesn't have free shipping so I ordered the cartridge which brought it up over the hundred and then got charged 8 something dollars because you ship or process out of Canada.
Heather O. on March 28, 2019
Best way to try multiple different products.
Lori M. on March 24, 2019
I am new to using cbd products. I am quite pleased that they help me in kany ways.
Bianca B. on March 21, 2019
I accidentally sent it to an old address but trustworthy friends say the "gift basket" has been awesome. Would and will buy again. For myself this time.
Vickie W. on March 18, 2019
I was purely satisfied with the results. My knee no longer is swollen and my joints are so much better. I just didn't realize how effective hemp oil is in combatting my aches. Thank you.
Zachary S. on March 17, 2019
Less expensive than trying these out individually. Quality products. Some worked well for me and some worked well for wife. I will buy this box every month moving forward. Shipping was fast but I never received a shipping notification.
Ryan D. on March 12, 2019
This is a great value with some good selection, I knocked off one star because the vape pen that came in the box was leaking on arrival and though usable, has a very tough draw to it with liquid that pools in the mouthpiece. $40 (retail) for a disposable vape is very steep so it is disappointing to see it come leaking/hard to use. I received the February box with the "Chong's Choice" pen.
Lou S. on March 10, 2019
I feel better than I have in ages.
Teresa M. on March 10, 2019
Love love the pain cream.
Tim P. on March 10, 2019
Jean T. on March 1, 2019
Nice selection of great product
Debra W. on March 1, 2019
I have been finding that CBD does not help everyone. Luckily, I am not one of those. My experience with the CBD is that my body responds to this by taking away a lot of my fibromyalgia pain.
Tammy J. on March 1, 2019
I enjoyed everything in my box except the oil. The CBD oil was a white milky color and it was slimy. It had a nasty flavor and was not unflavored.
Ed S. on February 22, 2019
It was a good sampler pack. I got to try things I wouldn't have bought otherwise but would probably buy again. The slippers are comfortable but probably won't buy another "Box of the Month" because I only have two feet. Don't like all the products with melatonin in them except for bedtime.
Teresa M. on February 22, 2019
Nice sample package of items!
Jill K. on February 20, 2019
The box was great.vape open super for chillin.the CBD cream made my pain vanish!!
Todd M. on February 19, 2019
I was surprised how well the oils and the creams did to alleviate aches and pains in my joints and how long the relief lasts. Been doing 1 gummy bear in the evening and I have been sleeping through the night. The liquid shot and the vape pen worked well for just melting into the couch for a movie or a binge session. The promo slippers on the other hand were a big disappointment. So cheap I would have rather saved the 7 cents on my order total that they likely cost Diamond. Now I need to see these products in the local Wal-Mart, CVS and Walgreen's stores!!!
Jack M. on February 19, 2019
Very happy with my purchase.
Madeline C. on February 18, 2019
Has help me in many ways. Great investment!!! Ten 🌟 🌟🌟🌟🌟🌟 ⭐️
Deb T. on February 14, 2019
Jgray0509@me.com. on February 14, 2019
Great product and price. Will buy again in future.
Jamie B. on January 25, 2019
Great products, awesome price! These boxes have a ton for the $$
Teresa C. on January 20, 2019
Excellent value-Excellent products.
Retta B. on January 20, 2019
I love it.I use it for pain relief and sleep. You can't sleep if your in allot of pain. I have arthritis. It really works. Thanks.
Sincerely,
Retta B.


Michael P. on January 3, 2019
Excellent products, Love the variety and quality of the products supplied in the box!!
Jack M. on December 26, 2018
Allen M. on December 25, 2018
So far, real good , haven't used all the products yet.
Michael P. on December 25, 2018
Excellent product, works great, the box is a excellent value!!
Jason N. on December 25, 2018
Love the monthly Box of the Month, especially such a great deal and some items I would of never tried.
Jonathan B. on December 24, 2018
Great products and selection. Overall I'm thrilled with everything in the box.
Alesia S. on December 24, 2018
Nice way to enjoy different products. Nice surprise of month to explore CBD.
Gary B. on December 20, 2018
excellent packaging, excellent products!
Robert S. on December 16, 2018
Amity B. on December 7, 2018
This box is a great and affordable way to try different products that I wouldnt have normally tried.
Richard K. on December 7, 2018
good deal great stuff high quality
Susan O. on December 7, 2018
Great way to try out items!
Mike F. on December 2, 2018
I like being able to try different products without paying top dollar to do so.
Nathan G. on November 25, 2018
I like the product alot. Very well worth the money except the honey shot. Not worth the money
Richard K. on November 23, 2018
It helps me alot ,and i like i get to try different things
Thomas L. on November 20, 2018
Great product for a great price! From the cream to the gummies everything was great! The oil isn't as good as the relax oil but for the price its a good deal.
Lisa G. on November 20, 2018
This is a nice way to try your different products... I've enjoyed trying them.
Dawn A. on November 18, 2018
Love the October box of the month. I have used the 250 mg oil since February and won't ever be without it again. The other products are just as good, especially the cream for aches & the gummies to help me fall asleep. Can't recommend Diamond products enough. I tell Everyone!
Richard L. on November 15, 2018
The Diamond CBD "Box of the Month" allowed me to try several items in the vast product range, and I was surprised to learn that although the quality is consistently excellent throughout the entire line, there are benefits to trying several different forms and strengths of Diamond CBD to tailor your experience. First rate products, every time!
Joan C. on November 13, 2018
Mary r M. on November 12, 2018
I would like your products a lot better if I didn't have to take in so damned much sugar to use them. Bad for my teeth and bad for my weight. And I really don't enjoy it. The cbd is great and I swallow the gummies whole to protect my teeth. I wonder how many of us old farts really like untempered sugar that much? A little sugar in an apple pie or brownies or even cookies or a smoothie is very different from the blast you are serving. I have had the unflavored oil and find it quite palatable.