Bites Delta-8 THC Gummy - Strawberry - 50MG
Product Info
Sweet tasting strawberries now have a buzz that will take you to all new heights thanks to new delta 8 THC Bites. It's a delicious Strawberry gummy infused with delta 8 THC. Enjoy the flavor of Strawberry while experiencing the world's only 100 percent, completely legal high. But hurry! It's a buzz that can go away at any time. Grab your travel-size bag of completely legal Delta-8 bites in Strawberry today, before it's too late. delta 8 bites are made with industrial hemp, include no pesticides, and up to 0.3 percent THC. Grab yours today while you still can!
You can take the sweet fruity taste of strawberries and enjoy a buzzy new high with delta 8 THC. It's a burst of energy and a ball of relaxation all in one. It's hemp and cannabinoids in a whole new light. You can relax or go wild with these scrumptious new bites. After all, their the bite-size delta 8 gummies that give you an amazing legal high. Now available in Strawberry, these delta 8 THC bites include 50mg of your favorite new cannabinoid, the only legal hemp-derived compound that gives you an ultimate buzz. With delta 8 Bites, you'll feel relaxed and buzzed in new and exciting ways.
Strength Per gummy
50mg/gummy
Delta 8 Per gummy
50mg/gummy
Sugar, Tapioca Syrup, Corn Syrup, Water, Pectin, Citric Acid Natural Flavors, Fruit and Vegetable Extract (Color), and Hemp-derived Delta-8 THC extract.
Active Ingredients
Delta 8 Products are all-natural, hemp-derived cannabinoids made popular because of their bold, relaxing, and buzzy high. These products are available in many forms, including gummies, vapes, and concentrates. Most people enjoy delta 8 products for their ability to enhance your mind.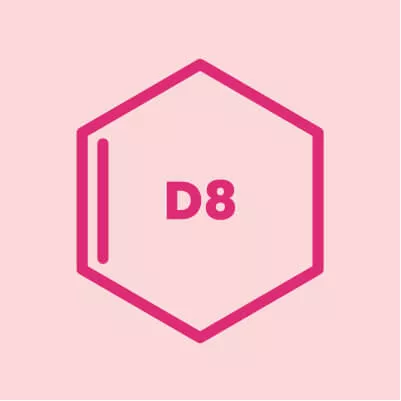 Customers Reviews
There are no reviews yet. Be the first to write a review!
Frequently Asked Questions
What are Delta 8 gummies?
Delta-8 gummies start slow and last long. You want to be careful because at first, you might think the gummy isn't working and be tempted to take more. But before you know it, you'll be buzzed or enveloped in a sea of wellness while feeling buzzed.
How long does Delta 8 edible take to kick in?
A number of factors determine the time it takes for delta 8 edibles to kick in. It is imperative to take into account the user's body size and metabolism. Additionally, it can also depend on the previous use of the cannabinoid and individual tolerance levels. D8 edibles generally require 30 minutes or more to take effect. Depending on the individual, it may take several hours for the edible to break down and release the cannabinoids.
How long do Delta 8 gummies last?
Delta 8 Gummies last much longer than delta 8 vape oils or other products. They come up slowly but can last 8 or more hours as it metabolizes. You should go slow with delta 8 gummies. What to expect from delta 8 gummies depends on your own goals. What you get from edibles will differ from oil and capsules. While some of you are looking for specific help with gummies, others prefer the laid-back feel that comes from delta 8 THC. You should set your expectations early.
How long does Delta 8 edibles stay in your system?
Despite delta-8 THC's effects lasting up to five hours in your body, metabolites persist for up to 90 days. Metabolites are only detectable for a few days with common tests. You may still test positive after 30 days if you are a chronic user.
Do Delta 8 gummies get you high?
Although it gets you high, it is a milder buzz than Delta 9 THC. Furthermore, most Indica strains of marijuana make people sleepy rather than euphoric. In fact, Delta 8 THC undergoes the same metabolism as Delta 9 THC when heated. This means that statistically, they are exactly the same except for the fact that Delta 8 THC doesn't get you as high.
Recently Viewed