Biotech CBD Cream - 1000mg
---
Products of the Same Brand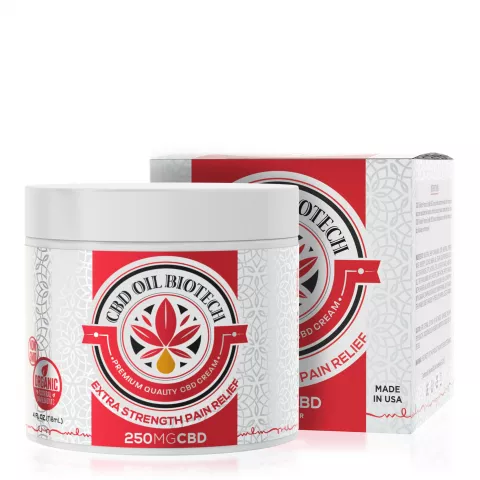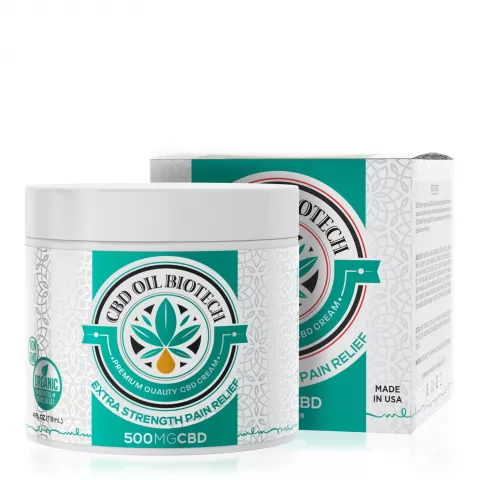 Frequently Bought Together
---
Jacqueline S. on April 20, 2019
Gloria D. on April 18, 2019
Awesome! Rate the cream 5 stars. Helps so much with the pain & Inflammation on my knees, Thank You!!!
Dorene S. on April 16, 2019
I purchased this product for my daughter who has problems with her feet swelling where she can not even wear sneakers. Since using the CBD cream the swelling has gone down drastically!
Greg S. on April 14, 2019
It works great for both my wife's knee and my joint pain..
Lisa W. on April 12, 2019
Deanna D. on April 11, 2019
I have reduced my pain Rxs considerably . Very affective also for my scoriasis. I am completely satisfied and will purchase again. Thank you!
Joseline M. on April 8, 2019
Wonderful!!!
The cream is so good. I ordered more. Thank you
Lynette M. on April 8, 2019
We purchased this product for my husbands mother. She absolutely loves how it works. She doesn't like the smell of it but it works great for her pain.
Luis A. on April 8, 2019
Product Came on time products very well
Evelyn S. on April 6, 2019
Seems pretty good so far. Use it on my lower back and neck and knees. Can't tell if it is any better than stuff with menthol. Looks like the CBD is the second ingredient.
Patricia S. on April 4, 2019
Honestly, I cannot see much difference in pain relief from the 500mg cream. I was dissppointed and will go back to the 500mg. when reordering.

Lawrence H. on April 3, 2019
I like the texture of the cream. It's not to thick so you don't over use it. The sent is very nice. And it absorbed fast.
Lou S. on April 3, 2019
MY favorite of all your products!!!
Melissa M. on March 30, 2019
My dad has spinal stenosis and is in constant pain. My mom massages this into his lower back and it really helps him. Great product!!! Plus, my mom who has arthritis is getting a benefit from it as well in her hands.
Marian W. on March 29, 2019
Excellent! With Spring upon us I have been more active, and at times a little more ache in the evening. I moved up from the 500mg to the 1000 mg and it has made a huge difference! Getting many more steps in every day! Great product!
Tina M. on March 27, 2019
It works quickly and effectively! Glad that I have two!
Maureen T. on March 25, 2019
I am thrilled with this product. It helps with muscle pain and it makes the skin very smooth and soft. It works on my one thigh that has been numb for months except for the sharp pains. It keeps the pain at bay. I will always use this one.
Kenneth W. on March 25, 2019
It was amazing to finally be pain free in my ankles
Dayna R. on March 22, 2019
It works very well. I have had 4 knee scopes and often tweek my knee at work. I put some on before work and after. Works better than medication.
Deborah S. on March 21, 2019
This is the best cream for pain that we have tried. My husbands back and knees have given him problems for years and my wrist and hands have started. This cream was suggested to us and within 30 minutes we have remarkable improvement and relief.
John G. on March 21, 2019
What an incredible product. It has provided me relief for ailments I have had for years. I have tried other products but my far this is the best
Aletha M. on March 20, 2019
Lou S. on March 19, 2019
Todd A. on March 16, 2019
I honestly didn't think this would work quickly or maybe not even at all. I was wrong, it's fast and it definitely works. I was tired of walking around all day smelling like an old lady with Ben Gay on. The smell of this is more like a mint toothpaste and that's what it looks like too. I have only been using it nightly for a week and I get relief most of the next day. When this is done, I will be buying another for sure.
Ashley M. on March 15, 2019
I absolutely love this product, it greatly helps with my fibromyalgia pain.
Kim G. on March 15, 2019
Can't say enough about this 1000 mg CBD cream. My husband absolutely loves it. It's helped him get back to playing softball with no pain. Customers for life. Thank you.
Robert B. on March 13, 2019
It relieves lower back pain, enough so I can sleep. Good stuff!
Diana M. on March 13, 2019
Kim O. on March 13, 2019
As soon as I rub some on my back I feel the effects right away. I love it!
Linda K. on March 11, 2019
It seems to work when I use it twice a day on my right leg which involves the sciatica nerve.
Rick W. on March 11, 2019
Linda V. on March 11, 2019
I am very happy with this product. I must admit I was skeptical, I have had five broken bones In my foot and two broken bones in the ankle. I walk around now with a plate, thirteen screws and many pins. This product reduces the pain significantly. I am very glad I I tried it.
Deborah D. on March 11, 2019
I have arthritis, especially bad in my knees. This does really help with the intensity of the pain. I use this cream in the evening a lot before bed, as well as some edible CBD. I can sleep withouth the pain keeping me awake. It has also helped with my carpel tunnel, stiff neck from tension, and my husband 's back aches. Our daughter had an accident where her foot was badly injured, several surgeries done, and the CBD cream helps her aching foot on bad days. It doesn't get rid of the pain completely, but does make living with pain much easier to deal with for all of us. It is better for us than taking so many pain pills too.
Roy L. on March 9, 2019
The 1000mg cream helps reduce the level of arthritis pain in my hands and reduce itchy skin.
Lisa G. on March 7, 2019
Relieves pain well. Use on my lower back and knuckles. Give it a shot 👍
Robert N. on March 6, 2019
Very happy with the results after using the CBD cream for a couple days no back pain that I had for weeks. Wife using it also for hip pain having great results also. Little pricey but works well
Brenda S. on March 6, 2019
works great on my knee pain. Fast!
Michelle V. on March 5, 2019
I really like it, I was surprised how it took out the ache out of my shoulder and neck
Cesar F. on March 5, 2019
This cream is excellent aside with the LT cream. Very good for feet and back pain. Smells minty too.
Lou S. on March 4, 2019
Tommie W. on March 3, 2019
This product works for lower back pain and neuropathy in the left leg secondary to that pain. I apply it two or three times per day and often use it on sore muscles and tendons after a weight training session. I will keep using it.
Gary J. on March 1, 2019
I knew into the CBD oils and pain cream I have neuropathy on my feet and degenerative disc in my back applying the cream to my back and feet completely take the pain away
Elenore G. on February 27, 2019
Works great on my knee replacement. It gives me instant relief and I am so glad I tried this.
Tracee O. on February 25, 2019
I purchased this for my sons. One has a tight lower back (6 years) due to an over active core, I used it after he did stretches, and his back has no more pain. I use it daily, for his body re-learn; no pain. My other son had an injured shoulder (surgery) and elbow nerve issues. After his stretches, I use it on him. He has said that his arm feels better, not at 100% yet, but I highly recommend. I myself have used this on my lower calf, it was bothering me, and I wanted to try it out, my calf feels better.
Cheryl T. on February 24, 2019
I use this cream without fail three times a day. I was definitely skeptical at first, but I do have noticeable relief from arthritic knee pain. Already had one knee replacement. Do NOT want to go through that again!
Ryan D. on February 22, 2019
This works quite well! The only downside is the alcohol in the product.
Bev M. on February 19, 2019
I don't know if there is anything NOT to like about this cream. The strength is what I was looking for, it has a pleasant smell, not too greasy and best of all it is helping with my numb feet. I apply it morning and night. Sure, it isn't miraculously taking the numbness away but it keeps me comfortable and then I can push myself to exercise and live a normal life. Price was right at 50% off. It took about 10 days to get it but they let me know they were swamped with orders. Now I can just reorder when getting low but a jar will last a LONG time. Thank you Diamond!!
Thomas S. on February 19, 2019
As a musician I've spent literally countless hours in the studio practicing, often contorting limbs in unnatural positions for up to 10 hours a day sometimes daily for periodic stretches. After 15 years of this I have enormous neuromuscular damage to my neck, shoulders, back, and pectoral muscles. My neck especially causes me enormous pain every day of my life and this cbd oil literally makes my life possible. Because of this cream I am Able to live without pain. The only way for me to maintain strength enough in the effected areas in order to still play in the studio and live shows I must keep up an extremely rigorous physical therapy routine every day to keep everything stretched out and limber enough to work. Before I found this cbd cream I was in so much pain it was very difficult to make myself get started on my exercise every day because of how much it hurts, not even to mention the absolutely horrific migraines I had all the time. Cbd is an absolute lifesaver, I would be in a dark place without it.
Robert S. on February 19, 2019
Christine B. on February 19, 2019
I refer to CBD as my miracle cream! I have knee issues and have been told by my ortho doctor that I need knee replacements. That was over a year ago. Thanks to my miracle cream (which reduces inflammation and pain) i'm Surgery free!