July 17, 2018
Our CBD Oil Dosage Chart Makes Everything Good To The Last Drop
How many mg of CBD oil are there in every drop of your favorite Diamond CBD product? What about Strawberry Flavor Diamond CBD Oil? What about Diamond CBD Vape Additive?
We know you've been asking this question for a long time now, and we've been listening. It's important to know not just how much CBD oil you're purchasing in every bottle, but how much you have in every single drop you take. Whether it's hemp oil, or CBD vape oil that you prefer, taking the correct dose could make all the difference.
CBD Oil Dosage Chart
Finally, we've put together a CBD Dosage Chart for all of our CBD oil and CBD vape oil products — anyone who loves our hemp relaxing gummies will have to wait just a bit longer — because having the right information before you make your purchase, makes your experience more satisfying and gives you the confidence to know that what you're putting into your body, is exactly what your body needs.
So how do these CBD oil dosage charts work? Let's take a look:
Strawberry Flavor Diamond CBD Oil
Who doesn't love our Strawberry Flavor Diamond CBD Oil? In fact, it's one of the most popular oils in our entire lineup of products. But exactly how much CBD oil is there in every drop?
First, here's a look at our CBD Oil Dosage Chart: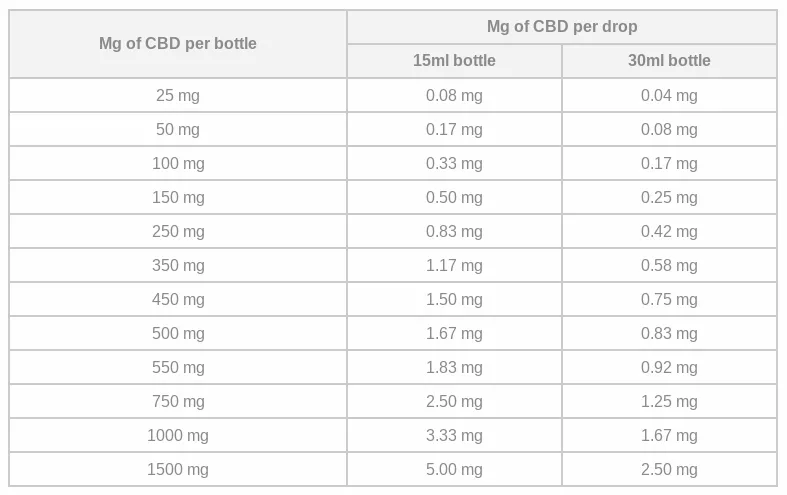 As we're sure you already know, our CBD oil ranges from 25 mg of CBD per bottle, all the way up to 1500 mg of CBD per bottle, depending on the product. So, let's say you're starting out small, with 25 mg of Strawberry Flavor CBD oil. What do you see?
You'll notice that in a 30 ml bottle there is 0.04 mg of CBD oil per drop, while in a 15 ml bottle you'll find 0.08 mg of CBD oil per drop — which brings us to an important point…
Bigger CBD Oil Isn't Always Better CBD Oil
That's right. Forget everything you thought you knew. In a smaller bottle, you actually have more CBD oil per drop than you do in a larger bottle. It's simple math really. Both bottles contain the same total amount of CBD oil — 25 mg. The smaller bottle is more concentrated, giving you more bang for your buck.
Let's take a look at another example:
Diamond CBD Vape Additive
Now, our CBD vape oils and vape additives are a bit different, as you'll see in the chart below: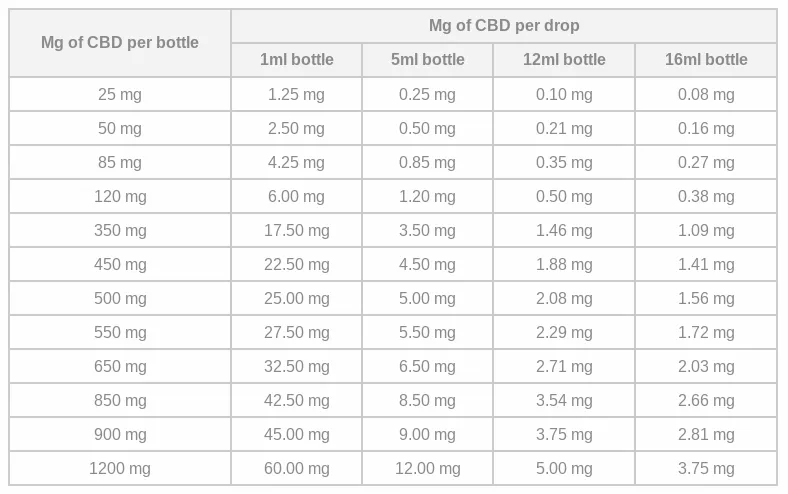 Diamond CBD Vape Additive ranges from 25 mg to 1200 mg of CBD per bottle, with options ranging from 1 ml to 16 ml bottles. Notice how, with 25 mg of CBD vape oil, the smaller the bottle, the more you have per drop.
Again, it's all simple math.
CBD Oil For Everyone
So, next time, before you purchase some CBD oil or CBD vape oil take a look at one of our CBD Oil Dosage Charts. All of the information you need to make an informed decision is included right there. Of course, as always, don't hesitate to contact us with any questions!
Now, go Relax, or Chill, or whatever it is you kids do these days!