CBD for dogs is all about giving your pet the best. For those of you that don't know, we created this pet owner's guide to CBD for dogs to help you learn more about what it can do for your best friend.
After all, dogs are a lot of responsibility. They rely on us for practically everything. We provide shelter and the most delicious food a pet could ask for. But we also give them affection, regular exercise, and care for their health and wellbeing. As responsible pet owners, we owe our dogs the best life.
Wondering where to buy CBD oil for dogs? Look no further than Diamond CBD!
What Is CBD Oil For Dogs?
Before discussing where to buy CBD oil for dogs, let's take a step back and better understand the nature of CBD. 
Otherwise known as cannabidiol, CBD is one of the hundreds of cannabinoids found in hemp plants. For centuries, CBD has been used throughout different cultures as an all-natural remedy to a long list of ailments. Recently, following the legalization of hemp in 2018, CBD has been studied extensively and praised by scientists everywhere for its many wellness benefits. 
In humans, CBD has proven to help in managing pain, anxiety, and insomnia. And this heavenly compound is safe your your pup, too! You get to reap the benefits of CBD oil and edibles, why not give your best friend a little wellness boost as well?
Unlike THC, CBD has no psychoactive effects, meaning it won't make you (or your dog) high. CBD oil for dogs is very different from the CBD oil we use. Yes, it comes from the same plant, but the doses we use are very different. Dosages are important when it comes to using CBD oil for pets. As a responsible pet owner, you have to do your research and make sure you know where your CBD is coming from.
Our CBD oil for dogs is made in America from organic hemp and specifically designed for dogs of all sizes. We use proper doses for small, medium, and large dogs so you can use our CBD oil confidently.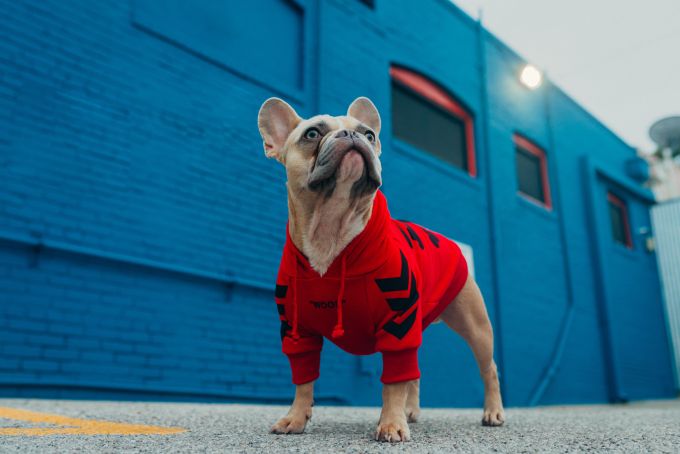 How Does CBD Oil for Dogs Work?
Because dogs have an endocannabinoid system like we do, they experience many of the same benefits. CBD for dogs relieves everyday aches and pains and it can offer stressed-out pups some a much-needed reprieve. Just like us, our pets get moody, anxious, and can experience pain; and, just like us, they deserve to experience mother nature's favorite medicine. 
How Pet CBD Oil Can Help Your Aging Dog
Pet CBD oil is one way to show an aging pet just how much you care. Owning a pet can bring us joy for many years. The hardest part about being a loving pet owner, however, is watching your beloved companion grow old. The last few years of a pet's life can bring with it a variety of age-related medical issues, from seizures to arthritis. Can CBD oil products formulated for pets help your furry friend stay younger longer?
There are a number of signs that your pet is growing older. These can include things like skin issues and hair loss, vision impairment, digestive and urinary issues, joint pain, loss of appetite and energy, and cognitive issues.
CBD oil for dogs is one of a family of compounds found in hemp known as cannabinoids. Cannabinoids work with your pet's endocannabinoid system to help regulate a number of bodily functions at a cellular level, including metabolism, immune function, sleep cycles, and much, much more.
Additionally, pet CBD oil has other properties which are not associated with the endocannabinoid system, such as being a powerful antioxidant, anti-inflammatory, and antibacterial agent.
There are a number of age-related ailments which have been reported to respond well to supplementation with CBD for dogs oil. Let's take a look at some of the more common ones.
Where To Buy CBD Oil for Dogs With Seizures
Many people give their dogs CBD to help them with seizures. Even though this is an ailment that can affect dogs of any age, older pups are more prone to kidney and liver diseases, which increases the likelihood for seizures. If your best pal is getting old, or if they have a condition that makes them susceptible to seizures, there's a way you can help!
CBD won't cure your pup, but it'll certainly help them stay comfortable, balanced, and it may even help decrease the frequency and intensity of their seizures! 
Although your four-pawed friend can't overdose on CBD and the compound is non-toxic, the quality of your CBD is crucial to their health and wellness. Deciding where to buy CBD oil for dogs is far from unimportant, and you must always trust your source in order to look out for your best bud. 
At Diamond CBD, all of our CBD for dogs is made with safety, quality, and efficiency in mind and are later third-party lab tested to ensure purity. Our products aren't meant to heal, but their positive effects on puppies moods and overall health is simply undeniable. 
Where To Buy CBD Oil for Dogs With Arthritis
Often times elderly pets will develop conditions such as arthritis, or the slow healing of injured bones and cartilage. These issues can cause them a lot of pain, which can, in turn, substantially slow them down. This can result in a lack of exercise and even depression.
Our CBD oil for dogs should be your first choice when discussing how to help your dog feel more comfortable when going through the painful and frustrating process of developing arthritis. Not only does CBD contain anti-inflammatory and pain-relieving properties, it's also an excellent way to improve your pet's mood and regulate their appetite. 
Does CBD for Dogs Have Risks?
While we always caution every pet owner to consult with their vet first, CBD oil for dogs is a completely safe, all-natural way to possibly help your dogs with a number of ailments. And CBD oil contains less than .03 percent THC —essentially none.
Of course, it's important to be responsible with your dog's CBD oil. Never let someone you don't trust give your pet CBD, and never give your dog more than the stated dose.
How Do I Use CBD for Dogs?
Some pet owners add CBD oil to their dog's breakfast every morning while others administer CBD oil during specific situations, like right before they leave the house or before vet appointments. MediPets CBD Pet Spray is a great way to give your dog a quick dose of CBD.
Dosing is so important when using CBD oil for dogs. That's why we designed all of our CBD for dogs with the uniqueness of each dog in mind. Note the size of your dog and consult with your vet to figure out the perfect dose before using CBD. If you're interested in adding CBD your dog's daily routine, talk to your vet before making any changes.
When used responsibly, CBD for dogs can have some incredible effects on your dog's overall health. When considering where to buy CBD oil for dogs, Diamond CBD is your #1!