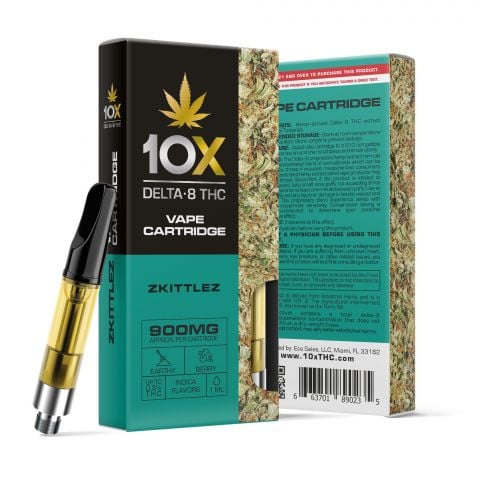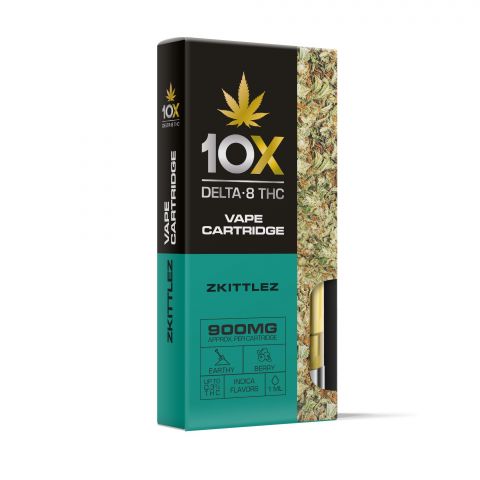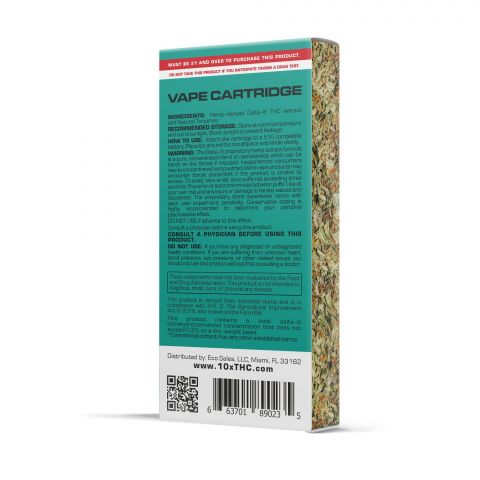 On sale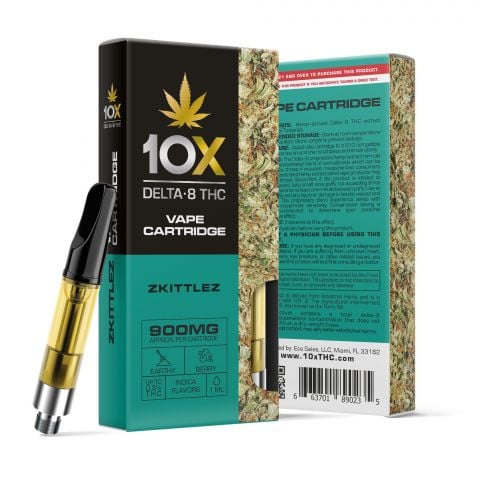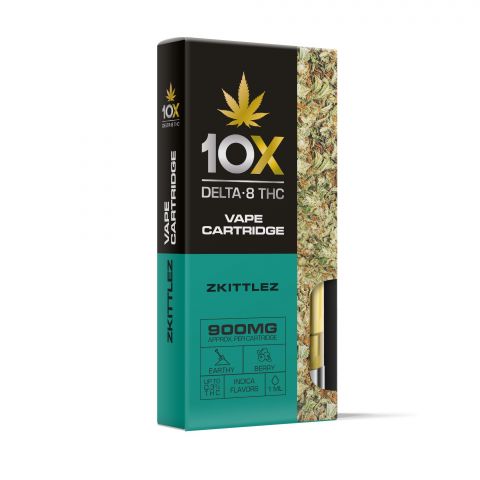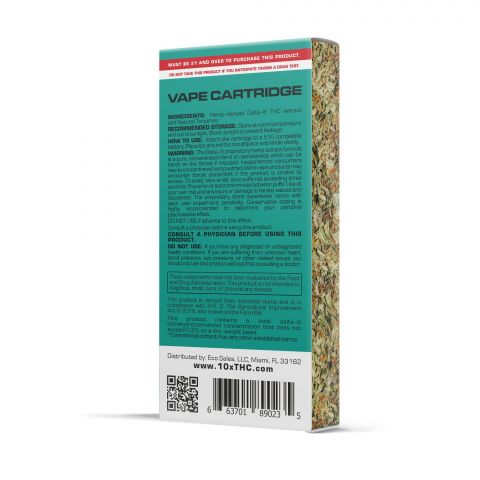 Zkittles Cartridge - Delta 8 THC - 10X - 900mg
Product Info
Now you can experience Delta-8 THC like a candy crush of flavor with 10X disposable vape cartridges. It's a quick, easy, on-the-go way to enjoy your favorite cannabinoid with a buzz. And with new 10X Delta-8 Zkittles vape cartridges, you'll find yourself enjoying the sweet, Indica-dominant, fruit cocktail mix of Grape Ape and Grapefruit that will make every buzz feel like brunch. 
Delta-8 Disposable Vape Cartridges from 10X are easy to use. It's the best new way to enjoy your buzz. Just attach the cartridge to a 510-compatible battery, place lips around the mouthpiece, and inhale slowly. That's right! Take a puff and pass the Delta-8 while supplies (and the freedom to do so) last!
And now, you can enjoy 10X Delta-8 vape cartridges in our Zkittles strain. Taste the rainbow of flavor that keeps you calm, focused, alert, and relaxed — all with a buzz. 10X Delta-8 Disposable vaping cartridges will have you floating on a candy cloud.
These Delta-8 Disposable Vape Cartridges really kick. They're infused with 900mg of Delta-8 THC. However, you should be careful, because everyone's experience may differ. 10X Delta-8 Disposable Vape Cartridges flavored with Zkittles contain 900mg of Delta-8 and old-school hybrid flavor. It's lab-tested for your safety — guaranteed to be a pure, unadulterated product with no synthetics. Our Disposable Vaping Pens contain no Vitamin E Acetate whatsoever, and all of our lab results are available online for inspection.
Frequently Asked Questions
What type of vape oil products do you sell?
We sell vape carts and vape pens in all your favorite ingredients, including CBD, delta 8, delta 10, HHC, THCO, and more!
Do you sell delta 8 vape oil?
Yes! You can enjoy a smooth, buzzy vape with delta 8 carts or delta 8 disposable vape pens. It's a great way to feel the buzz!
Why choose vape oil?
Vape oil, such as the type found in carts and pens, hits faster than an edible. When you puff it goes through your lungs and straight to your blood stream. An edible take s afew hours to come up.
What is the brand 10X all about?
Here at Diamond, we strive to bring you the best cannabinoid brands available anywhere, and 10X is exactly that: a smooth, rich, and powerful buzz worthy of the best customers around. With 10X vapes and edibles, you can make your cannabinoid experience a 10/10!
Are 10X products safe to consume?
Absolutely! Diamond doesn't just sell the best cannabinoids on the market today, we also take pride in our rigorous safety standards and third-party lab testing for safety, purity, and efficacy.