Wedding Cake Cart - Delta 8 THC - 10X - 900mg
Product Info
Go for 10X the buzz with 10X disposable vape cartridges infused with Delta-8. It's a quick, easy, on-the-go way to enjoy your favorite buzz-worthy cannabinoid. And with new 10X Delta-8 Wedding Cake vape cartridges, you can experience the relaxing, euphoric pleasure of this exciting new indica-hybrid Delta-8 cannabinoid vape.
Delta-8 Disposable Vape Cartridges from 10X are easy to use. It's the best new way to enjoy your buzz. Just attach the cartridge to a 510-compatible battery, place lips around the mouthpiece, and inhale slowly. That's right! Take a puff and pass the Delta-8 while supplies (and the freedom to do so) last!
And now, you can enjoy 10X Delta-8 vape cartridges in our Wedding Cake strain. A combination of Triangle Kush with Animal Mints, Wedding Cake is rich and tangy. Wedding Cake is a strain that's earthy, super potent, and relieves what ails you. 10X Delta-8 Disposable vaping cartridges will have you floating on the clouds.
These Delta-8 Disposable Vape Cartridges really kick. They're infused with 900mg of Delta-8 THC. However, you should be careful, because everyone's experience may differ. 10X Delta-8 Disposable Vape Cartridges flavored with Wedding Cake contain 900mg of Delta-8 and old-school hybrid flavor. It's lab-tested for your safety — guaranteed to be a pure, unadulterated product with no synthetics. Our Disposable Vaping Pens contain no Vitamin E Acetate whatsoever, and all of our lab results are available online for inspection.
Active Ingredients
Delta 8 Products are all-natural, hemp-derived cannabinoids made popular because of their bold, relaxing, and buzzy high. These products are available in many forms, including gummies, vapes, and concentrates. Most people enjoy delta 8 products for their ability to enhance your mind.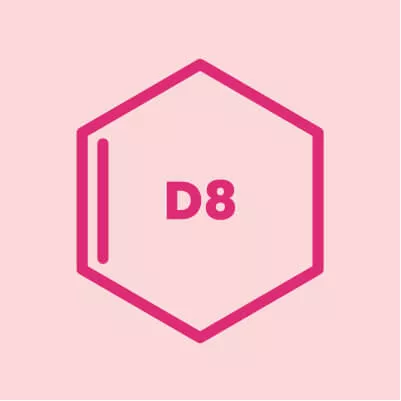 Frequently Asked Questions
Do Delta 8 carts expire?
Despite the fact that delta 8 can last up to 24 months when stored correctly, it can also start deteriorating after a couple of months.
How do you hit a Delta 8 cart?
Inhale gently and exhale gently after taking two to three puffs for the first time. You will notice the effects as soon as 90 seconds after taking the first puff. You may take another two to three puffs if you do not feel anything after 30 minutes.
Why is my Delta 8 cart not hitting?
Most likely, if the battery is working properly, your cartridge won't hit because the distillate has thickened as it cooled down, and is not sufficiently heated to liquify or vaporize. Please contact customer support to arrange a return if your battery is fine and your cart is not hitting.
Can you refill Delta 8 carts?
Once you're finished vaping, just throw the cartridges in the trash. The cartridges aren't refillable, so they can't be refilled.
Can drug dogs smell Delta 8 carts?
Drug dogs are trained to detect certain terpenes. There is a possibility they may be alerted if the product contains terpenes. According to Dan Hayter, who founded K9 Global Training Academy and was formerly the lead dog trainer for the military's drug teams, carts can be traced.
Recently Viewed