Mango Kush Vape Delta 8 THC - Disposable - 10X - 920mg
Product Info
Take your Delta-8 Vaping experience to the next level by a factor of 10. With new 10X Delta-8 Disposable Vaping Pens with rechargeable batteries in Mango Kush flavor, you can embrace the carefree, soothing pleasure of this exciting new cannabinoid while experiencing the distinct kush flavor. It's an all-new cannabinoid experience at extreme levels. Enjoy a hint of pine combined with Mango and kush that keeps everything super chill.
These Delta-8 Disposable Vaping Pens have a kick. They're infused with 920mg of Delta-8 THC. It's the latest cannabinoid to hit the market, and, much like its cousin Delta-9 THC, it offers you a bold and buzzy psychotropic high. But with 10X, we've upped the buzz factor by 10. It's more buzz for your buck.
Plus, you'll enjoy a strain that tickles your palate. It's the most organic, authentic, and exciting way to chill yet.
10X Delta-8 Disposable Vaping Pens in Mango Kush contains 920mg of Delta-8 and a herbal Mango scent. As with all of our products, it's lab-tested and approved for your safety — guaranteed to be a pure, unadulterated product with no synthetics. Our Disposable Vaping Pens contain no Vitamin E Acetate whatsoever, and all of our lab results are available online for inspection. So take a puff and pass the Delta-8 while supplies last!
Strength Per puff
3.75mg/puff
Delta 8 Per puff
3.83mg/puff
Hemp Extract and Natural Terpenes.
Active Ingredients
Delta 8 Products are all-natural, hemp-derived cannabinoids made popular because of their bold, relaxing, and buzzy high. These products are available in many forms, including gummies, vapes, and concentrates. Most people enjoy delta 8 products for their ability to enhance your mind.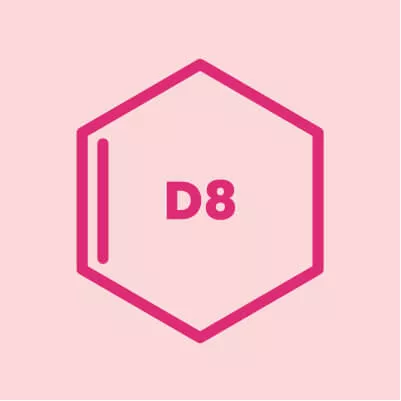 Frequently Asked Questions
What is the brand 10X all about?
Here at Diamond, we strive to bring you the best cannabinoid brands available anywhere, and 10X is exactly that: a smooth, rich, and powerful buzz worthy of the best customers around. With 10X vapes and edibles, you can make your cannabinoid experience a 10/10!
Are 10X products safe to consume?
Absolutely! Diamond doesn't just sell the best cannabinoids on the market today, we also take pride in our rigorous safety standards and third-party lab testing for safety, purity, and efficacy. 
What 10X products are available on Diamond?
Diamond's offers a variety of 10X products, like smooth vape oils—including disposable vapes and vaping cartridges— as well as delicious edibles. 
Do delta 8 dabs get you high?
Yes! Due to the product's high concentration of delta 8, taking delta 8 dabs is one of the most potent delta 8 experiences available today.
Are delta 8 dabs safe?
As long they are made by a responsible, reputable manufacturer like Diamond CBD, delta 8 dabs are 100% safe to consume. That said, they are very strong, so beware of dosages when first ingesting this product, even if you've dabbled in other delta 8 products before.