Mango Kush Cartridge - Delta 8 THC - Chill - 900mg (1ml)
Product Info
Now, Delta-8 comes in the ultimate Mango Kush! With new Chill Plus Delta-8 Vape Cartridges in Mango Kush, you can embrace the mango fruit pleasure of this exciting new cannabinoid while experiencing the distinct kush flavor. Delta-8 Vape Cartridges from Chill Plus offers you an enjoyable, completely legal cannabis-like high delivered right to your front door. Enjoy a hint of pine combined with mango and kush that keeps everything super chill. In fact, Chill Plus CBD Delta-8 Vape Cartridges will have you floating on the clouds.
Our Delta-8 Vape Cartridges pack a powerful punch thanks to 900mg of Delta-8 THC. It's the latest cannabinoid to hit the market, and, much like its cousin Delta-9 THC, it offers you a bold and buzzy psychotropic high. But with Chill Plus Mango Kush, we're offering something more — a strain that tickles your palate. It's the most organic, authentic, and exciting way to chill yet.
How is this possible? Hemp-derived Delta-8 is 100% legal and safe for consumption, inducing a mild psychotropic high that's the ideal way to chill out alone or with friends. But you'll want to hurry because, as with anything this novel, the federal government won't let this last. So grab a Chill Plus Delta-8 Vape Cartridges in Mango Kush today. Experience the buzz before the authorities try to kill it.
Chill Plus Delta-8 Vape Cartridges in Mango Kush contain 900mg of Delta-8 and a mango scent. As with all of our products, it's lab-tested and approved for your safety — guaranteed to be a pure, unadulterated product with no synthetics. Our vape cartridges contain no Vitamin E Acetate whatsoever, and all of our lab results are available online for inspection. So take a puff and pass the Delta-8 while supplies last!
 
WARNING: Delta-8 THC is a pure, concentrated cannabinoid which can be harsh on the throat if misused. Inexperienced consumers new to concentrated vape products may encounter throat discomfort if the product is inhaled to excess. To avoid, take small, slow puffs not exceeding three seconds. Pause for at least one minute between puffs.  
HOW TO USE: Make sure to attach the cartridge to a 510-compatible battery. Use of an incompatible battery may damage the cartridge and invalidate any guarantees. Next, place lips around the mouthpiece and inhale slowly.
RECOMMENDED STORAGE: To maintain the cartridge's purity, store at room temperature, and out of sunlight. For best results, keep product in a cool, dark place. Exposure to heat or sunlight may cause degradation or loss of potency. Store upright to prevent leakage. 
DO NOT USE: 
●    If you are pregnant, could be pregnant, or are nursing 
●    If you have any diagnosed or undiagnosed health conditions
DO NOT DRIVE OR OPERATE ANY HEAVY MACHINERY WHILE USING THIS PRODUCT
Product use and purchase restricted to those 21 years and older in states and territories where it's legal. Consult a physician before using this product.
WARNINGS: 
User accounts show Delta-8 to be safe for human consumption. However, no long-term, peer-reviewed studies exist showing the full effects of this product. What follows comes primarily from firsthand experiences of Delta-8 users. It is for information purposes only and is not to be considered medical advice in any way.
Our Delta-8 THC cartridges are not a medical product. They are not intended to diagnose, treat, cure, or prevent any diseases, conditions, or ailments of any kind. While individual user experiences may vary, it is not our intention to suggest that yours will be the same in any way, shape, or form.
Vaping this product can have a different effect on the body than if it were consumed orally. User reports show that vaping delta 8 THC may produce the opposite effect of delta 9 THC, though the experience is still very much positive. Delta 8 THC users report mood boosts, calm feelings, and increased energy and motivation.
Anecdotal data shows that Delta 8 THC metabolites may trigger false positives in drug tests looking for delta 9 THC metabolites. Do not take this product if you need to pass a drug test.
IMPORTANT PRODUCT NOTES: 
Delta 8 THC vape cartridges may affect: 
●    Blood Pressure
●    Heart Rate
●    Intraocular Pressure
Anyone suffering from unknown heart, blood pressure, eye, eye pressure, or other related issues should not use this product without first consulting a doctor.
Delta 8 THC may cause you to fail a drug test. Do not use this product if you need to pass a drug test.
Delta 8 THC vape cartridges may cause users to feel intoxicated. Do not drive or operate any machinery while under the influence of this product. 
THIS PRODUCT SHOULD NOT BE USED IN ANY WAY WITHOUT FIRST CONSULTING YOUR DOCTOR
This product is derived from Industrial Hemp and is in compliance with H.R. 2: The Agricultural Improvement Act of 2018, also known as the Farm Bill.
Active Ingredients
Delta 8 Products are all-natural, hemp-derived cannabinoids made popular because of their bold, relaxing, and buzzy high. These products are available in many forms, including gummies, vapes, and concentrates. Most people enjoy delta 8 products for their ability to enhance your mind.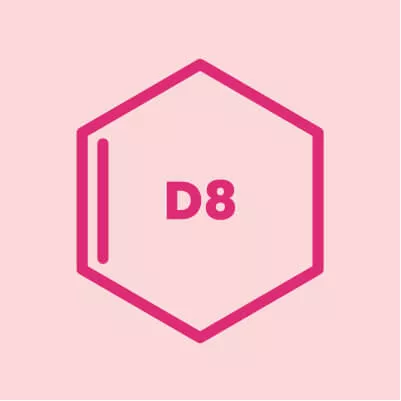 Frequently Asked Questions
Are Delta 8 carts safe?
Everyone loves delta 8 and one of the best ways to enjoy this all-natural hemp cannabinoid is with a disposable cartridge. Delta 8 carts are one of the most popular ways to consume this buzzy cannabinoid as it offers you an instant feeling of excitement and euphoria. But are delta 8 carts safe? Of course, they are! Not only is delta 8 a hemp-derived cannabinoid, making it one of the safest compounds on the planet, but here at Diamond all of our products go through a rigorous third-party testing process. It's our guarantee to you that only the best delta 8 carts make it to our store.
Are Delta 8 carts legal?
The possession of Delta 8 THC carts is illegal in 13 states: Alaska, Colorado, Delaware, Idaho, Iowa, Montana, New York, Nevada, North Dakota, Rhode Island, Vermont, Utah, and Washington.
Do Delta 8 carts get you high?
The psychoactive characteristic of delta-8 THC can make you high. In comparison to regular THC, however, the effect of this strain will be less intense. Those who need their dose of "high" often substitute delta-8 for THC, since THC isn't legal everywhere.
Can you take Delta 8 carts on a plane?
The majority of states allow Delta-8 in flights. However, you still need to be cautious if you plan to bring your favorite Diamond product. TSA will not be actively searching for Delta-8 to confiscate. The possession of Delta 8 THC is illegal in 13 states: Alaska, Colorado, Delaware, Idaho, Iowa, Montana, New York, Nevada, North Dakota, Rhode Island, Vermont, Utah, and Washington.
How much THC is in Delta 8 carts?
The amount of THC varies depending on the size of our cartridges. The THC content of Diamond's cartridges ranges from 500mg to 1200mgIn addition to being natural, cruelty-free, and free of harmful artificial additives, we do not use MCT, PG, VG, or PEG oil in our cartridges.
Recently Viewed