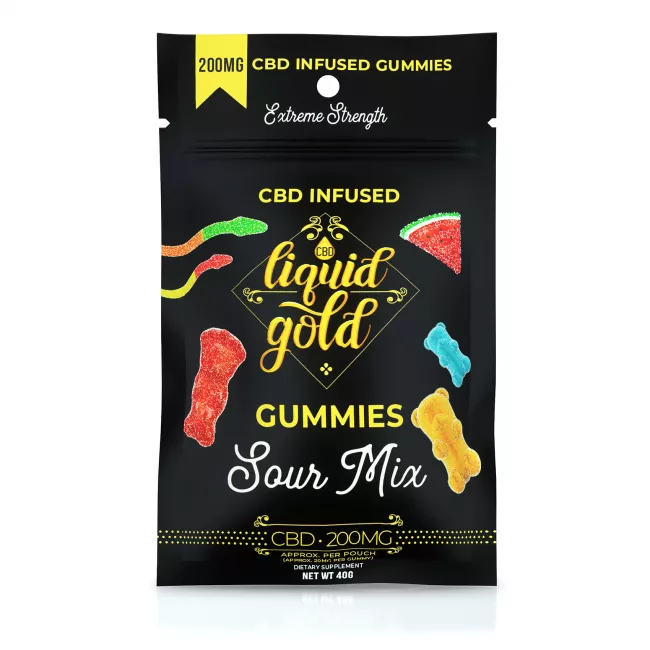 Liquid Gold Gummies Sour Mix
---
Products of the Same Brand
Frequently Bought Together
---
Joanne D. on March 22, 2019
I would rather have all the same shapes, that way I can tell how much CBD I'm taking! Or at lease I think I can, don't really know how much CBD is in each gummy 🤷‍♀️
Rita C. on February 19, 2019
These are a godsend for me, especially at night. They help me sleep at night and wake up refreshed!
Doug Y. on February 14, 2019
Mark B. on January 15, 2019
Work great but definitely can taste the CBD.
Jason D. on January 13, 2019
Great products horrible service
Alex U. on January 13, 2019
Amazing Product! Love these!
Lorraine D. on January 13, 2019
I take these at night to help me relax after a stressful day at work. Great taste and really helps. Also helps with pain relief. I am a repeat customer.
Brian P. on December 26, 2018
My favorite of all. Really soft, tasty, different flavors and different shapes. 1-2 will do. Highly recommend!
Cheryl M. on December 19, 2018
Great product! Love the way your product makes my joints feel!
Larry Z. on December 15, 2018
My wife love it. Happy wife, Happy life.
Heather O. on December 1, 2018
I like the gummies, as it's an easy way to get the correct dose. One usually does the trick, get a good nights sleep. Half helps with headaches
Lorraine D. on December 1, 2018
Love them. Great flavor and helps with pain for a good night's sleep.
Cheri l H. on November 21, 2018
Great Flavor and texture. Extremely Fresh. I really enjoyed them. But I needed a higher level of CBD. If it came in a 1000g in each. I'd buy 5 packages each month.
Alaina D. on November 19, 2018
Best gummies so ffar. Excited to try more from this brand.
Raamie I. on November 11, 2018
Lorraine D. on November 8, 2018
Really love this product. You get what you pay for. One of my favorites!
Tremaine P. on October 25, 2018
Bonnie H. on September 18, 2018
These are the absolute best! Took one and was asleep within 20 minutes!
Leah W. on September 10, 2018
These are good to but my all time favs are the cola and cherry ones
Brett S. on September 9, 2018
Angela T. on September 2, 2018
I was skeptical to try CBD at first but I had a lot of people telling me that it would really help my anxiety and stress level so I decided to give it a try. And I have to tell you I am not disappointed at all. I highly recommend this product to anybody with high stress anxiety even small aches and pains you will completely relax and just amazing
Craig P. on August 22, 2018
Very nice, however, I have not yet received my most recent order 3 weeks ago.
Michelle M. on August 21, 2018
Michelle M. on August 21, 2018
Best CBD gummies!! Also absolutely LOVE this company!! Customer service is awesome!! They make up for the slower shipping.
Carol K. on April 7, 2018
Worked great and helped anxiety
Amanda R. on March 12, 2018
You gotta try these, you won't regret it! :-)
Allison C. on March 12, 2018
Loved the Liquid Gold Gummies and will definitely be buying them again. Total chill feeling!
Drew C. on February 8, 2018