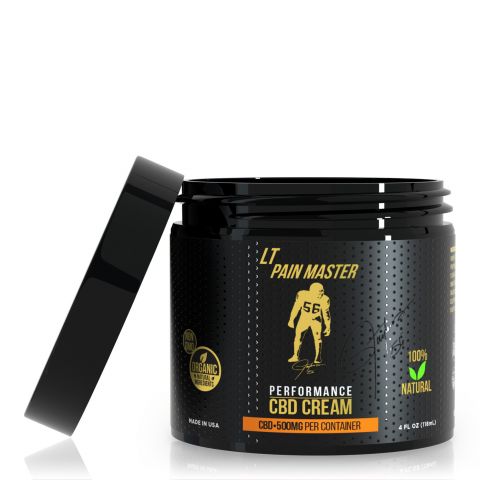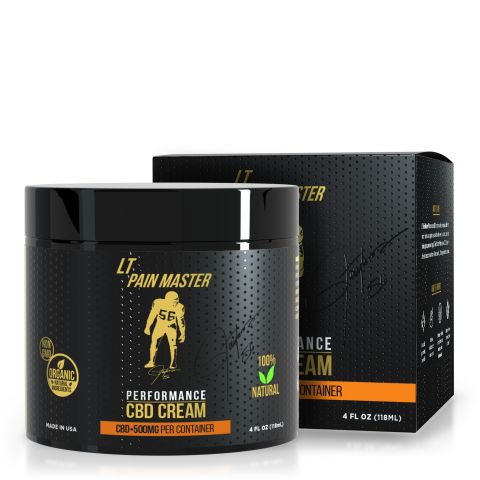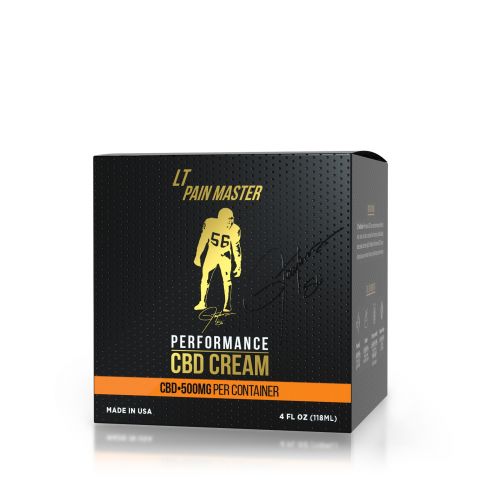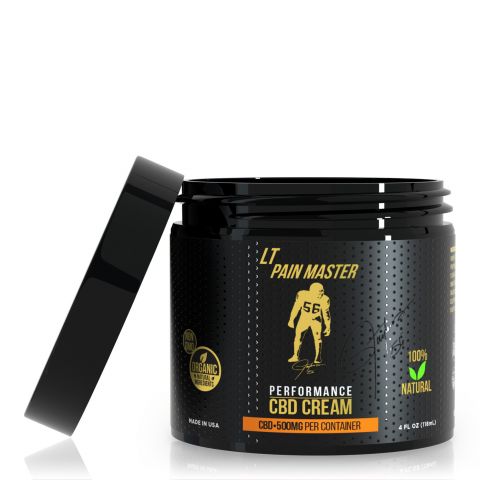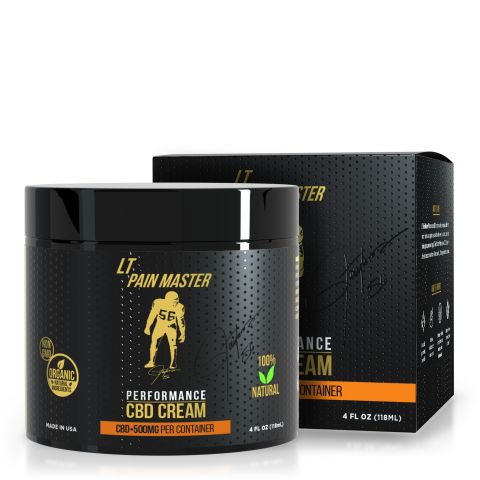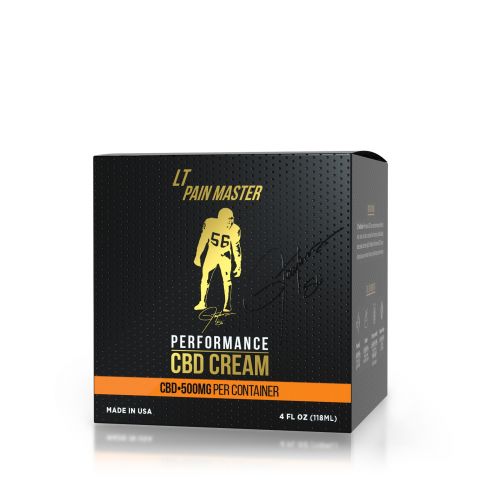 Lawrence Taylor - Pain Master CBD Cream - 500mg
Product Info
LT Pain Master CBD Cream provides a high-quality CBD sourced from 100% natural organic hemp. It's a workout essential for those who push beyond their own limits on any regular basis.
 
A topical CBD lotion, this one was specially designed with the athlete in mind, and approved by NFL Hall of Famer Lawrence Taylor, LT Pain Master CBD cream goes to work right on contact. A CBD lotion formulated to give you the best in physical relief, it also provides a warm, elevated support for your sense of focus and resolve.
Strength Per ml
4.24mg/ml
CBD Isolate Per ml
4.24mg/ml
Industrial Hemp Cannabidiol (CBD), Menthol, Purified Water, Isopropyl Alcohol, Mineral Oil, Stearic Acid, Propylene Glycol, Aloe Vera Gel, Triethanolamine, White Protopet, Dimethicone, Propyl Paraben, Methylparaben, Allantoin, Carbomer, Diazolidinyl Urea, Iodopropynyl Butylcarbamate Camphor, Organic Ilex, Phenoxyethanol, Methylparaben, Butylparaben, Ethylparaben, Isobutylparaben, Tea Tree Oil, Tocopherol Acetate (Vitamin E)
Active Ingredients
CBD Isolate Products are all-natural, hemp-derived cannabinoids made popular because they offer wellness benefits without THC. These products are available in many forms, including raw powder, gummies, and topicals. Most people enjoy CBD Isolate Products for their ability to relieve your body.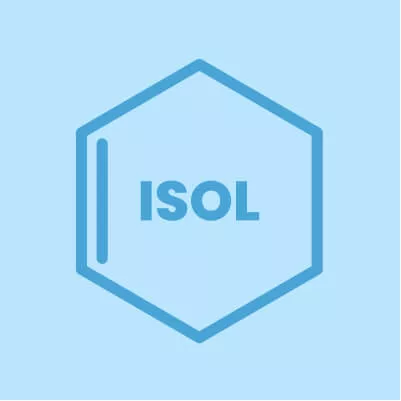 CBD Products are all-natural, hemp-derived cannabinoids made popular because of their wellness properties. These products are available in many forms, including creams, gummies, and capsules. Most people enjoy CBD Products for their ability to help maintain wellness.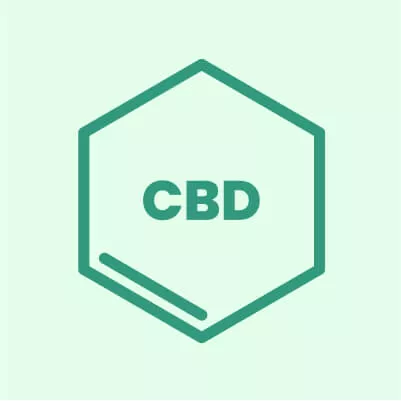 Frequently Asked Questions
Is CBD cream effective for pain?
CBD cream has proven to be very effective for physical pain. Rub a little cream on the area that is affected and after a few minutes you will begin to feel releif.
Do CBD creams actually work?
CBD creams or topicals are incredibly effective. Many people, especially athletes and those that live active lifestyles, swear by them.
Can you travel with CBD cream?
Yes, like all forms of cbd, cbd cream is legal and you can travel all across the United States with it. However, if you plan to travel internationally be sure to first look up the laws in that country before carrying cbd cream with you.
What is CBD cream good for?
CBD cream is good for all sorts of aches and pains, including muscle pain, back pain, inflammation, and more. Many athletes use cbd cream to help relieve the aches and pains of physical activity.
What are the best ways to use CBD creams and topicals?
CBD creams and topicals are the ideal products for athletes, people who work out, and anyone else who needs a good cream or topical to take care of their skin. We recommend that you put just a dollop on your fingers and rub in a circular motion on your skin. You can use our CBD creams and topicals as needed throughout the day.
Recently Viewed