King Louie Vape - Delta 10 - Disposable - Hyper - 1600mg
Product Info
When you need a quick burst of creative energy, you need to grab some Delta-10 and get hyper! With Hyper Delta-10 Disposable Vape Pens in King Louie, you can experience an all-new cannabinoid that gives you a shot of energy, laser focus, and a full-body buzz of creativity in a one-of-a-kind disposable vape pen. It's 1600mg of Delta-10 THC that brings out your hyper side! And with our King Louie strain, you have a potent strain that leaves you feeling upbeat and euphoric all day long.
Not familiar with Delta-10 THC? It's the newest, buzziest, most exciting cannabinoid to hit the market since Delta-8, and it will leave you feeling amped. Delta-10 THC is one of the hundreds of cannabinoids found in the hemp plant that we've now extracted for maximum buzz. It's a sativa-like buzz that gives you energy, focus, and a jolt of creativity. With Delta-10, you'll keep going and won't have any time to relax.
And the best part about Hyper Delta-10 Disposable Vape Pens? They're infused with approximately 1600mg of your favorite new cannabinoid, giving you plenty of Delta-10 to last all night long. And with King Louie, you get a potent, powerful Indica-dominant cross between OG Kush and L.A. Confidential that's filled with spicy and earthy terpenes. King Louie will help what ails you while making you feel like royalty. But you'll want to hurry because, with Delta-10 THC, you never know how long the feds will let the buzz last. So grab some while you still can.
Hyper Delta-10 Disposable Vape Pens in King Louie aren't made for those of you who like to keep things slow. It's a buzzed experience for anyone looking for extra energy and focus. Our Delta-10 is lab-tested for your safety — guaranteed to be a pure, unadulterated product with no synthetics. Our disposable vaping pens contain no Vitamin E Acetate whatsoever, and all of our lab results are available online for inspection.
Strength Per puff
3.33mg/puff
Delta 10 Per puff
3.33mg/puff
Proprietary hemp extract blend and natural terpenes.
Active Ingredients
Delta 10 Products are all-natural, hemp-derived cannabinoids made popular because of their energizing effects. These products are available in many forms, including gummies, vapes, and oils. Most people enjoy Delta 10 Products for their ability to help them accomplish more.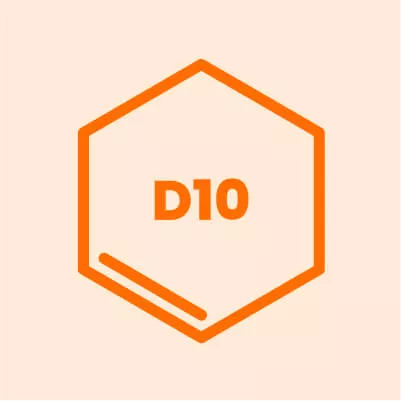 Frequently Asked Questions
Is Delta 10 legal?
In 2018 Congress passed, and the President signed into law the Farm Bill of 2018. That bill (which is now law) legalized hemp and all of its compounds and derivatives. That included CBD and even Delta-10 THC. Delta-10 THC that comes from hemp is now legal. However, the compound, like many others from hemp, is restricted or banned in certain states (kind of the opposite of cannabis). If you're unsure of the status of Delta-10 in your state, our customer support team can help you.
How is Delta 10 THC made?
Delta-10 THC occurs naturally in the hemp plant it is a natural cannabinoid however, it occurs in small quantities. There is a process called isomerization that allows us to make even larger quantities from the natural compounds in the hemp plant.
What is the difference between Delta 10 and Delta 9?
Yes, Delta-10 THC is not the same as cannabis or Delta-9 THC. In fact, while most cannabis strains will be more relaxing, Delta-10 THC is more uplifting and energizing. Often, we will combine Delta-8 and Delta-10 to balance out the effects. Sometimes, more adventurous users may combine cannabis with their Delta-10, though what you do when you go home is up to you.
Will Delta 10 fail a drug test?
Possibly. When it comes to drug tests, chances are both Delta-8 and Delta-10 THC will show up on any standard test. Thats because todays drug tests look for metabolites of THC. Since Delta-8 and Delta-10 are so similar to cannabis, theyll most likely make your results pop positive. Your best bet is to abstain for a couple of weeks before the test and keep a healthy diet of fruits, vegetables, and lots of water.
Which states have banned the use of Delta 10 THC?
To date, the following states have banned Delta-10 THC: Alaska, Arizona, Arkansas, California, Colorado, Delaware, Idaho, Iowa, Mississippi, Montana, Nebraska, Nevada, Utah. We recommend writing your legislators and telling them how much you love Delta-10!