Grape Ape Kik Pod - Delta 8 - Kalibloom - 1000mg
Product Info
Prepare to elevate your vaping journey with the exceptional Kalibloom Kik Delta-8 Pods. These 1000mg pods are a reservoir of pure delta-THC goodness, delivering a seamless and potent hit with every breath. Infused with 1ml of premium extract per pod, you're invited to luxuriate in extended sessions of euphoria and relaxation.
Savor the Grape Ape flavor, a captivating fusion of succulent grapes with an undertone of earthiness. As you inhale, the velvety taste of grape unfurls, transporting your senses to a realm of delight.
For an optimal vaping experience, complement your Kalibloom Kik Delta-8 Pods with the device they were designed for. Discover the ease and compatibility of the Kik Battery Pod Device, engineered to heighten your vaping pleasure. A swift attachment of the pod to the device, a deep inhalation, and you'll be entranced by the enchanting magic of delta-THC, embracing a world of tranquility and contentment.
At Kalibloom, your satisfaction and well-being remain paramount. Our products undergo rigorous lab testing to ensure purity and consistency, guaranteeing a vaping experience that's not only enjoyable but also safe.
This product is derived from 100% Legal USA Hemp and contains less than 0.3% Delta 9 THC in accordance with 2018 Farm Bill.
Active Ingredients
Delta 8 Products are all-natural, hemp-derived cannabinoids made popular because of their bold, relaxing, and buzzy high. These products are available in many forms, including gummies, vapes, and concentrates. Most people enjoy delta 8 products for their ability to enhance your mind.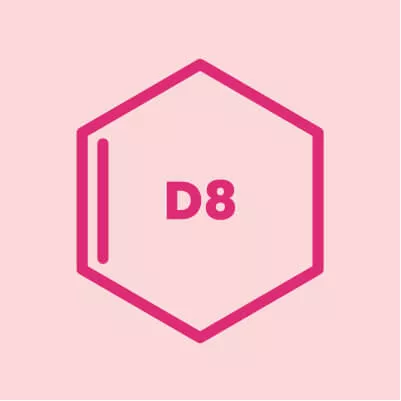 Customers Reviews
There are no reviews yet. Be the first to write a review!
Frequently Asked Questions
How to use a disposable Delta 8 vape pen?
To use the vape, all you need to do is find the button that lights up the Delta 8 THC in the pen. To use the vape, simply press the button and hold the mouthpiece in your mouth. It should light up as soon as you click the button, letting you know it's working.
Are disposable Delta 8 vapes safe?
They are! Not only is delta 8 a hemp-derived cannabinoid, making it one of the safest compounds on the planet, but here at Diamond all of our products go through a rigorous third-party testing process. It's our guarantee to you that only the best delta 8 disposables make it to our store. Everyone loves delta 8 and one of the best ways to enjoy this all-natural hemp cannabinoid is with a disposable vape. Delta 8 disposables are one of the most popular ways to consume this buzzy cannabinoid as it offers you an instant feeling of excitement and euphoria.
What type of vape oil products do you sell?
We sell vape carts and vape pens in all your favorite ingredients, including CBD, delta 8, delta 10, HHC, THCO, and more!
Do you sell delta 8 vape oil?
Yes! You can enjoy a smooth, buzzy vape with delta 8 carts or delta 8 disposable vape pens. It's a great way to feel the buzz!
What types of cannabinoids does Kalibloom sell?
Kalibloom sells products that contain Delta-8 THC and other psychoactive hemp compounds.
Recently Viewed