Granddaddy Purple Vape Pen - Delta 8 - Disposable - Tyson 2.0
Product Info
Step into the ring of premium vaping with the Tyson 2.0 Delta 8 Disposable Vape, a knockout creation poised to leave an indelible mark on your vaping experience. This cutting-edge disposable device is your cornerman, packed with the formidable power of Delta 8 and available in a lineup of distinctive strains, all designed to ensure your victory in the vape arena.
Crafted for both endurance and performance, the Tyson 2.0 Delta 8 Disposable Vape embodies the spirit of a true champion. Its robust longevity, seamless functionality, and unmatched convenience are complemented by an array of captivating flavors that promise to delight your taste buds while igniting a symphony of invigorating effects.
The Granddaddy Purp strain flavor option offers an exquisite journey through lush grape vineyards and fragrant orchards. With each inhalation, you'll be transported to a realm where juicy, sun-ripened grapes meet the unmistakable notes of the legendary Granddaddy Purple strain. The fusion of fruity sweetness and a hint of earthiness creates a flavor profile that dances on your palate, leaving you craving for more.
At Diamond, our commitment to your well-being is unwavering. Each of our products is subjected to rigorous third-party lab testing, ensuring the highest standards of safety, purity, and quality. With every draw, you can rest assured that you're inhaling a product that's undergone the most stringent assessments, allowing you to revel in the experience without any doubts or hesitations.
Hemp Derived D8 Distillate & Natural plant based terpenes
Active Ingredients
Delta 8 Products are all-natural, hemp-derived cannabinoids made popular because of their bold, relaxing, and buzzy high. These products are available in many forms, including gummies, vapes, and concentrates. Most people enjoy delta 8 products for their ability to enhance your mind.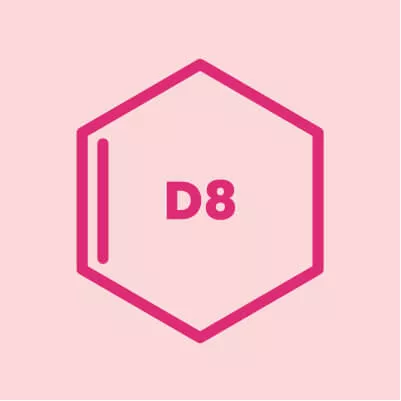 Customers Reviews
There are no reviews yet. Be the first to write a review!
Frequently Asked Questions
How to use a disposable Delta 8 vape pen?
To use the vape, all you need to do is find the button that lights up the Delta 8 THC in the pen. To use the vape, simply press the button and hold the mouthpiece in your mouth. It should light up as soon as you click the button, letting you know it's working.
Are disposable Delta 8 vapes safe?
They are! Not only is delta 8 a hemp-derived cannabinoid, making it one of the safest compounds on the planet, but here at Diamond all of our products go through a rigorous third-party testing process. It's our guarantee to you that only the best delta 8 disposables make it to our store. Everyone loves delta 8 and one of the best ways to enjoy this all-natural hemp cannabinoid is with a disposable vape. Delta 8 disposables are one of the most popular ways to consume this buzzy cannabinoid as it offers you an instant feeling of excitement and euphoria.
What type of vape oil products do you sell?
We sell vape carts and vape pens in all your favorite ingredients, including CBD, delta 8, delta 10, HHC, THCO, and more!
Do you sell delta 8 vape oil?
Yes! You can enjoy a smooth, buzzy vape with delta 8 carts or delta 8 disposable vape pens. It's a great way to feel the buzz!
What types of cannabinoids does Tyson 2.0 sell?
Tyson 2.0 sells products containing psychoactive cannabinoids such as delta 8.
Recently Viewed